Reviving 1990s television shows
By LaReeca Rucker
The Clarion-Ledger
The buzz in pop culture news today is that Disney and ABC may be reviving the 1990s classic television show "Boy Meets World" that centered around Cory Matthews, a kid who grew up on the show's seven seasons (1993-2000) from grade school boy to married man.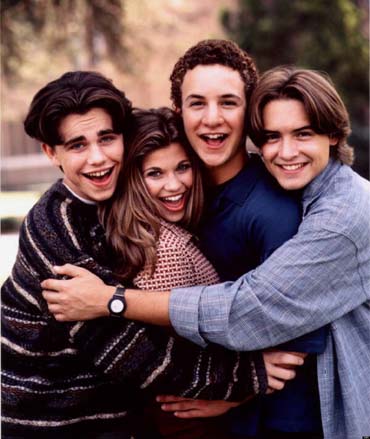 The new show would be called "Girl Meets World." The girl is Riley Matthews, the 13-year-old fictional daughter of stars Cory and Topanga (Ben Savage and Danielle Fishel.)
This is particularly interesting to Generation Y or "the millennials," who were still very young when this show premiered, as well as their parents, who watched it with them.
I thought it was a brilliant idea on Disney's part to put these actors to work again. Aside from a Lifetime movie or B horror film, I haven't seen any of them in a while, and they are talented enough to deserve a pay check.
It also made me ponder how long this show has been off the air. And when I realized next year will mark 20 years since it's debut and 12 years since it ended, I experienced that light-headed feeling that some of you may have had when you realize how fast time flies. I think it's been 15 years since the fictional couple was married, so they could, theoretically, have a 13-year-old daughter. Savage is 32 now and Fishel is 31.
I think it will be interesting to see how this millennial couple handles a daughter in our world today. I guess the same was true for adults watching 1980s sitcoms like "Family Ties," where former hippies were raising (one conservative) kids, but I viewed those shows as a kid from a kid's perspective.
When I heard about this revival, I started thinking about other 1990s shows that I wouldn't mind seeing revamped again with the same actors. (Some of the following shows premiered in the '80s, but ended in the 1990s.)
Charles in Charge – Scott Baio played a live-in babysitter in this show. I did watch him on the VH1 reality series "Scott Baio is 45 . . . and Single," so I don't think he's up to much these days. Let's bring back "Charles in Charge," make Baio the dad of about eight kids so that the show's title is now ironic, and watch comedy unfold.
The Cosby Show – It's 2012. Cliff and Claire Huxtable are retired. But they've agreed to let their 26-year-old granddaughter and single mother, Olivia (Raven-Symone), move in with them until she gets back on her feet. Expect appearances from all the other Huxtable children who still live in the same city and make comedic drop-in appearances to check on their aging parents.
Designing Women – This show was really more about Southern women than "designing women." In the revival, the children or relatives of Julia, Suzanne, Mary Jo and Charlene take over the Atlanta business and dish about what it's like to be a modern day Southerners.
Dallas – There is already a "Dallas" revival show, but when I watched it a couple of times, it seemed to focus more on the younger generation. The characters from "Dallas," "Knots Landing" and "Falcon Crest" were so iconic, I'd like to see a new show that maybe combines some of the casts and focuses on the older actors, the ones we loved years ago. Donna Mills and Michelle Lee still look good. So does Patrick Duffy and Linda Gray. Forget the younger cast. I want to see my old favorites. R.I.P. Larry Hagman.
Dharma and Greg – I can't remember if Dharma and Greg had a kid on the show, but now that we've fast-forwarded a few years, it would be interesting to see their bohemian and conservative parenting styles clash in a sitcom.
A Different World – Denise Huxtable is now a college professor. So is Whitley Gilbert. Both, along with former cast members, teach today's college kids how to navigate in the world with comedy.
Doogie Howser MD – Doogie is a single dad with a kid who is exhibiting genius qualities.
The Fresh Prince of Bel Air – Will Smith is too big to come back to this show, but I need to see Carlton doing something, (preferably dancing) so I think it could happen.
Growing Pains – Mike Seaver grows up and becomes an evangelist who tries to convert his family to Christianity on every episode. Carol, who is now a Scientologist, and Ben, who is a practicing Buddhist, aren't having it. Mom and dad are agnostic. Chrissy is undecided. Is Norman Lear still alive?
Hee Haw – OK. I remember how corny "Hee Haw" was, but it also had lots of great guest appearances by country stars. I guess it was kind of the country version of "Saturday Night Live." I say bring back a modern version of "Hee Haw."
Lifestyles of the Rich and Famous – This is the perfect show for our times. Since everyone in America is struggling economically, this is just the right kind of show to air to make us all sit around and talk about how disgusted we are with the people on the show who are spending exorbitant amounts of money. And some people are so uber-rich right now that it would be interesting to see what they are wasting their money on. You can start with the woman on "The Housewives of Beverly Hills" who spent $25,000 on a pair of sunglasses.
Muppets Tonight – The Muppets should never be off the air. There should always be some show with Muppets on it.
Murphy Brown – Murphy Brown is now the executive editor or producer of the television network where she once worked as a reporter, and she's finally found a secretary who has survived more than one day with her. She's coaching young reporters to get the scoop . . . or something.
My So-Called Life – Angela Chase is now an adult. She's older and wiser, but still introspective and sometimes awkward as she makes her way through life. (Never mind, Claire Danes isn't coming back for this.)
Party of Five – These folks aren't coming back either. Most of them have risen as stars, but I do wonder how big the fictional party is now.
Picket Fences – I always loved the intellectual thought that this show provoked. Not sure how to revive it, but it was enjoyable.
Quantum Leap – Come on. If Sam travels through time, it is very possible for him to start leaping again. We've had a lot of historical things happen since this show went off the air. He could leap into the World Trade Center on Sept. 11 or into the body of an Iraq war soldier. He could leap into O.J. Simpson right before that car chase. What about a New Orleans or Mississippi Gulf Coast resident in the midst of Hurricane Katrina? Or maybe even Monica Lewinsky as an intern? So many historical possibilities of long ago and the recent past.
Silk Stalkings – This show was pretty much what "Law & Order: SVU" was, and since there's like 30 versions of "Law & Order" on anyway, I say give Rob Estes and Mitzi Capture their own "Law & Order" series.
Tales from the Crypt – I could stand seeing modern day actors make guest appearances in a new "Crypt" series.
Thirtysomething – Judd Apatow has a new film out called "This is 40," which, from the trailer, seems like it's trying to define what being 40 means today. That's what "Thirtysomething" did for a different generation years ago in a more dramatic way. I think it would be interesting to see a show about how today's thirtysomethings differ (or are similar) to those of the past.
Touched by an Angel – This was a heartwarming little show that I'm sure they could bring back if they find the right angel.
Who's the Boss – Tony and Angela are out of work because of the economy, so Tony's daughter, Samantha, hires them to help run her company. She's the boss.
And finally . . .
Family Matters – Steve Urkel succeeds in permanently altering his DNA so that he becomes his alter ego, the suave, debonair Stefan Urquelle. The scientist and computer genius marries his dream girl, Laura, and they have three nerdy kids who create comedy.