Vowing to be Different: Personalized themes latest icing on the cake
By LaReeca Rucker
The Clarion-Ledger
Always a bridesmaid, never a bride, with 27 dresses to prove it. Grey's Anatomy star Katherine Heigl plays that character in her latest film "27 Dresses" that opens in theaters Friday.
But in real life, Heigl is a newlywed who recently married former University of Mississippi student Josh Kelley, a nationally recognized singer-songwriter, whose new album Special Company will be released in February. The couple tied the knot Dec. 23 during a Christmas-themed wedding in Utah.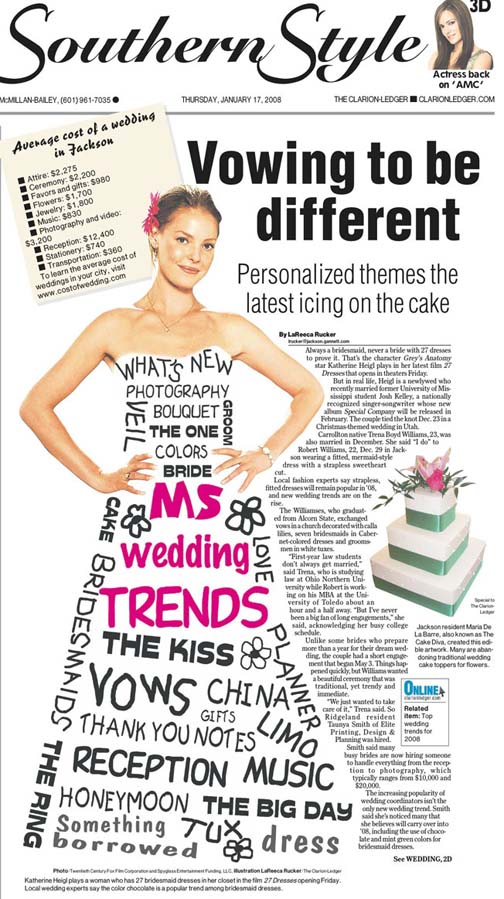 Carrollton native Trena Boyd Williams, 23, was also married in December. She said "I do" to Robert Williams, 22, Dec. 29 in Jackson wearing a fitted, mermaid-style dress with a strapless sweetheart cut. Local fashion experts say strapless, fitted dresses will remain popular in '08.
The Alcorn State University graduates exchanged vows in a church decorated with calla lilies, seven bridesmaids in Cabernet-colored dresses and groomsmen in white tuxes.
"First-year law students don't always get married," said Trena, who is studying law at Ohio Northern University while Robert is working on his MBA at the University of Toledo about an hour and a half away. "But I've never been a big fan of long engagements," she said, acknowledging her busy college schedule.
Unlike some brides who prepare more than a year for their dream wedding, the couple had a short engagement that began May 3. Things happened quickly, but Williams wanted a beautiful ceremony that was traditional, yet trendy and immediate. "We just wanted to take care of it," Trena said.
So Ridgeland resident Taunya Smith of Elite Printing, Design & Planning was hired. Smith said many busy brides are now hiring wedding coordinators to handle everything from the reception to photography, which typically ranges from $10,000 and $20,000.
Smith has noticed many wedding trends that she believes will carry over into '08, including the use of chocolate and mint green colors for bridesmaid dresses. Some brides are preserving their bouquets in frames, and many couples are dedicating songs to or remembering deceased relatives during their weddings. The Williamses lit candles in honor of their late grandparents.
Flowood resident Angela Ward, a wedding planner with Dream Events & Wedding Planning in Jackson, said she's seeing wedding dresses with softer fabrics and sashes. Some brides are choosing champagne, pink and platinum dresses rather than traditional white and ivory.
"They are using the modified A-line that gives them a slim look through the waist that is flared at the bottom," Ward said. "Strapless dresses are still one of the top buys. It's more of a classic look."
You may not have 27 bridesmaid dresses, but if you add another to your collection this year, it may be coral, yellow or blue, although chocolate remains popular.
Wedding bouquets have also changed. Ward said those of the past revealed exposed stems, but it's trendy to wrap them in satin ribbon. "And they are using embellishments on the ribbon, like beads, broaches or a family heirloom," Ward said. Others accent their bouquets with rhinestones and feathers.
Mother-of-the-bride traditions are also changing. Some are carrying small bouquets of posies instead of wearing the traditional corsage, and Ward has noticed more wedding cakes with themes, monograms and nontraditional flavors, like lemon, strawberry and carrot.
Many are also choosing sculptured flowers rather than traditional bride-and-groom cake-toppers. Wedding themes are also popular. While Heigl and Kelley chose a Christmas theme, other Mississippi couples are having beach, garden and butterfly weddings. Ward said eco-weddings are a national trend.
"A lot of brides are going green, using biodegradable products in weddings," she said, "and they are asking their guests to donate to a certain fund or organization in lieu of gifts."
Brides are also spending more money. She estimates the typical Mississippi wedding costs around $20,000. "They realize it's important to have your dream day," she said, "and they are influenced by television shows like 'My Big Fat Fabulous Wedding' and 'Platinum Weddings' on the Women's Entertainment channel.
Couples are also having larger wedding parties. "It's not unusual for a wedding party to be 20-plus people," she said.
Don't forget the ring. You may be surprised how privileged you are to own a substantial diamond. "Less than three percent of the entire world has a one-carat diamond," said Edie Lea, graduate gemologist and general manager at Jackson's Carter Jewelers.
The national standard for an engagement ring diamond is half a carat, but in the Jackson metro area, most fiancees purchase engagement rings of a carat or more.
Jewelers continue to hear that gold bands will make a comeback, but right now, the vintage white gold and platinum look is still popular. Most diamond engagement rings now sold have a round cut. Pear-cut and marquise shapes have been less popular in recent years.
Nita Welch, a designer at Jackson's A Balloon Basket and Gift Florist, creates floral arrangements, gift baskets and balloon designs for weddings in the metro area. She's also noticed that brown and metallics are popular wedding accent colors, as well as jewel tones.
She said it's popular to cover reception chairs with linen and accent fabrics. Some are requesting balloon drops for the first dance, and more couples are reflecting their ethnicity through decor and food. Some hold two ceremonies, celebrating both traditions.
Welch agrees that theme weddings are on the rise. Hearts, black and white, and golf weddings are some she's seen. "We had one wedding where the groomsmen had golf club boutineers with a flower," she said, adding that more couples are personalizing their weddings to include hobbies.
She's also seeing more weddings that are three- or four-day events. That wasn't the route the Williamses took, but now that they're spending their lives together, Trena said she wouldn't have done it any differently.
"We wanted to keep the ceremony focused on the groom and myself," she said. "We were just trying to keep it classy, simple and elegant."