The Dawning of a New Age: Women embrace turning fifty
By LaReeca Rucker
The Clarion-Ledger
It's popular these days to take an age, subtract a decade or so, and say something like, "50 is the new 40." But what exactly does that mean?
It means one minute Madonna is Like a Virgin and the next she celebrates her 50th birthday looking, arguably, better than she did in her 20s and 30s. It means Kim Cattrall, who's 52, is one of four iconic sex symbols in Sex & the City. And it means men no longer have the monopoly on growing older gracefully.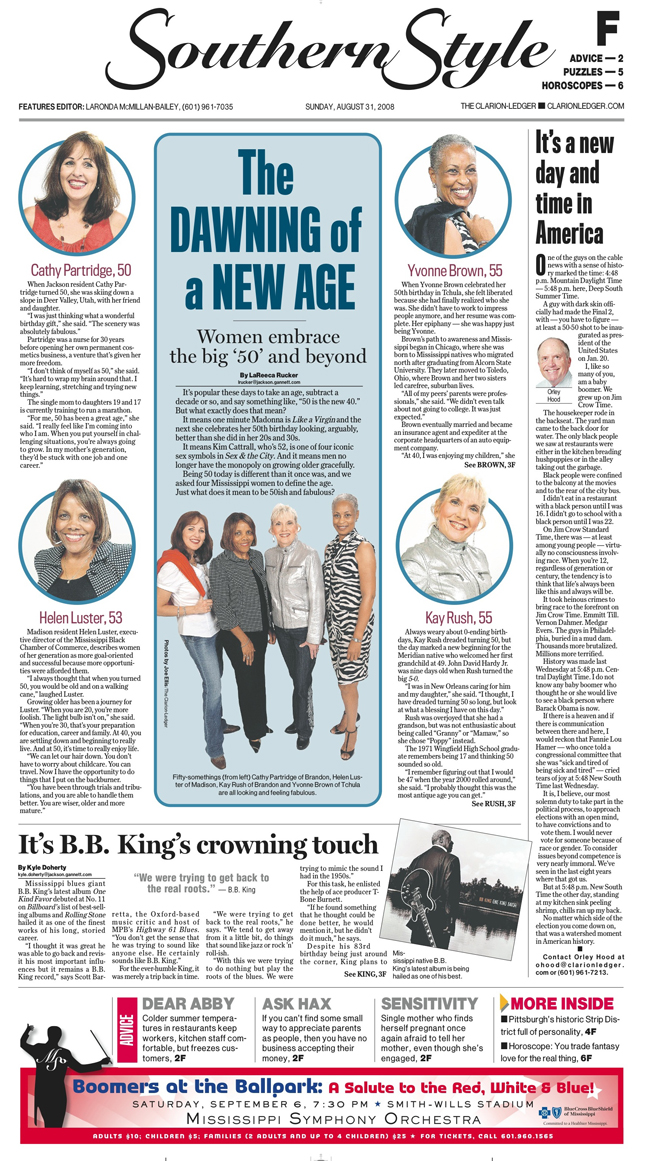 Being 50 today is different than it once was, and we asked four Mississippi women to define the age. Just what does it mean to be 50 and fabulous?
Cathy Partridge, 50
When Jackson resident Cathy Partridge turned 50, she was skiing down a slope in Deer Valley, Utah, with her friend and daughter. "I was just thinking what a wonderful birthday gift," she said. "The scenery was absolutely fabulous."
Partridge was a nurse for 30 years before opening her own permanent cosmetics business, a venture that's given her more freedom.
"I don't think of myself as 50," she said. "It's hard to wrap my brain around that. I keep learning, stretching and trying new things."
The single mom to daughters 19 and 17 is currently training to run a marathon. "For me, 50 has been a great age," she said. "I really feel like I'm coming into who I am. When you put yourself in challenging situations, you're always going to grow. In my mother's generation, they'd be stuck with one job and one career."
Helen Luster, 53
Madison resident Helen Luster, executive director of the Mississippi Black Chamber of Commerce, describes women of her generation as more goal-oriented and successful because more opportunities were afforded them.
"I always thought that when you turned 50, you would be old and on a walking cane," laughed Luster, who isn't afraid of aging. "My grandmother lived to be 99 years old, and I always said that I'm going to live to be 120."
Growing older has been a journey for Luster. "When you are 20, you're more foolish. The light bulb isn't on," she said. "When you're 30, that's your preparation for education, career and family. At 40, you are settling down and beginning to really live. And at 50, it's time to really enjoy life. We can let our hair down.
"You don't have to worry about childcare. You can travel. Now I have the opportunity to do things that I put on the backburner. You have been through trials and tribulations, and you are able to handle them better. You are wiser, older and more mature."
Yvonne Brown, 55
When Yvonne Brown celebrated her 50th birthday in Tchula, she felt liberated because she had finally realized who she was. She didn't have to work to impress people anymore, and her resume was complete. Her epiphany - she was happy just being Yvonne.
Brown's path to awareness and Mississippi began in Chicago, where she was born to Mississippi natives who migrated north after graduating from Alcorn State University. They later moved to Toledo, Ohio, where Brown and her two sisters led carefree, suburban lives.
"All of my peers' parents were professionals," she said. "We didn't even talk about not going to college. It was just expected."
Brown eventually married and became an insurance agent and expediter at the corporate headquarters of an auto equipment company. "At 40, I was enjoying my children," she said. "I had my first child when I was 21 and my second by the time I was 23. I was raising them in the same environment I grew up in. We were what I used to call buppies instead of yuppies - young black urban professionals."
But in 1995, after her husband completed seminary studies, the Browns decided to move to Mississippi to live near her parents, who had retired and moved back to her mother's hometown of Tchula. They started a ministry there, and it wasn't long until some members of the community began to realize Brown's impact. She was elected mayor in 2001.
"I'm the second woman to be mayor here," she said, "and at the time, the only black female Republican elected to office in the state."
Brown, who is now 55, said her life changed for the better after 50. "I think I've grown tremendously since then," she said. "There's this liberation about our age group - about who we are and what we want. I think in my parents' case, because both of them came through the civil rights era, they really had to want to make it. And because they struggled, that allowed my generation to make it. I think our generation became more prosperous and a little more self-confident."
Brown, who became single again in 2004 after a divorce, said society has changed a lot, and so have women, who feel younger and more independent. "I am probably healthier now than when I was 21," she said. "I work out, and being 55 and single, I do get hit on by 35- and 45-year-olds occasionally."
Kay Rush, 55
Always weary about 0-ending birthdays, Kay Rush dreaded turning 50, but the day marked a new beginning for the Meridian native who welcomed her first grandchild at 49. John David Hardy Jr. was nine days old when Rush turned the big 5-0.
"I was in New Orleans caring for him and my daughter," she said. "I thought, I have dreaded turning 50 so long, but look at what a blessing I have on this day."
Rush was overjoyed that she had a grandson, but was not enthusiastic about being called "Granny" or "Mamaw," so she chose "Poppy" instead. The 1971 Wingfield High School graduate remembers being 17 and thinking 50 sounded so old.
"I remember figuring out that I would be 47 when the year 2000 rolled around,"she said. "I probably thought this was the most antique age you can get."
When Madonna was rising to iconic stardom, Rush was becoming a mother to daughters Shea, 30, and Lindsey, 27. She said being 50 today isn't the same as it was for her mom.
"I look at pictures of my mom at the same age I am now, and she looks so much older, because women of her generation went to the beauty shop once a w eek and had their hair fixed in the bouffant hairdo," Rush said.
Today, remaining youthful is emphasized. Rush should know; for the past 20 years, she's operated the front desk at Jackson's Clinic of Plastic Surgery. "I think it's neat being a baby boomer," she said. "We are like a whole different generation, and we are protesting getting old. I think the way we dress and the way we think, we are still 30 years old.
"I know when my daughters come to visit, they delight in going in my closet to see what they can wear. To think that one of your children wants to wear your clothes makes you feel good to know that you remain stylish and updated."
She said women in their 50s have also defied time by taking care of their skin, exercising and having cosmetic surgery procedures like eye- and face-lifts. And they rebel against beauty rules of the past.
"My hair is long, and my mother always said that once you get past 30, you should not wear your hair long," Rush said. "Now, we're not afraid. It's like anything goes with our generation. All the rules our mothers had about hairstyles are just kind of thrown out the window, and for the most part, people my age beat their own drum."