Muslims hold fast to beliefs, mark Eid
LaReeca Rucker
The Oxford Eagle
For Christians, Thanksgiving and Christmas are traditional times for charitable giving. For more than a billion Muslims, that time is Ramadan.
The annual month of observance that involves a 30-day fast from sunrise to sunset concludes this weekend with the Eid holiday.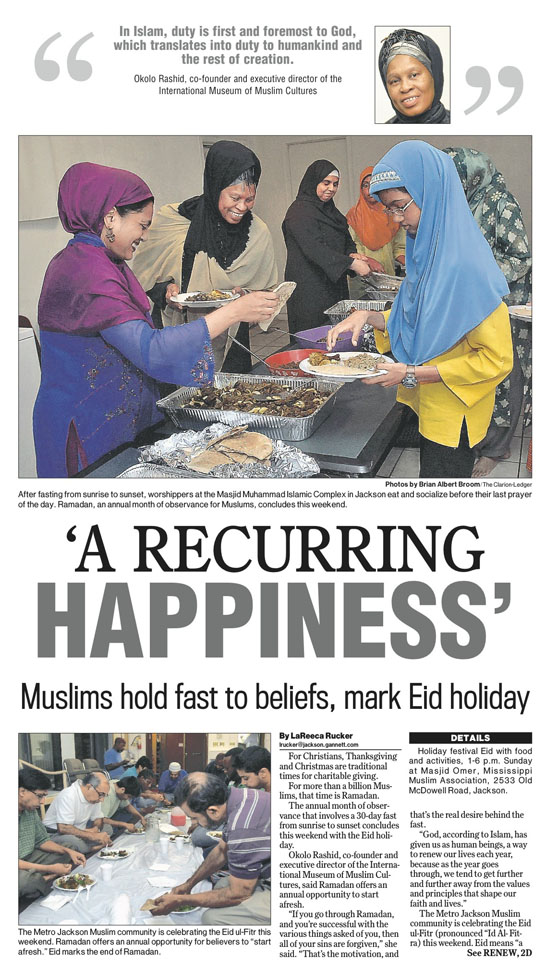 Okolo Rashid, co-founder and executive director of the International Museum of Muslim Cultures, said Ramadan offers an annual opportunity to start afresh.
"If you go through Ramadan, and you're successful with the various things asked of you, then all of your sins are forgiven," she said. "That's the motivation, and that's the real desire behind the fast.
"God, according to Islam, has given us as human beings, a way to renew our lives each year, because as the year goes through, we tend to get further and further away from the values and principles that shape our faith and lives."
The Metro Jackson Muslim community is celebrating the Eid ul-Fitr (pronounced "Id Al- Fit-ra) this weekend. Eid means "a recurring happiness."
Among the activities is a festival with food and activities from 1-6 p.m. Sunday at Masjid Omer, the Mississippi Muslim Association, at 2533 Old McDowell Road.
Rashid said Eid ul-Fitr, the first holiday in the Islamic calendar, begins the first day immediately following the month of Ramadan. It celebrates the end of the Ramadan fast, is usually observed for three days and has a deep spiritual meaning.
"In Islam, duty is first and foremost to God," Rashid said, "which translates into duty to humankind and the rest of creation. Thus, for Muslims, in the moment of their greatest joy, they are to first remember God, their Lord and Creator."
Mahmut Gok, president of the Raindrop Turkish House, said Ramadan fasting began Aug. 11 and is the holiest time of the year for Muslims. Ramadan has been observed throughout the state. It is the ninth month of the Islamic lunar year and holy because it was the month in which the Quran was first revealed.
"While fasting, you are disciplining yourself," Gok said. "During the nighttime, friends, neighbors and relatives, especially poor people, are invited to the table to share food."
Linda Morse chairs The Maroon Edition project at Mississippi State University. She worked with other campus organizations to organize a charity fast-a-thon this year that tied into the reading of the book Three Cups of Tea: One Man's Mission to Promote Peace ... One School at a Time.
"We struck up on the idea that the timing of Ramadan would fit with Three Cups of Tea," Morse said.
The New York Times best-seller chronicles co-author Greg Mortenson's journey from a failed 1993 attempt to climb Pakistan's K2, the world's second highest mountain, to establishing schools in Afghanistan and Pakistan. He will visit Humphrey Coliseum at 7 p.m. Sept. 23.
Rani Warsi Sullivan, faculty adviser of the MSU Muslim Student Association, said fast-a-thon is one of the organization's main intercultural interfaith events.
"It's hosted by various MSAs on university campuses across North America during the month of Ramadan," said Sullivan, an assistant professor in the Department of Aerospace Engineering.
The University of Tennessee Muslim Student Association held the first fast-a-thon in 2001 after the Sept. 11 terrorist attack, and founded a national event in 2002.
"Mainly, what this event does is create awareness about the issue of hunger and sheds light about some of the beliefs and traditions of Muslims and Islam," Sullivan said.
"We encourage people to fast with us just for one day. This means complete and total abstinence for one day from sunrise to sunset.
"Whatever lunch money is saved by having fasted that day - we ask that people meet us. We'll break the fast together and collect their saved money for a selected charity."
She said charity is one of the main components of Ramadan.
"The fourth pillar of Islam is Zakat, a very special form of charity that is regarded as an act of worship," she said.
"This charity is earmarked for the poor and disabled. The MSA always donates 100 percent of the collected funds from the fast-a-thon to a deserving charity every year. This year, our event raised $1,113.82, which will be given to aid in the relief efforts for the flood victims of Pakistan."
Good acquired through fasting can be destroyed by lying, slander, talking badly behind someone's back, coveting, giving a false oath or being greedy.
Fasts protect the believer from sinful acts, and Muslims guard their speech and all behaviors while evaluating their lives and strengthening their beliefs, Sullivan said.
"Ramadan," she said, "is a time to improve ourselves and our societies."