Roles resonate with actor Jay Unger
LaReeca Rucker
The Clarion-Ledger
As a Clarksdale elementary student, Jay Unger's deep, reverberating voice never went unnoticed.
"I used to try to change it to make it lighter because it carried so," the 60-year-old Jackson engineer and actor recalls.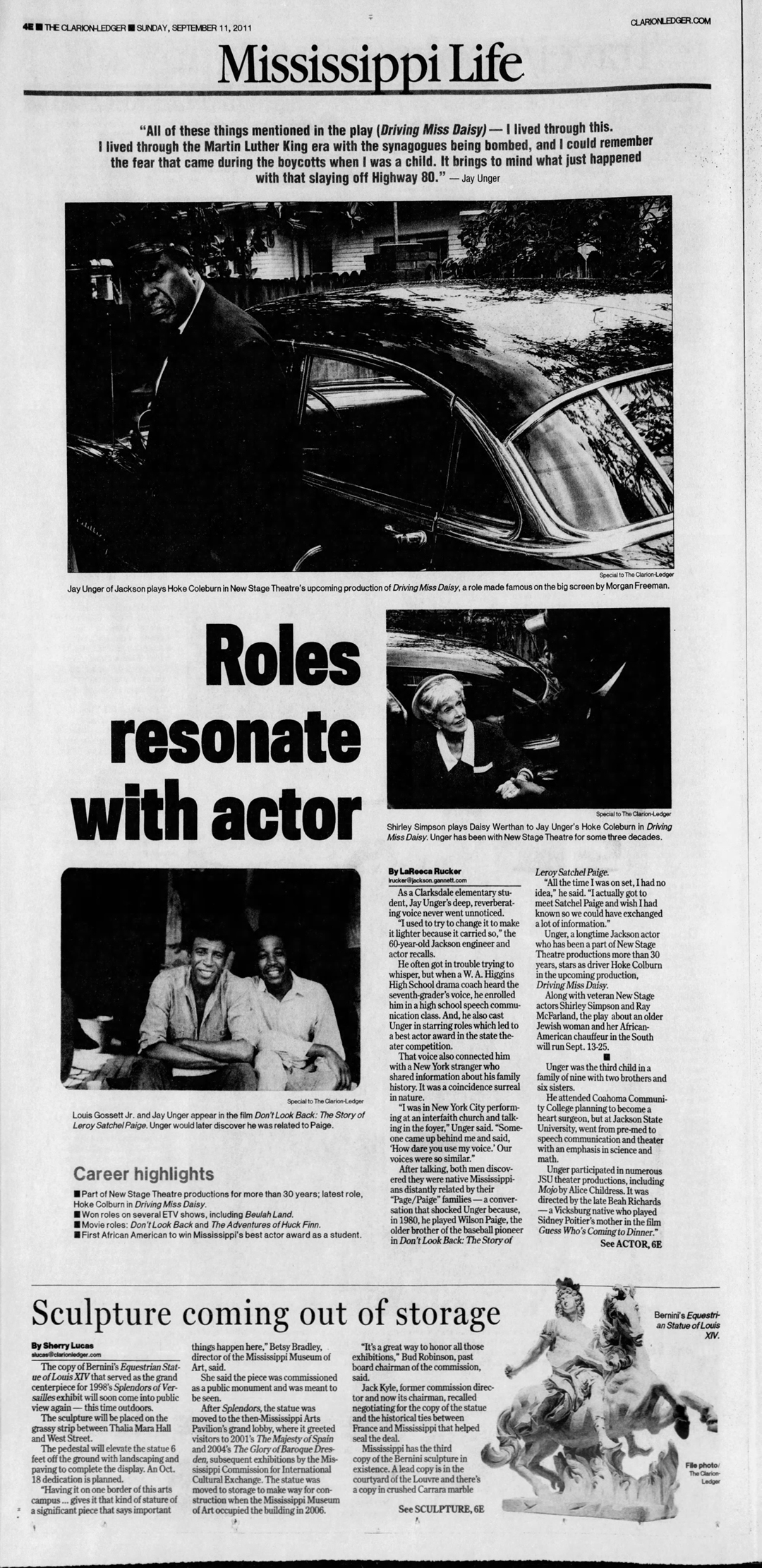 He often got in trouble trying to whisper, but when a W. A. Higgins High School drama coach heard the seventh-grader's voice, he enrolled him in a high school speech communication class. And, he also cast Unger in starring roles, which led to a best actor award in the state theater competition.
That voice also connected him with a New York stranger who shared information about his family history. It was a coincidence surreal in nature.
"I was in New York City performing at an interfaith church and talking in the foyer," Unger said. "Someone came up behind me and said, "How dare you use my voice?' Our voices were so similar."
After talking, both men discovered they were native Mississippians distantly related by their "Page/Paige" families. The conversation shocked Unger because, in 1980, he played Wilson Paige, the older brother of the baseball pioneer in "Don't Look Back: The Story of Leroy Satchel Paige."
Unger would later discover he was related to Leroy Satchel Paige. "All the time I was on set, I had no idea," he said. "I actually got to meet Satchel Paige and wish I had known so we could have exchanged a lot of information."
Unger, a longtime Jackson actor who has been a part of New Stage Theatre productions more than 30 years, stars as driver Hoke Colburn in the upcoming production, Driving Miss Daisy. Along with veteran New Stage actors Shirley Simpson and Ray McFarland, the play about an older Jewish woman and her African-American chauffeur in the South will run Sept. 13-25.
Unger was the third child in a family of nine with two brothers and six sisters. He attended Coahoma Community College planning to become a heart surgeon, but at Jackson State University, went from pre-med to speech communication and theater with an emphasis in science and math.
Unger participated in numerous JSU theater productions, including Mojo by Alice Childress. It was directed by the late Beah Richards, a Vicksburg native, who played Sidney Poitier's mother in the film "Guess Who's Coming to Dinner."
Unger also won roles on several ETV shows, but the 1980 miniseries Beulah Land was his break. The epic drama starring Leslie Anne Warren told the story of two Georgia plantation families impacted by the Civil War. Don Johnson, Meredith Baxter and a young Kyle Richards (of "Housewives of Beverly Hills" fame) were part of the cast.
Unger later auditioned for director George C. Scott (who was later replaced) and won a part in "Don't Look Back." And he played Cyrus in The Adventures of Huck Finn, a 1993 film starring Elijah Wood that was filmed in Natchez.
Unger acted but kept his day job, spending 36 years at Eaton Aerospace. He also raised two sons. His oldest, Karl Unger, an educator, lives in Houston, Texas. His youngest, Michael James Unger, would have been 22 this year.
He was murdered in 2008 at age 18. "Two of his so-called best friends killed him," Jay Unger said. "People talk to you and say it's going to get better. You learn to live with the fact that it happened, but it doesn't get any better. I constantly remember him and wonder what it would be like if he were here."

Malena W. Dow, a JSU speech teacher, met Unger when he participated in the state theater competition at Mississippi State University.
"That was the first time that any black high school had participated in this festival," she said. "They invited three black high schools, and we won first, second and third place."
Much like his distant relative, Satchel Paige, the first Negro League baseball player inducted into the Baseball Hall of Fame in 1971, Unger recalls that he was the first African American to win the best actor award at the state festival.
"By the time he got to JSU, I was there teaching speech and dramatic arts," Dow said. "He was one of the most gifted students I've ever taught. He had a desire for excellence and was a hard worker. Because he believed in himself, he was also a leader."
In 1999, Dow suffered an aneurysm and was hospitalized for three weeks. Unger proved to be a true friend. "He was one of the people who helped take care of me," she said.
Earlean Bogan, Jackson Revival Center theatre director, has known Unger for a decade. "He has a command of the stage that is like no other," she said. "He works so hard for perfection. You can tell he puts a lot of time, study and concentration into the characters he plays."
Unger's role in Driving Miss Daisy resurrected memories about growing up black in Mississippi. This is the first time he's played the part that takes him from age 60 to 87.
"I'm the same age of Hoke when it starts," he said. "All of these things mentioned in the play, I lived through the Martin Luther King era with the synagogues being bombed, and I could remember the fear that came during the boycotts when I was a child. It brings to mind what just happened with that slaying off Highway 80."
Deryl Dedmon, a white man, was recently charged with running down James Craig Anderson, a black man, on June 26 with a pickup in what authorities say was a hate crime.
"That goes right back to the '20s, '30s, '40s and '50s, and we think things have changed," he said. "That is a line from the show. I say to Miss Daisy: "Things changing, but they ain't changed all that much.'
"I hope to convey (in the play) the fact that discrimination in any form is wrong. You should learn to love and respect everybody, because when it boils down, we are all God's children."