From 'Weeds' to 'Suburgatory,' Tupelo native Allie Grant shines
By LaReeca Rucker
The Clarion-Ledger
When Allie Grant was in the third grade at Church Street Elementary School in Tupelo, she became obsessed with the film "Rain Man."
"I came to school as Rain Man," she said, which prompted her teacher to call her mother out of concern.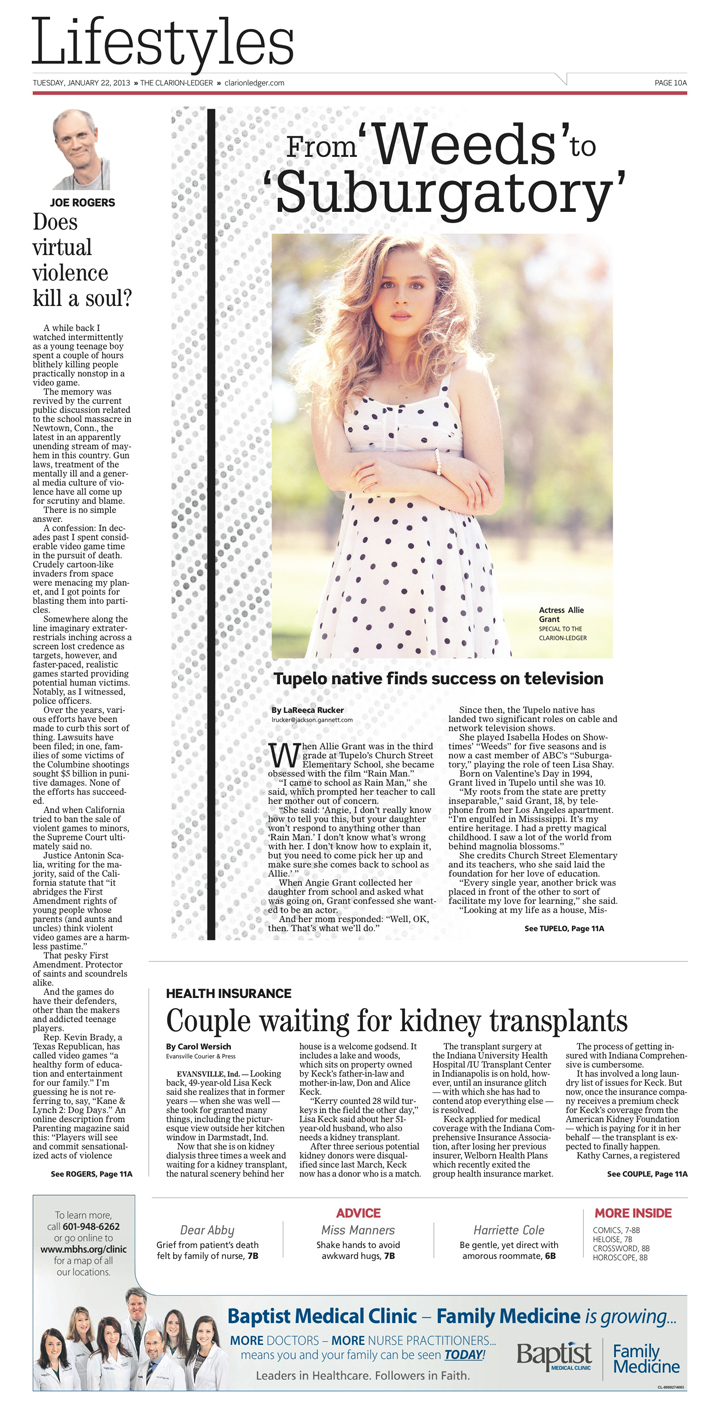 "She said: 'Angie, I don't really know how to tell you this, but your daughter won't respond to anything other than Rain Man. I don't know what's wrong with her. I don't know how to explain it, but you need to come pick her up and make sure she comes back to school as Allie.'"
When her mom asked what was going on, Grant confessed she wanted to be an actor.
"She said, 'Well, OK then. That's what we'll do.'"
Since then, the Tupelo native has landed two significant roles on cable and network television shows. She played Isabella Hodes on Showtimes' "Weeds" for five seasons, and now she is a cast member of ABC's "Suburgatory" playing the role of socially awkward teen Lisa Shay.
Born on Valentine's Day in 1994, Grant lived in Tupelo until she was 10.
"My roots from the state are pretty inseparable," said Grant, 18, by telephone from her Los Angeles apartment. "I'm engulfed in Mississippi. It's my entire heritage. I had a pretty magical childhood. I saw a lot of the world from behind magnolia blossoms."
She credits Church Street Elementary and its teachers, who she said laid the foundation for her love of education.
"Every single year, another brick was placed in front of the other to sort of facilitate my love for learning," she said.
"Looking at my life as a house, Mississippi is the chimney," she said. "It's the backbone that's my life. Growing up, I was constantly being encouraged to write and engulf myself in other worlds and planets. I think since I was an embryo, I've been an actor."
Grant was involved in The Lyric Theater in Tupelo. She also performed at many churches, and wrote and entered poems in Tupelo's Gum Tree Festival writing competition.
"I was just always looking to find some sort of way, and still am, to express myself," she said.
That led her on a journey to Los Angeles with her mother, Angie Grant, when she was in fourth grade after meeting an agent at a talent expo in Texas who encouraged her to call him if she was ever in town.
"My mom and I packed up our car one night and drove to Los Angeles," she said. "We drove through blizzards and desserts and slept in our car. We drove until we hit the ocean, and got out and looked at each other, and realized that was all we had."
Grant and her mom stayed in Los Angeles the summer of 2005, living in a 400-500 square-foot studio apartment and going on auditions.
"I went on an audition for a pilot called 'Weeds,' she said. "I had two lines."
She landed the role at age 10 and shot it a month later. Then she was brought back for a couple of episodes. When she was 13, she was made a series regular. "Thinking back on it now, it was rather surreal," she said.
From there, she guest starred on "That's So Raven" and "The Suite Life of Zack and Cody."
"I did 'Weeds' for five years, and then Elizabeth Perkins, who played my mother, left the show," she said. "Then I left."
She landed another guest starring role on "Private Practice" before she was sent a script for the "Suburgatory" pilot.
"I read it, and I was so surprised by how funny it was," she said. "I was really taken by it. So I went and auditioned for the part on the show."
Grant didn't feel the audition went well. "I called my manger and said, 'I just want you to know, I really, really love his show, but I will never see these people again. Please apologize to them on my behalf,'" she said. "A week later, I got called to come back. So I went back and met the creator of the show."
That led to a lengthy process of network testing, where she met with executives for two weeks before they told her she had the part.
"I knew Jane (Levy) and Jeremy (Sisto) were attached," she said, "but I had no idea about anyone else," she said. "So when I showed up at the table read, and there set Cheryl Hines and Ana Gasteyer and Rex (Lee), I felt my soul leave my body and say, 'What are you doing here?'"
Grant shot the pilot in March, graduated from high school in June, and made plans to go to college.
"Once we got news that the show was picked up, that really sort of reshaped my college plans," she said.
Her former Church Street teacher, Carol Wright, distinctly remembers Allie. She said she was one of those kids you knew would go far.
"She was an absolutely wonderful creative writer," Wright said. "That's one of the things we stressed at Church Street was creative writing, and she just did a phenomenal job with that. She was always in our Church Street plays, and was always so cooperative. She just took every suggestion and took off with it.
"She was so friendly and outgoing to everyone and very kind to all the classmates. Her vocabulary was outstanding, and just the way she could describe things, you felt like you were really there."
Today, Grant is still a working actor, who knows the meaning of struggle. She still lives in the same L.A. neighborhood she first moved to, but has graduated from a 400-square-foot studio apartment to an 800-square-foot one-bedroom, where she lives with her mom.
"My mother, really above all things, is a survivor," she said. "When we got out of the car, and we opened up the backseat, everything in our lives fell out into the parking lot. She was undyingly supportive, and we stayed.
"My mom has always been a pretty peripatetic soul. She's always created opportunities for herself. In Tupelo, she owned a salon and a modeling studio. She was just fearless and we left.
"My family is some of the finest people in the world, but they are not showered in possessions. We didn't know anyone, really. Then, suddenly, I had an agent. There are people who come out here who don't, and to me that's just flirting with the impossible."
Grant continues to audition for other roles and write plays in her spare time. She also fondly thinks of Mississippi.
"Growing up in Mississippi — the land is like a library," she said. "You learn from a really early age what humility is. That's what I think makes it so special. You feel the humility and kindness in people."