Looking for Love: Mississippi native to appear on 'Millionaire Matchmaker'
LaReeca Rucker
The Clarion-Ledger
When Mississippi native Angela McArthur Lutin became a divorced mother of a 13-year-old son at 34, she thought it would be a snap getting back into the dating game.
"I thought I was a hot mama who was going to do good on the dating scene, and I didn't know anything," she said.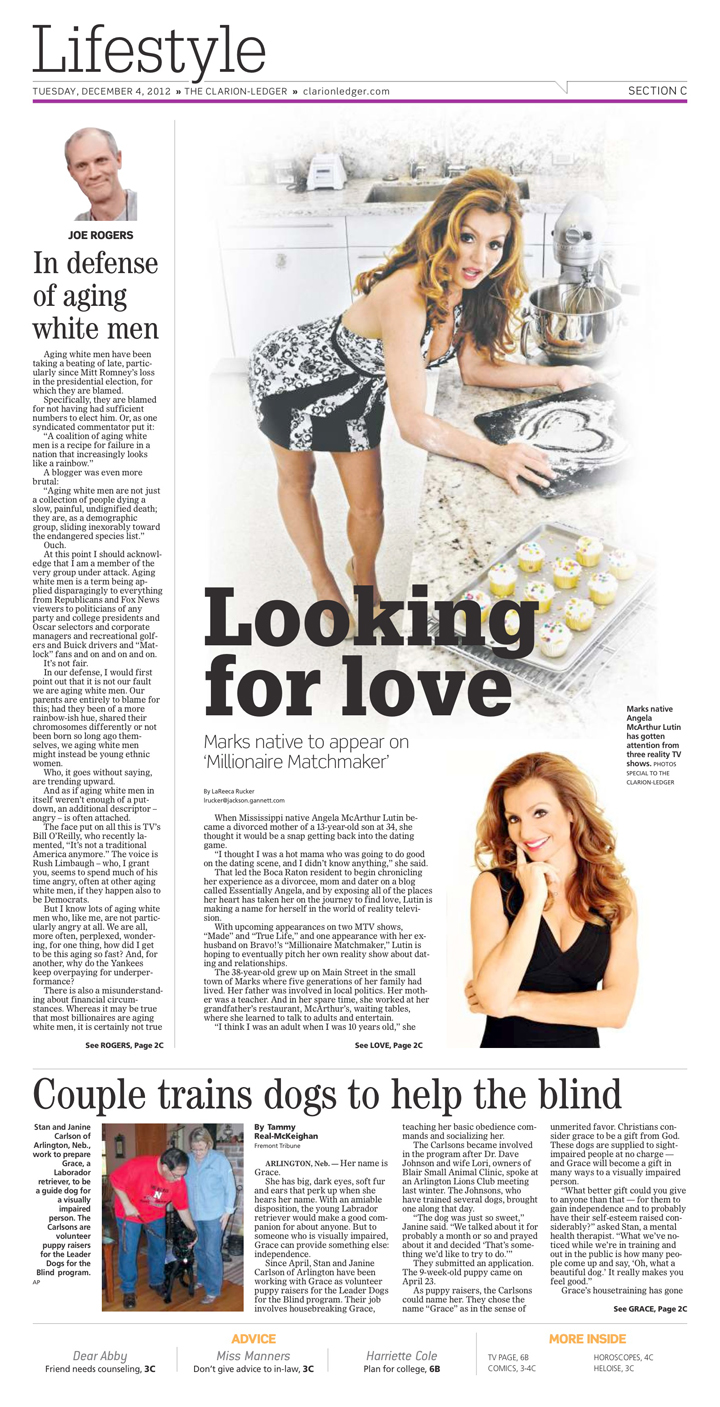 That led the Boca Raton resident to begin chronicling her experience as a divorcee, mom and dater on a blog called Essentially Angela, and by exposing all of the places her heart has taken her on the journey to find love, Lutin is making a name for herself in the world of reality television.
With upcoming appearances on two MTV shows, "Made" and "True Life," and one appearance with her ex-husband on Bravo!'s "Millionaire Matchmaker," Lutin is hoping to eventually pitch her own reality show about dating and relationships.
The 38-year-old grew up on Main Street in the small town of Marks where five generations of her family had lived. Her father was involved in local politics. Her mother was a teacher. And in her spare time, she worked at her grandfather's restaurant, McArthur's, waiting tables, where she learned to talk to adults and entertain.
"I think I was an adult when I was 10 years old," she said. "I just kind of became an adult and kept on going." It took maturity to get through her parents divorce at age 13 and start anew at Lee Academy in Clarksdale. "I knew I was smart, and I wanted to get a good education," said Lutin, who earned a full scholarship to Delta State University.
She enrolled in 1992 and graduated in 1994 at age 19. Lutin initially thought she'd study English, but chose business instead, thinking she might attend law school later. But after graduating, she worked in the banking industry in Tupelo until she got a random call at 22 that sent her to Boca Raton for a job interview.
"I drove down, and when I got there, there was no interview," she said. "I waited three days for an interview in my hotel. Finally, someone agreed to interview me. I got the job."
Lutin married at 24, had a son at 25, and worked in the banking industry almost 15 years until she divorced at 34. Today, she writes a column called The Naked Truth for Boca Magazine and has just begun to explore the world of reality television.
"When you get divorced, your life kind of falls apart," she said. "I wrote a book that came out last year called "Play Big." I self-published it and sold about 5,000 copies. That was my first foray into writing. It was about being divorced, stepping into your life and what happens when you have to push through it."
She also began writing blog entries about dating and having a teenage son. "After we started to get picked up more and more, I reached out to my publicist and said, 'I don't know what I've got, but I've got something,'" she said.
Self-described as a "Sex in the Suburbs, if Carrie (Bradshaw) had kids, blogger," Lutin writes about love, romance and relationships. She has also contributed to The Huffington Post, Shape and Think magazines.
"As I was writing for different outlets, I got something about 'Millionaire Matchmaker' casting," she said. "They were looking for divorced couples. "My ex-husband and I are very close. He's a big part of the show and my life. What I do now is based on how we live our life and parent together. We're really the modern family."
On 'Millionaire Matchmaker,' Lutin said her ex-husband will set her up on an date. She said the next season of the show begins Jan. 3, "and we are about the sixth episode in."
During this time, MTV producers also noticed Lutin's writing and asked her to be a dating coach for a 28-year-old Tampa girl looking for her first boyfriend on "Made." "For several months, I helped a girl who had really never dated before," she said.
Lutin said "Made" is scheduled to air this month, but she doesn't have the airdate. That led to another MTV gig on "True Life" as a dating coach where she helps a boy with social anxiety. "He's actually the 26-year-old virgin who has never had a date at all," she said. It will be taping in January.
Sara Shake, Lutin's publicist, said she began working with Lutin when she had just created her blog. "She needed someone to try to take this ride with her and not be afraid to ruffle some feathers," Shake said.
"When she came on board, it was really about: 'How big do you want to take this? And are you really willing to let people have this really intimate look at your personal life?' She needed to realize that she would be in the public eye a lot."
Shake said people seem drawn to Lutin. "It's really interesting because it doesn't happen with a lot of my clients," she said. "Basically everyone we put Angela in front of, they end up working with her. They all say 'yes.' She definitely has a presence that you need to carry a show, and I think that when she's in front of people, they definitely see that right away."
Shake said Lutin blogs from experience. "One of the things that's really important is she is out there in the dating scene," she said. "She's not someone who is telling you what to do. She is living it. That makes her relatable to her clients. She's going through the same trials and dating disasters, great dates and flirting. I think that's a really big piece that makes her accessible to everyone."
Lutin is also marketing herself as a matchmaker/dating adviser with hopes of presenting a pilot to networks. "Women are great in the board room," she said, "but when it comes to dating, some of them have been out of the game so long, they come to me to get coached through it."
Dr. Ruth gave great advice in the past, but Lutin said times have changed. "Things have really turned us on our heads with technology," she said. "Now, you're lucky if you talk to a date before you go out with them. It's a very different game.
"When I made the decision to write the blog and really lay out my life on the pages of the Internet for people to see, I really made the decision to expose my life," she said. "It really wasn't for fame. I knew so many people who were going through what I was going through, who were struggling with a teenager, career, ex-husband and maybe wanted to get a date on a Saturday night. I kind of embraced it."
Lutin said her goal is simply to help others get back in the dating game. "The divorce rate is 50 percent in this country," she said. "A lot of people find themselves in the situation I was in. You marry young, divorce, and I was still vibrant. I think I serve as a good role model for that. "I'm a romantic at heart, and I want to help people find love. Everybody deserves love. I still haven't found it for myself. I'm too busy finding it for everyone else."
Angela's Dating Advice
* Throw the old rules out the window.
* Let things marinate when dating. Don't rush to judgment.
* Get online. "I think there was a stigma against online dating for a long time, but I think it's great. I always have a profile up. I tell all of my clients they have to have an online dating profile. And, personally, I like the pay sites because I think if someone is going to pay, they are actually legitimate and not just looking for a hookup. Match.com is really the gold standard."
* "And the most important thing I tell people in the mid-30s to -50s range who are a little nervous to get out there — you have to swing the bat, or you're not going to hit a home run."
You can follow Lutin at facebook.com/EssentiallyAngela or Twitter @essentiallyang.