Mississippians can't cut those apron strings
LaReeca Rucker
The Clarion-Ledger
As one of only two women employed full-time for the Lincoln County Sheriff's Office, Brookhaven deputy Krysten Butler carries a gun and badge, and with versatility, works an array of cases, from narcotics investigations to child abuse and sexual assault crimes.
It's a job that only someone tough could do – someone who must stay in control in any situation. "I can hold my own," Butler said. "I'm not a girly-girl. I never have been."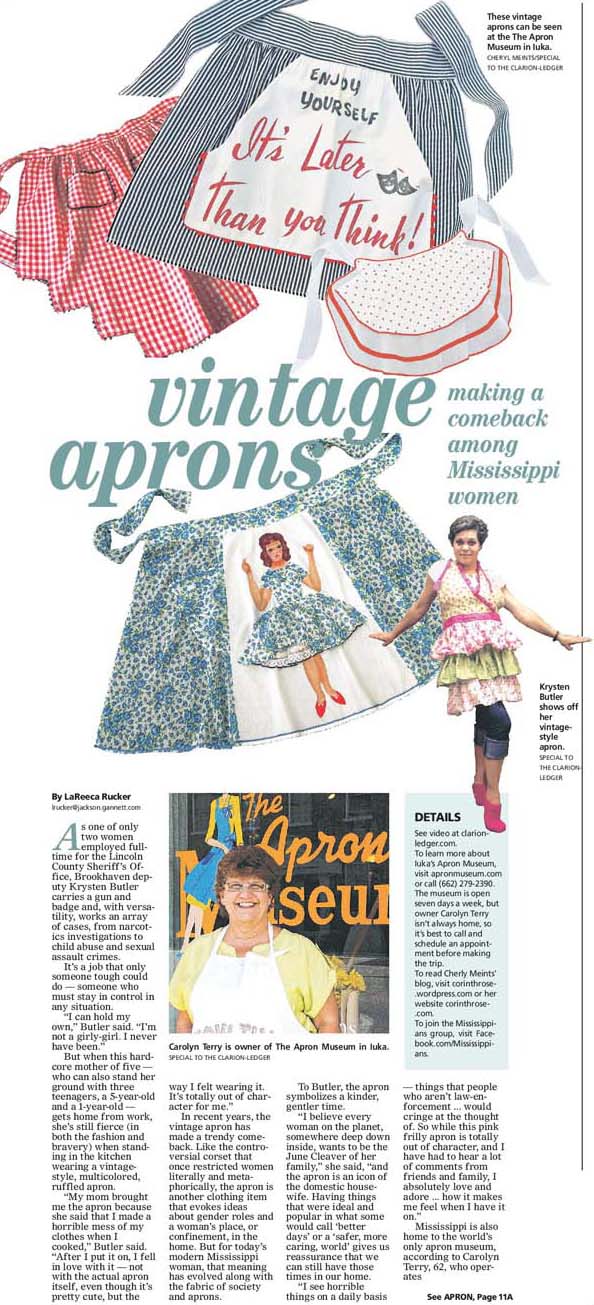 But when this hardcore mother of five – who can also stand her ground with three teenagers, a 5-year-old and a 1-year-old – gets home from work, she's still fierce, (in both the fashion and bravery sense of the word), when standing in the kitchen wearing a vintage-style, multi-colored, ruffled apron.
"My mom brought me the apron because she said that I made a horrible mess of my clothes when I cooked," Butler said. "After I put it on, I fell in love with it – not with the actual apron itself, even though it's pretty cute, but the way I felt wearing it. It's totally out of character for me."
In recent years, the vintage apron has made a trendy comeback . Like the controversial corset that once restricted women literally and metaphorically, the apron is another clothing item that evokes ideas about gender roles and a woman's place, or confinement, in the home.
But for today's modern Mississippi woman, that meaning has evolved along with the fabric of our society and the aprons. To Butler, the apron symbolizes a kinder, gentler time.
"I believe every woman on the planet, somewhere deep down inside, wants to be the June Cleaver of her family," she said, "and the apron is an icon of the domestic housewife. Having things that were ideal and popular in what some would call 'better days' or a 'safer more caring world' gives us reassurance that we can still have those times in our home.
"I see horrible things on a daily basis – things that people who aren't law-enforcement, . . . etc., would cringe at. So while this pink frilly apron is totally out of character, and I have had to hear a lot of comments from friends and family, I absolutely love and adore . . . how it makes me feel when I have it on."
Mississippi is also home to the world's only apron museum that opened in 2006. Carolyn Terry, 62, operates the museum that houses 2,200 vintage aprons donated from all over the world.
The retired paralegal said the apron faded away when society's expectations for women changed. "My mom's generation was in the kitchen and proud of it," she said. "They were bragging about having five kids, cleaning and being June Cleaver.
"In my generation, I was hearing that if you really wanted to be someone, you should enroll in business or law school. Society was pushing my generation to wear a gray business suit, not family, and not anything to do with cooking. So the aprons were just packed away in a drawer. Then you realize there should have been other options."
Today, even businesses are more aware of the importance of family, Terry said, and several things are influencing the apron revival.
"When there is an economic downturn, the creative juices flow," she said. "People have to make do with what they have. They are at their home more. There is more of an emphasis on healthy eating now. With budgeting, people are being forced not to eat out as much. It's like a perfect storm of getting back in the kitchen.
"Women in the '60s and '70s, were trying to climb up the corporate ladder, break through the glass ceiling. Today, women are still working on their careers, but their lives are more blended."
Corinth resident Cheryl Meints, who photographed the aprons featured on The Apron Museum website, has collaborated with Terry on exhibits and attended an Apron Extravaganza hosted by the University of Tennessee Extension last October.
Hundreds of women showed up to see EllynAnne Geisel, author of The Apron Book , talk about the apron's resurgence.
"Every apron has a memorable history and reflective story to tell," Meints said. "Maybe little Johnny's nose was wiped or a tear dried with an apron numerous times. Or maybe grandma's apron was used as a pot holder, grabbing a scrumptious apple pie from the oven. Maybe mom shooed the chickens from the front yard with her flapping aprons. Aprons are like comfort food. They make you feel good when you remember."
Meints said her 13-year-old daughter has begun sewing and selling vintage-style aprons at area businesses. So has Goodman resident Rachel Floyd, who sells vintage-style aprons on Etsy.com under the seller name simplyblessed2011. They range in price from $15 to $20.
"I think they remind people of a simpler time," said the Virgina Beach native and mother. "When family was the number one priority, we weren't trying to be queens of multitasking."
Pontotoc native Kathy Lee, a mother of three, began sewing and selling aprons on Etsy.com last year under the name GabbiGirls. They range from $12 to $20.
"(Aprons) have become a sought-after item," she said. "It seems our world is in search of something new and different, and attention has gone to the past."
Lee believes the apron traditionally represents wholesome values and the importance of family, something she said Mississippi women have clung to throughout changing times.
"I, for one, feel Mississippi has always been slighted for being backward, especially in the women's work field," she said. "It has been a misunderstanding or misrepresentation of who we are. We are just as modern as any woman anywhere in the world.
"The difference is that we learned a long time ago the importance of family. For most of us, having a career does not mean that we abandon our family values. Rather, we cherish time and relationships with our family."
"Like" our Mississippians page by clicking here.
Follow me on Twitter here.
See what I Pin here.
To learn more about Iuka's Apron Museum, visit apronmuseum.com .
To read Cherly Meints blog, visit corinthrose.wordpress.com or her website corinthrose.com.