Out of the Attic: Whiz kid child star from Mississippi recalls working on the set of 'Flowers in the Attic'
LaReeca Rucker
The New Albany Gazette
You may remember Ben Ryan Ganger as one of the blonde twins in the 1987 movie "Flowers in the Attic." But what you may not realize is that Ganger is the son of a Hickory Flat native.
He played Corey, who's locked in the attic of his grandmother's mansion in the gothic film based on the V.C. Andrews novel. But unlike his character, Ganger has not been confined to any specific category in the worlds of entertainment and academia.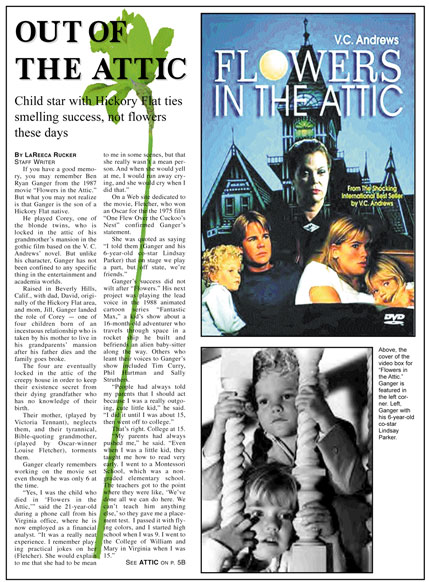 Raised in Beverly Hills, Calif., with dad, David, originally of the Hickory Flat area, and mom, Jill, Ganger landed the role of one of four children taken by his mother to live in his grandparents' mansion. Ganger clearly remembers working on the movie set even though he was only 6 at the time.
"Yes, I was the child who died in Flowers in the Attic," said the 21-year-old during a phone call from his Virginia office, where he's now a financial analyst. He still remembers interactions with cast members, including actress Louise Fletcher, who played the cold, domineering grandmother.
"It was a really neat experience," Ganger said. "I remember playing practical jokes on her (Fletcher). She would explain to me that she had to be mean to me in some scenes, but that she really wasn't a mean person. And when she would yell at me, I would run away crying, and she would cry when I did that."
On a Web site dedicated to the movie, Fletcher, who won an Oscar for the the 1975 film "One Flew Over the Cuckoo's Nest," confirmed Ganger's statement: "I told them (Ganger and his 6-year-old co-star Lindsay Parker) that on stage, we play a part, but off stage, we're friends."
Ganger's success did not wilt after Flowers. His next project was playing the lead voice in the 1988 animated cartoon series Fantastic Max, a kid's show about a 16-month-old adventurer who travels through space in a rocket ship he built and befriends an alien baby-sitter along the way.
Others who leant their voices to Fantastic Max include Tim Curry, Phil Hartman and Sally Struthers.
"People had always told my parents that I should act because I was a really outgoing, cute little kid," he said. "I did it until I was about 15, then went off to college."
That's right. College at 15.
"My parents had always pushed me," he said. "Even when I was a little kid, they taught me how to read very early. I went to a montessori school, which is a non-graded elementary school. The teachers got to the point where they were like, 'We've done all we can do here. We can't teach him anything else,' so they gave me a placement test. I passed it with flying colors, and I started high school when I was 9."
Ganger became a student at the College of William and Mary in Virginia when he was 15. Information about Ganger listed in the 1995 Student Portrait section of the Concord High School website says that. He maintained a 4.4 grade point average. He was one of five male finalists in the L.A. Clippers/Blue Shield of California Scholarship Program his senior year, and he was accepted to a number of colleges, including UCLA and William and Mary.
Ganger was also the 1994 regional gymnastics champion and earned second place in the 1992 International Karate Championship. At 15, history and political science were his favorite subjects, and he aspired to be a politician after establishing himself in the business world as an entrepreneur.
Ganger graduated from William and Mary two years ago, and today he is vice president of a company in Virginia, where he works as a financial planner and investment advisor.
"I was always good at math," he said, "but investments in the stock market always interested me. My parents really put me in a very good position to succeed."
Ganger's acting credits
1987 - Flowers in the Attic: Corey
1988 - Fantastic Max (Animated TV Series): Voice of Fantastic Max (Until 1990)
1998 - I'm Gonna Git You Sucka
1989 - Bert Rigby, You're a Fool (Movie): Jim Shirley Jr., the son of Corbin Bernsen, formally of L.A. Law. The movie also starred Anne Bancroft and was directed by Carl Reiner.
1989 - Dink: The Little Dinosaur (Animated TV Series): Shyler
1990 - Tiny Toon Adventures (Animated TV Series): Voice of Duncan in "The Acme Home Shopping Show."
1990 - Whenever I Feel Afraid?
1990 - Tale Spin (Animated TV Series): Voice of Oscar Vandersnoot
1984 - Murder She Wrote (TV Series): "Shear Madness"
1990 - Night Angel (Movie): unknown
1990 - Empty Nest (TV Series): Jimmy
1991 - Dinosaurs (TV Series): Voice of Caveling
1994 - Ed Wood (Movie): Angry Kid (Directed by Tim Burton) Other cast members were Bill Murray, Johnny Depp, Martin Landau, Patricia Arquette and Sarah Jessica Parker
1995 - Baby Face Nelson (Movie): unknown?; Highway to Heaven - "Jason" (The Silent Bell)