Babalu: 'I Love Lucy' themed restaurant opens in Fondren
LaReeca Rucker
The Clarion-Ledger
I Love Lucy fans are familiar with the word "Babalu." Ricky Ricardo frequently belted out his signature song, a Cuban standard, at his Tropicana nightclub before it was renamed Club Babalu.
The song references Babalu-Aye, a deity of Afro-Caribbean origin in the Santeria religion - a faith that blends African religion with some aspects of Christianity. The singer cries out to Babalu to bring his lost love back.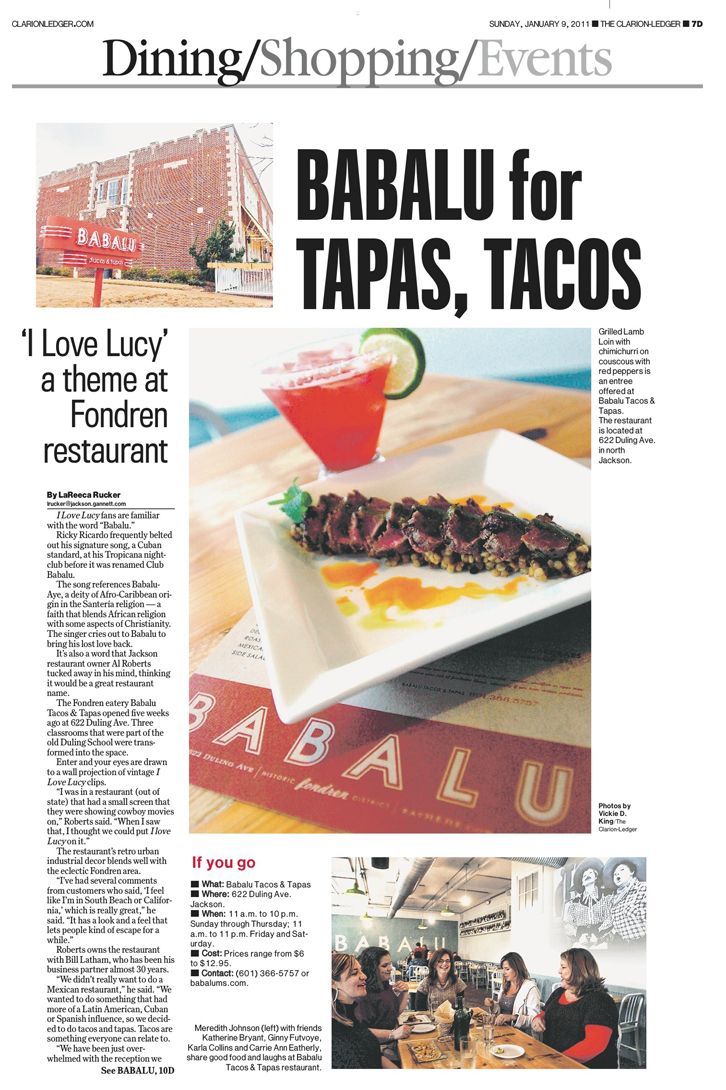 It's also a word that Jackson restaurant owner Al Roberts tucked away in his mind, thinking it would be a great restaurant name.
The Fondren eatery Babalu Tacos & Tapas opened five weeks ago at 622 Duling Ave. Three classrooms that were part of the old Duling School were transformed into the space.
Enter and your eyes are drawn to a wall projection of vintage "I Love Lucy" clips. "I was in a restaurant (out of state) that had a small screen that they were showing cowboy movies on," Roberts said. "When I saw that, I thought we could put 'I love Lucy' on it."
The restaurant's retro urban industrial decor blends well with the eclectic Fondren area. "I've had several comments from customers who said, 'I feel like I'm in South Beach or California,' which is really great," he said. "It has a look and a feel that lets people kind of escape for a while."
Roberts owns the restaurant with Bill Latham, who has been his business partner almost 30 years. "We didn't really want to do a Mexican restaurant," he said. "We wanted to do something that had more of a Latin American, Cuban or Spanish influence, so we decided to do tacos and tapas. Tacos are something everyone can relate to. We have been just overwhelmed with the reception we have had from the city and the Fondren area."
Tapas refers to snacks or finger food in Spanish cuisine. The prices also have resonated with patrons, Roberts said. The highest menu item is a $12.95 steamed mussels dish. The lowest are side orders like $1.95 Delta Grind Grits and Mexican Street Corn.

Tacos are served two per order, and one order averages about $6.60. You can mix and match. Other tapas offerings start at $7.50.

"Everything is made from scratch in the restaurant every day," said Roberts. "We have two ladies who do nothing except make 800-1,000 tortillas individually by hand all day long."

They look forward to spring because the restaurant features outdoor seating. Latham said Babalu offers a casual dining experience, and the tapas format encourages sharing. Some appetizers, like guacamole, are prepared at your table. While the dishes have Spanish influences, Latham said also you'll find Southern-inspired items like the grits and Black Eyed Pea Relish.
Roberts and Latham, partners in LR Restaurants, owned and operated the Amerigo Restaurant Group and Jackson's Char restaurant before selling them in 2006. Now, they are developing restaurants in Mississippi and Tennessee.

They also own part of the Five Guy's Burgers and Fries franchise and plan to open 12 stores by 2017. The first was in Ridgeland's Renaissance development. The second will open soon in Flowood's Dogwood Festival Market & Promenade.
Roberts and Latham also own and operate Interim Restaurant and Sole Restaurant and Raw Bar in Memphis. "We have been blessed over the years to have some great staff," Latham said.

Babalu has 65 employees, including manager Cody Allen and executive chef David Ferris, who began his career at Oxford's City Grocery. He attended the New England Culinary Institute and worked at Fondren's Walker's Drive-In and Greenwood's Giardina's restaurant before beating a culinary drum at Babalu.