Totes: A stylish way to go green
LaReeca Rucker
The Clarion-Ledger
Many college students are familiar with the acronym BYOB, but the phrase has an entirely different meaning for 19-year-old Kimberly Ragsdale.
Nope, we're not talking about booze or beer. Today BYOB also means Bring Your Own Bag, a campaign sparked by the environmentally conscious followers of the "going green" movement that encourages citizens to bring a cloth bag while shopping to carry purchases instead of using paper or plastic bags offered at most stores.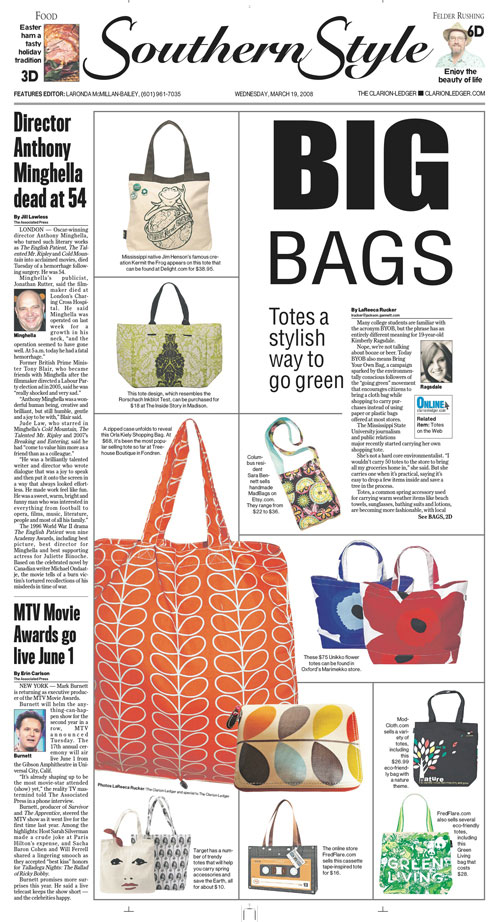 The Mississippi State University journalism and public relations major recently started carrying her own shopping tote. She's not a hard core environmentalist. "I wouldn't carry 50 totes to the store to bring all my groceries home in," she said. But she carries one when it's practical, saying it's easy to drop a few items inside and save a tree in the process.

Totes, a common spring accessory used for carrying warm weather items like beach towels, sunglasses, bathing suits and lotions, are becoming more fashionable, with local and online stores offering a variety of funky, trendy totes with vivid colors, designs and images. They're a fashion statement, but they're also eco-friendly.
FredFlare.com, ModCloth.com, and even Target are selling stylish cloth totes, some with environmentally-friendly sayings. The online store J. LaMore offers a canvas tote featuring the phrase "Green is the New Black" for $60. And many high-end companies like Hayden-Hartnett, a Brooklyn-based line of handbags and accessories, sells canvas totes for $27 that read "Green is Good," with all proceeds supporting Farm Aid's efforts to promote local, organic, and sustainable farming through education and training.
Even Mississippi native Kermit the Frog, who knows a little something about Bein' Green, has gotten involved in the BYOB movement. His picture is featured along with the words "Think Green" on totes sold at Target, Delight.com and other online stores.
There's also a Facebook group dedicated to the tote called "Canvas totes are the new Coach bag," and it's not as absurd as it sounds. You can find shopping totes at every price point. Hermes is offering a $960 SilkyPop shopping tote that folds into a wallet.
Jude Muse, owner of Fondren's Treehouse Boutique, sells several high-end totes, including those by Echo, California designer Trina Turk and London designer Orla Kiely. She said totes are selling well this season.
"Everybody wants a nice, fashionable tote for their swimwear and towel," she said. But her current best-seller is structured similarly to the Hermes design. The vibrant orange $68 Orla Kiely Shopping Bag can be zipped into a wallet. "You fold it up, put it in your purse, and you can take it out, unzip it and carry your groceries," Muse said.
Lauren Davis, manager of The Inside Story, a Madison gift shop and boutique, said trendy totes are always popular, and she recently placed an order for canvas shopping totes. "We really thought they would be nice to have around since people are trying to be more accommodating to the environment these days and not use the paper and plastic in the grocery store," he said.
Columbus resident Sara Bennett creates colorful handsewn purses called MadBags that she sells on Etsy.com. Bennett, who has sold bags throughout the U.S. and internationally through the site, said lately she's received numerous requests for large market totes. "A lot of people are going green," she said, "and there's been a lot of requests for big bags that you can take to the grocery store, so that you won't have to use paper or plastic."
Many grocery stores, including Brookshire's and Kroger, have begun selling cloth totes for 99 cents as an alternative to paper or plastic, and Whole Foods Market has announced it will end the use of disposable plastic grocery bags at checkouts in all of its 270 stores in the U.S., Canada and U.K. by Earth Day, April 22.
According to ReusableBags. com, 14 million trees were cut in 1999 to produce the 10 billion paper grocery bags used by Americans. And each year, an estimated 500 billion to 1 trillion plastic bags are consumed worldwide. That's about one million per minute, and billions end up as litter.
After receiving an invitation from a Facebook friend, Ragsdale also recently joined MSU's Recycling Club. "They are organizing committees and putting recycling bins in dorms and outside the cafeteria," she said, adding that she's been recycling in her own dorm since Christmas. And when she travels home to Vicksburg on weekends, she brings the bag of materials to leave in the recycling bin outside the area outlet mall.
"I became interested in doing it after noticing bottles and cans on the ground," she said. "Then I read about how the landfills are filling up, the resources it takes to make the new plastics and that all the virgin materials are being used. I've become very concerned about it.
"Some people don't even care. They think the planet has just been put here for our disposal. I'm just one person, but this is what I am doing to help."