Beauty and the Bargain: Looking good doesn't have to cost a fortune
LaReeca Rucker
The Clarion-Ledger
Edwards resident Sabrina Cagle once bought a house because it was near the mall and spent $800 a month on clothing, but that went out of style when she discovered how much money she could save shopping at discount stores, thrift shops, consignment boutiques and garage sales.
Bargain hunting has become a passion for Cagle and friends Brenda Allred and Cathy Ambrose, who spend their weekends scavenger hunting for fashion finds. It's about friendship, fun and frugality - the thrill of finding a diamond in the rough and the victorious feeling of saving a buck in today's challenging economy.
"I definitely think more people are looking for bargains these days because of the economy," said Cagle, who knows designer labels and is skilled at spotting deals, whether they're on a rack at TJ Maxx or a garage sale table.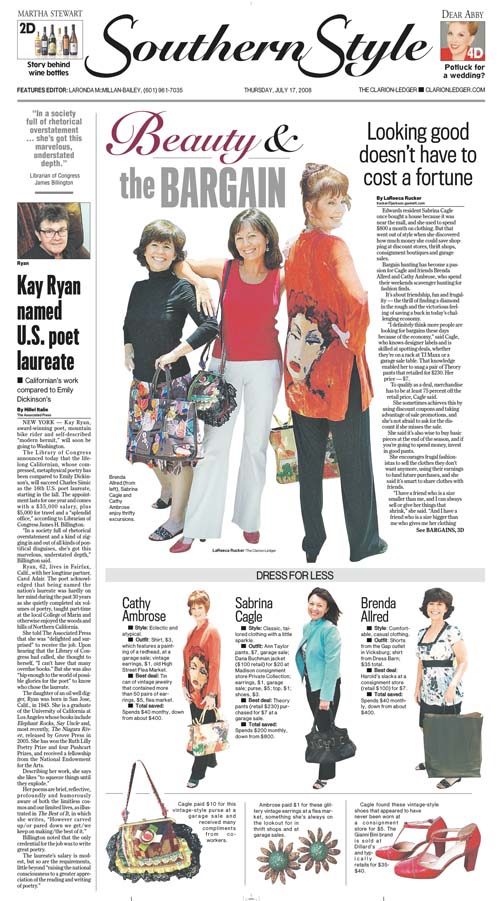 That knowledge enabled her to snag a pair of Theory pants that retailed for $230. Her price - $7.
To qualify as a deal, merchandise has to be at least 75 percent off the retail price, Cagle said. She sometimes achieves this by using discount coupons and taking advantage of sale promotions, and she's not afraid to ask for the discount if she misses the sale.
She said it's also wise to buy basic pieces at the end of the season, and if you're going to spend money, invest in good pants. She encourages frugal fashionistas to sell the clothes they don't want anymore, using their earnings to fund future purchases, and she said it's smart to share clothes with friends.
"I have a friend who is a size smaller than me, and I can always sell or give her things that shrink," she said. "And I have a friend who is a size bigger than me who gives me her clothing that shrinks.
Basic sewing skills also come in handy. "Before you exclude a flawed piece, notice where the flaw is," she said. "If I didn't know how to hem both pants and sleeves, I'd be broke."
Following her own advice, the self-described "shop-aholic" has cut her monthly clothing budget from $800 to $200.
It's the economy
Bob Whitcomb, director of retail operations at Gateway Rescue Mission thrift shops in Pearl, Magee and Clinton, said others are being frugally fashionable. He's noticed more shoppers lately, and revenue has increased.
"Sales have been up about 20 percent over last year at this time," he said, citing an increase in clothing and furniture. As the economy continues to plummet, we are going to see more and more people we haven't seen before."
Kathy Clem, executive director of The Good Samaritan Center, which operates the Jackson thrift store Neat Used Things for Sale on Millsaps Avenue, said NUTS has also experienced a sales increase.
"I think it was probably the middle of spring when prices seemed to start going up on gas and other kinds of things like food," she said. "I assumed we were going to have problems here because people wouldn't have the money to spend, but there are still basic things people need. They just want to find them at a discount. So even gas isn't keeping them away.
"We only have so much discretionary income, and people are being wiser how they spend it. They really want a bargain, and you can find those bargains at resale shops."
While many are purchasing household necessities like appliances, plates and bathroom accessories at NUTS, clothing sales have also increased. "Where clothes in the past were not a big seller, we have moved a lot more since spring," Clem said.
Designer labels Amber Norrell, manager of the Fondren thrift store The Orange Peel, said the last four to six months have been very busy. "Being a bargain shopper is kind of the 'in' thing," she said. "I've noticed more people talking about it, and more consignment stores and bargain stores popping up."
The Orange Peel is known for reselling popular designer brands like Armani, Prada, Lacoste and 7 For All Mankind jeans. "We get a lot of stuff, and people love it because they can actually afford it," Norrell said. "Our 7 jeans are usually priced between $28 for a plain pair and $35. Those are $100 jeans if you buy them brand new."
You can also find designer labels at the Bargain Boutique thrift store on Parkway Drive in Jackson. "We pretty much have a regular customer base, but I have noticed quite a few new faces that have come through the store," said store manager Shirley Lewis.
Last week, the store received a pair of Jimmy Choo sandals that typically retail for $500 and up. They were priced at $20. And they received two pair of Manolo Blahnik shoes that generally sell for $600 and up. They were priced at $40.
The store also resells Ann Taylor, Donna Karan, BCBG, Banana Republic, Tommy Hilfiger, Ralph Lauren, H&M and Stuart Wiseman, among other brands.
Ambrose, who bargain hunts with Cagle and Allred, has collected hundreds of ties for her husband at garage sales, including designer brands like Armani for which she paid $1 or less. She also enjoys shopping at The Orange Peel for unique used items that suit her eclectic tastes.
Private Collection, an upscale consignment store in Madison, and the Jackson department store Stein Mart are also favorites, but she buys about 80 percent of her clothing at garage sales.
"I have found some of the most beautiful high-dollar clothes that normally cost $150, but I spent like $5," she said. "And someone always compliments me on my clothing at work. This keeps me out of the department stores."
Like Ambrose, Allred is also a Private Collection fan. "The very first time I went, I bought seven pairs of pants, three pairs of shorts and some tops for $40," she said. "Then I went back and bought three suits for $120.
When she isn't bargain hunting at garage sales with her friends, she's looking for comfortable clothing at TJ Maxx, Marshalls, Dress Barn, Vicksburg outlet stores and Overstock.com.
Newton resident Sonya Salter, a mental health therapist, likes her clothing Dirt Cheap. She buys much of her wardrobe at the Carthage discount store by the same name, where she sometimes finds clothing from Macy's, like the $8 dress she recently purchased.
"The people I work with say I always dress nice, but I don't buy the majority of my clothes from a department store," said the shopper, who is also a fan of the Hudson's Salvage chain.
When she shops at regular stores like Old Navy, she spots what she wants and watches the price drop. "I go back to the store over and over again," she said, "and once they have marked it down, if I think it's appropriate, I will buy it."
Salter, who inherited frugality from her mother, said she rarely buys anything at regular price. "Gas is high, so most people are trying to save money," she said, "and we are all looking for a good bargain."