PBS 'Between the Lions' filmed in Mississippi spotlights literacy
LaReeca Rucker
The Clarion-Ledger
In a room full of camera operators and production assistants, the lion emerges from his den wearing a chef's hat. He pauses between takes as the crew prepares for the next kitchen scene inside Mississippi Public Broadcasting studios, and in a deep voice, the cat shares his impressions of Mississippi.
"The people are so friendly," said Theo, one of the star puppets of Between the Lions, an award-winning PBS show filmed in Mississippi since 2004. "They hardly look twice when they see a lion buying liver at the grocery store. The food here is terrific. My only complaint is they don't serve enough zebra, wildebeast and antelope."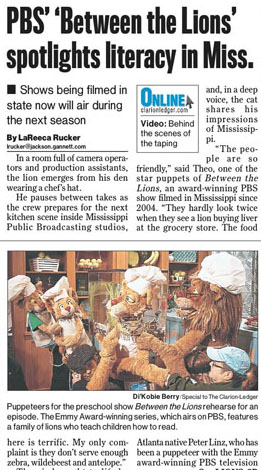 Theo is brought to life by Atlanta native Peter Linz, who has been a puppeteer with the Emmy award-winning PBS television series since its premiere in 2000. The show is another thing Mississippians can roar about when asked why their state is special.
Reading and literacy experts developed Between the Lions to foster literacy skills for children ages 3-7. The show features curious lion cubs Lionel, 7, Leona, 4, and their parents, Cleo and Theo, who manage a library and promote reading.
Brigid Sullivan, who has helped create some popular and award-winning children's educational programs, including Arthur, Curious George and Martha Speaks, said Mississippians should be proud of this pride.
The vice president of children's programming for WGBH Boston said the show is created through a partnership with the Boston station, MPB and the New York-based Sirius Thinking Ltd.
"We chose Mississippi because it has some serious literacy issues," Sullivan said. "We are public television, and we really believe in trying to do the right thing and the hard thing."
The Between the Lions cast and crew are a mix of Mississippians and others who travel from New York and Boston. It takes 40-50 people to create each show, including production assistants, editors, camera operators, scriptwriters and puppeteers.
Sullivan said studies indicate the show is having a positive impact on children. That's why MPB, in partnership with the Barksdale Reading Institute, The Early Childhood Institute at MSU, Rotary International District 6820 and WGBH Boston, began Mississippi's Between the Lions Preschool Literacy Initiative to help children develop basic reading skills by providing a curriculum, learning materials and professional development.
From September 2005 to 2009, they have reached out to children in child-care center classrooms and libraries throughout the state.
"We decided we wanted to help the children most at risk in the highest poverty levels," she said. "That led us to do work in a number of states, including Mississippi."
Marie Antoon, MPB's executive director, helped bring the show to Mississippi. She agrees children are benefitting.
"Mississippi has a rich literary tradition," she said. "We have Faulkner and Welty, but we are also a state with literacy problems. But when you see an 18-month-old child try to sing the songs and throw his arms around the characters, and you hear about children who are being picked up from day care and are telling their parents how to read a book, you know you are having an impact."
Beth Kirsch, series producer, said the MPB partnership has been great. "We've all managed to learn a lot from each other," she said.
Kirsch said they have been filming 20 shows from 8 a.m. to 6 p.m. daily this month that will air later in 2009 and 2010.
"We feel like it's our second home," she said. "We've really made some great friends here, and the project has brought a lot of people to the state who otherwise wouldn't be here. They, in turn, become ambassadors for the state."
Karen Wing, art director for the show, is charged with examining the script and creating needed props. The Alabama native who graduated from Mississippi State University has crafted birthday cakes decorated with steaks, (lions like raw meat) and is now helping create a monkey-driven ice cream truck that will be featured on the show next season.
"Because it's a mission to help educate our children, not just here but nationally, it's a great feeling to work on the show (as a Mississippian) because we are accomplishing what we came here to do many years ago."
To learn more about Between the Lions, visit pbskids.org/lions