Mississippi native's film 'Big Sur' premieres at Sundance Film Festival
LaReeca Rucker
The Clarion-Ledger
Thirty years ago, director Ridley Scott's film "Blade Runner" presented a dystopian vision of the future where genetically engineered robots that look like humans are hunted down by police.
It was the first film that made a significant impression on Mississippi native Orian Williams, 47, putting him "On the Road" to Hollywood, where he is currently in Park City, Utah, at the Sundance Film Festival promoting his latest project.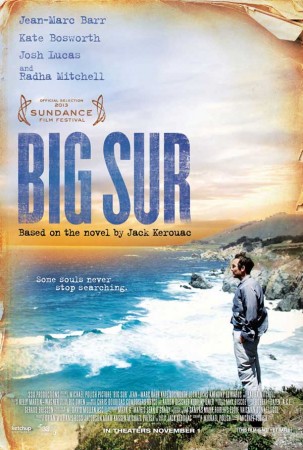 His film, "Big Sur," based on the life of author Jack Kerouac, debuted this week at Sundance.
"'Blade Runner' really sort of set me on my path for seeking out a job or something that would have anything to do with combining great elements that I'm passionate about," Williams said. "The music was timeless in this futuristic world. It had a love story, which I thought was incredibly important. There were so many things incorporated into that film that I wanted to pursue."
After graduation from Baylor University in Texas with a degree in telecommunications, Williams moved to Los Angeles. "I headed west, not only to pursue dreams of working in the industry, but also working with Ridley Scott," he said. "I haven't worked with him, but I did meet him. At the time I was introduced to him, he was actually sitting at the same restaurant talking about my film, 'Control.' Then, I knew I was doing the right thing. I was on the right journey and the right path."
Williams path began in Jackson, where he lived until he was 3 before moving to Texas. He spent his holidays and summers in Mississippi, and his mother eventually moved back to Madison, so it's the state he calls his home.
"My film, 'Big Sur,' has combined a lot of those aesthetics or memories that I try to implement, something that's very real, honest, emotional, tangible," he said.
Williams' interest in film grew in college when a film production crew came to town in 1988, and Williams landed a gig as the director's assistant.
"It was called 'Action U.S.A.,'" he said. "Nobody was in it. It was a very weird film."
The plot: Gangsters murder a man in Texas, then go after his girlfriend.
"I would skip a class here and there, take a zero," said Williams. "They told me if I wanted to work in film, I had to move to Hollywood, so I headed west."
In Los Angeles, he made connections, and "Control," a 2007 biography about the life of Ian Curtis, a singer in the late-1970s English post-punk band Joy Division, was born. "Control" won several awards at Cannes in 2007, including the Director's Fortnight, and several European awards for best film.
It also won five British Independent Film Awards including Best Film. It was named Best Film at the 2007 Evening Standard British Film Awards, and writer Matt Greenhalgh was awarded for outstanding achievement in his first feature film at the 61st British Academy Film Awards.
Another film Williams helped produce that received recognition is "Shadow of the Vampire." Released in 2000 starring John Malkovich, Willem Dafoe, and produced by Nicolas Cage, the film is a fictionalized account of the making of the classic vampire film "Nosferatu," in which the film crew began to suspect that their lead actor was, indeed, a real vampire.
The film received two Academy Award nominations — Best Supporting Actor and Best Makeup.
Williams current project, "Big Sur," is based on author Jack Kerouac's book by the same name. Kerouac is best known for his book "On the Road."
"This specific book represents so much of Jack Kerouac from beginning to end," Williams said. "A lot of the fame, successes, the people he knew and loved were all incorporated into this one novel. This movie, I think, shows that side of him that many people didn't know about outside the fame and success. He was in a pretty dark place in his life, and he came through it."
Williams said he was also impressed by the movie locale. "Big Sur is more than just a city," he said. "It's an attitude. You go there, and you feel something. You see the mountains and the faces. There's some history there you get nowhere else. It's either the end of the world or the beginning of time or something. Various people have gone there to find themselves. Hundreds of people have gone there for inspiration."
There are several Kerouac film projects that have recently been completed, including "Big Sur." A movie adaptation of "On the Road" was completed last year.
Indiewire.com reports that another another Kerouac film called "Kill Your Darlings," with an all-star cast that includes Daniel Radcliffe, Elizabeth Olsen, Ben Foster, David Cross, Michael C. Hall and Jennifer Jason Leigh is getting attention.
"But one flying under the radar is Michael Polish's 'Big Sur,' " an adaptation of Jack Kerouac's famed book," indiewire.com reports. "'Big Sur' stars Kate Bosworth, Josh Lucas and Jean-Marc Barr as Jack Kerouac. Anthony Edwards, Balthazar Getty and Henry Thomas are also featured in the film.
"It's a different take on a person who is probably becoming reinserted into the public consciousness," said Williams. "A lot of the issues Jack discusses are timely, certainly in 'Big Sur.' A lot of his emotions, his drinking, the future, people and history — I think people want to know more about that in a film. It kind of touches on all the senses."
Martha Martin, a retired sales representative, raised Williams as a single parent and has helped support her son's dreams. "In his senior year, he got interested in acting," she said. "He was in a number of short plays and surprised everyone, including me, how well he did. How many people get to pursue their dreams?"
Martin attended the British Academy of Film and Television Arts awards in London and walked the red carpet with her son. She also attended New York and Los Angeles film premieres and festivals in Toronto, Canada, Houston, Austin, Dallas and Jackson Crossroads.
"This is his first movie to be selected for Sundance," she said. "As you can see, I support him 100 percent because I understand his passion for making great movies that everyone will want to see.
Martin said her son has been told he is too nice for the movie industry, but he's learned to "never burn bridges, never stoop below his moral upbringing, always remember how difficult it has been for him, and when someone asks for his advice or help, he makes time for everyone.
"He is one of the best networkers I know, and I believe that is one of his strengths," she said.
Williams said "Big Sur" will probably be released sometime this year.