Black, Gay and Proud: 'If you hide, you let people take away your rights'
LaReeca Rucker
The Madison County Herald
He grew up singing in the choir, and by age 8, people were piling into a Los Angeles church to hear him perform. Terry Angel Mason knew he had a special gift at an early age, but there was something else that set him apart.
By age 8, he also knew he was gay.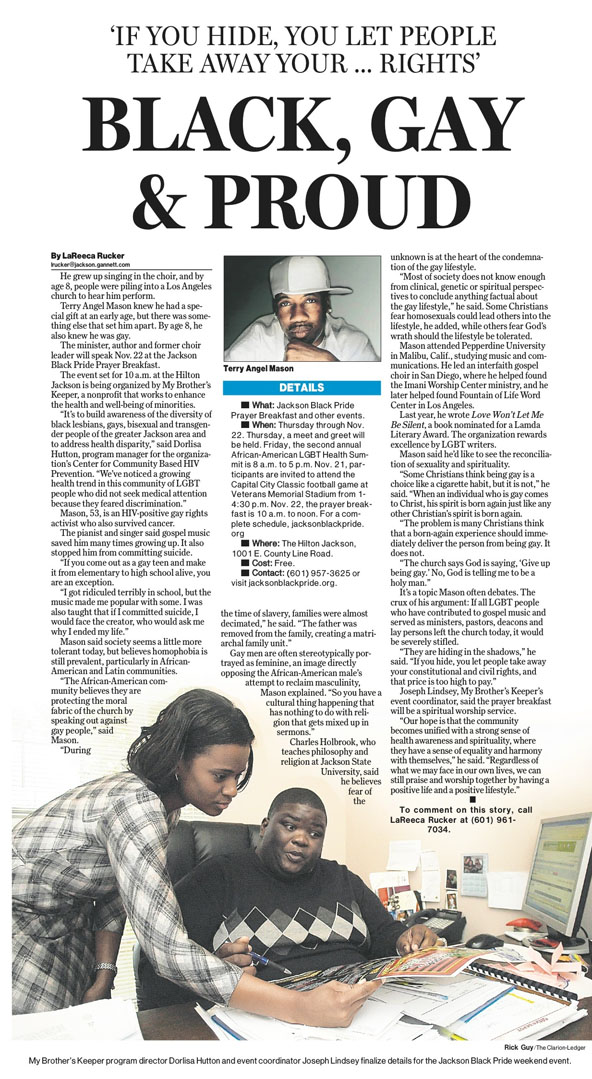 The minister, author and former choir leader will speak Nov. 22 at the Jackson Black Pride Prayer Breakfast. The event set for 10 a.m. at the Hilton Jackson is being organized by My Brother's Keeper, a nonprofit that works to enhance the health and well-being of minorities.
"It's to build awareness of the diversity of black lesbians, gays, bisexual and transgender people of the greater Jackson area and to address health disparity," said Dorlisa Hutton, program manager for the organization's Center for Community Based HIV Prevention. "We've noticed a growing health trend in this community of LGBT people who did not seek medical attention because they feared discrimination."
Mason, 53, is an HIV-positive gay rights activist who also survived cancer. The pianist and singer said gospel music saved him many times growing up. It also stopped him from committing suicide.
"If you come out as a gay teen and make it from elementary to high school alive, you are an exception. "I got ridiculed terribly in school, but the music made me popular with some. I was also taught that if I committed suicide, I would face the creator, who would ask me why I ended my life."
Mason said society seems a little more tolerant today, but believes homophobia is still prevalent, particularly in African-American and Latin communities.
"Most of society does not know enough from clinical, genetic or spiritual perspectives to conclude anything factual about the gay lifestyle," he said.
Some Christians fear homosexuals could lead others into the lifestyle, he added, while others fear God's wrath should the lifestyle be tolerated.
Mason attended Pepperdine University in Malibu, Calif., studying music and communications. He led an interfaith gospel choir in San Diego, where he helped found the Imani Worship Center ministry, and he later helped found Fountain of Life Word Center in Los Angeles.
Last year, he wrote Love Won't Let Me Be Silent, a book nominated for a Lamda Literary Award. The organization rewards excellence by LGBT writers.
Mason said he'd like to see the reconciliation of sexuality and spirituality. "Some Christians think being gay is a choice like a cigarette habit, but it is not," he said. "When an individual who is gay comes to Christ, his spirit is born again just like any other Christian's spirit is born again.
"The problem is many Christians think that a born-again experience should immediately deliver the person from being gay. It does not.
"The church says God is saying, 'Give up being gay.' No, God is telling me to be a holy man."
It's a topic Mason often debates. The crux of his argument: If all LGBT people who have contributed to gospel music and served as ministers, pastors, deacons and lay persons left the church today, it would be severely stifled.
"They are hiding in the shadows," he said. "If you hide, you let people take away your constitutional and civil rights, and that price is too high to pay."
Joseph Lindsey, My Brother's Keeper's event coordinator, said the prayer breakfast will be a spiritual worship service.
"Our hope is that the community becomes unified with a strong sense of health awareness and spirituality, where they have a sense of equality and harmony with themselves," he said. "Regardless of what we may face in our own lives, we can still praise and worship together by having a positive life and a positive lifestyle."
To comment on this story, call LaReeca Rucker at (601) 961- 7034.