Christian artist Brandon Heath talks about 'Blue Mountain'
LaReeca Rucker
The Clarion-Ledger
When many Mississippians hear "Blue Mountain," they think of the 135-year-old, private Christian college supported by the Mississippi Baptist Convention in the Appalachia region of Northeast Mississippi.
It's a place Christian singer Brandon Heath never knew existed when he created a fictional location called Blue Mountain set in Appalachia that is the theme of his new album by the same name.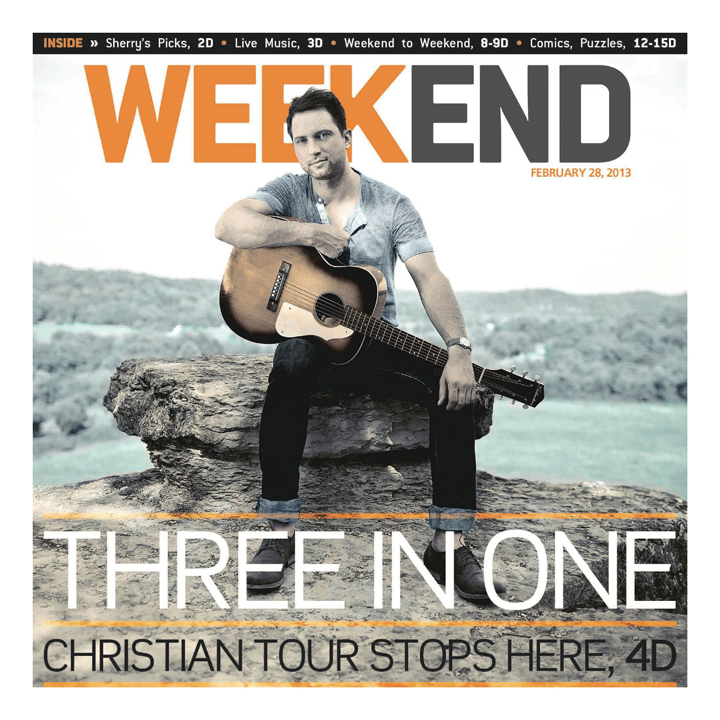 As a child, Heath often visited his parents who lived outside of Knoxville, and on the drive, he'd soak up the sights and sounds of Appalachia. Struck by the mountains, his imagination ran wild as he envisioned that they were the backs of dinosaurs.
For his latest album, Heath wanted to write character-driven songs with their own stories, but he needed a framework. He conceptualized the album theme after a friend recited a C.S. Lewis quote about Blue Mountains.
"In the distance, they are mysterious and majestic, and you can't touch them," he said, "but when you get up close to them, you realize they are just brown and green. They aren't blue at all. Some people are like that, and they don't really let anyone get close to them. So if I'm a Blue Mountain, I want people to know they can come on up a little bit closer."
Heath will perform songs from "Blue Mountain" tonight at 7 p.m. during "The 3 in 1 Tour" featuring Heath and Christian singers Mandisa and Laura Story. It will be held at Clinton's Morrison Heights Baptist Church at 3000 Hampstead Blvd.
Tickets are $25 for general admission. For more information, call 1-800-965-9324 or visit www.itickets.com.
The national tour that began Feb. 21 will unite the Dove Award winners and Grammy nominated artists as they travel to 23 cities. All three artists will sing music from their newest albums, including Mandisa's "What If We Were Real" and Laura Story's "Blessings."
Blue Mountain is filled with tales of saints and sinners with powerful truths and observations on life and humanity. Heath, a Nashville native began writing songs in his teens and gained a national audience with his 2006 Reunion Records debut album, "Don't Get Comfortable."
The two-time GMA Male Vocalist and five-time GRAMMY nominee also made a name for himself with his 2009 GMA Dove Award-winning Song of the Year, "Give Me Your Eyes." Blue Mountain is his fourth studio record.
"They are all kind of telling my story a little bit," said Heath by phone, referring to the Blue Mountain characters he created. "It talks about my own fears, and my own desires. As a songwriter, it was more fun to give someone else my own voice. I think the best way to describe a place is to describe its people. And so, all these characters tell a story about what Blue Mountain is and who lives there."
Heath said the writing process has always been easier for him if he has a theme. "This is probably the most theme-heavy that I've ever had a record be," he said. "All the characters are talking about fears and desires. There's a young couple who lives on a mountain away from the city. There's a guy on death row, who is about to be executed, but knows where he's going. There's a farmer. The common theme of every song is the setting."
"The Harvester" is about a farmer who wakes at dawn every day to work his field, but it's also a motivational metaphor for - despite all the good work Christians have done, they aren't done yet.
"Blue Mountain" sounds like it could be a theme song for the North Mississippi college. It's about the fictional setting of the album – a beautiful landscape described as a paradise where Earth and Heaven meet.
"Jesus in Disguise" is about those touching moments in life that sometimes surprise us and let us know that God is present. The lyrics read that we may look for a King, but Jesus is disguised in the moments that touch our hearts.
Heath said he was thinking of the Joan Osborne song "(What if God was) One of Us" when writing this song. "I believe that Jesus shows up in different forms," Heath said. "He's like the secret shopper. You have to be nice to the secret shopper; you never know who it's going to be."
The song "Diamond" is about a man whose father was a coal miner, but the man wants God to help him dig deeper inside himself and find the diamond buried within. It's about someone who wants to grow with God's help.
"Love Will Be Enough For Us" is a song about a couple visualizing life together on Blue Mountain in a cabin with children, nature and the basics of life. Love would be enough for them if they weren't, instead, living on the 7th floor of a high-rise apartment building praying for more.
"Love Does" is a ballad for those who selflessly work to change lives. According to Heath's website, it was written to honor Bob Goff, founder and CEO of Restore International, a non-profit organization addressing the injustices committed against children.
"Bob is a world-changer," Heath says. "He liberates people, and I don't know if there's anything more noble than that - than getting people out of bondage. He's dedicated his life to that, and he's been such a great role model to me. He's written a book by the same name, and now more people are hearing his story."
Heath's favorite song is "Paul Brown Petty." It's about a man who grew up during the Depression, fought in the war, became a barber, raised a family and died in 1991. Paul Brown Petty was Heath's grandfather.
"He's just always been one of my heroes," Heath says. "You never heard him complain. He worked in his garden every day. He was an elder at his church. He sang in the choir. He fought in the war. I didn't want it to be obvious from the get-go that it was my granddad," he said. "Just a normal old guy - normal but extraordinary."
"In the Dust" is about a man who knows he's a sinner, but won't root himself too deeply in Blue Mountain soil because he knows Jesus is coming back one day to take him and leave his bones in the dust.
"Dyin' Day" is about a man on death row incarcerated in the fictional Blue Mountain Penitentiary who is about to be executed. But three years ago, he was saved by Jesus, so he has been forgiven.
"I wanted to write about a guy who had led a life so evil that it ultimately put him in prison, where he's since lost his identity," Heath said on his website. "He's been reduced to his prison number. The redemption is, it's here that he finds a level of forgiveness that most of us don't even allow ourselves. He's a man who has been cut off from the world and hasn't seen forgiveness from his family or society, yet he understands forgiveness so deeply, and that's amazing to me."
Heath said he was thinking of the movie "The Green Mile" when he wrote the song. "My character actually did commit the crime," he said. "He knows that he's guilty, but he also knows he's forgiven. A lot of us who are not behind bars, don't really understand. I'm a sinner just like he is. He just got caught."
"Hands of the Healer" is about leaving our burdens in the hands of God. "He Paid it All" is about a person who is faithful to God and will go where he leads him."
Heath said part of his writing evolution has been aided by learning from other writers who are better than him. "You kind of take notes from people who are great at it, and it makes you great," he said. "As an artist, you have to humble yourself a lot to learn different tricks of the trade. I think that really helped me a lot in being a student of songwriting."
As a native of Nashville, Heath said he has a great respect for the songwriting community, and believes he had an advantage living there. "I think it was easier because I already had a support system," he said. "Nashville is really about genuine relationships; not just networking or schmoozing."
He said he hopes "Blue Mountain" touches others. "I want people to feel comforted, and I think that's what Christian music does, reminding them how near God is," he said.