Mississippi pastors influenced by legacy of 'Born of Conviction' signers
LaReeca Rucker
The Oxford Eagle
It's not like the 1960s, but Mississippi pastors today are sometimes forced to take stands on controversial topics - issues such as immigrant rights, health-care reform and the death penalty.
The Rev. Chris Cumbest, pastor of St. Paul United Methodist Church in Ocean Springs, was influenced by the legacy left by Born of Conviction ministers.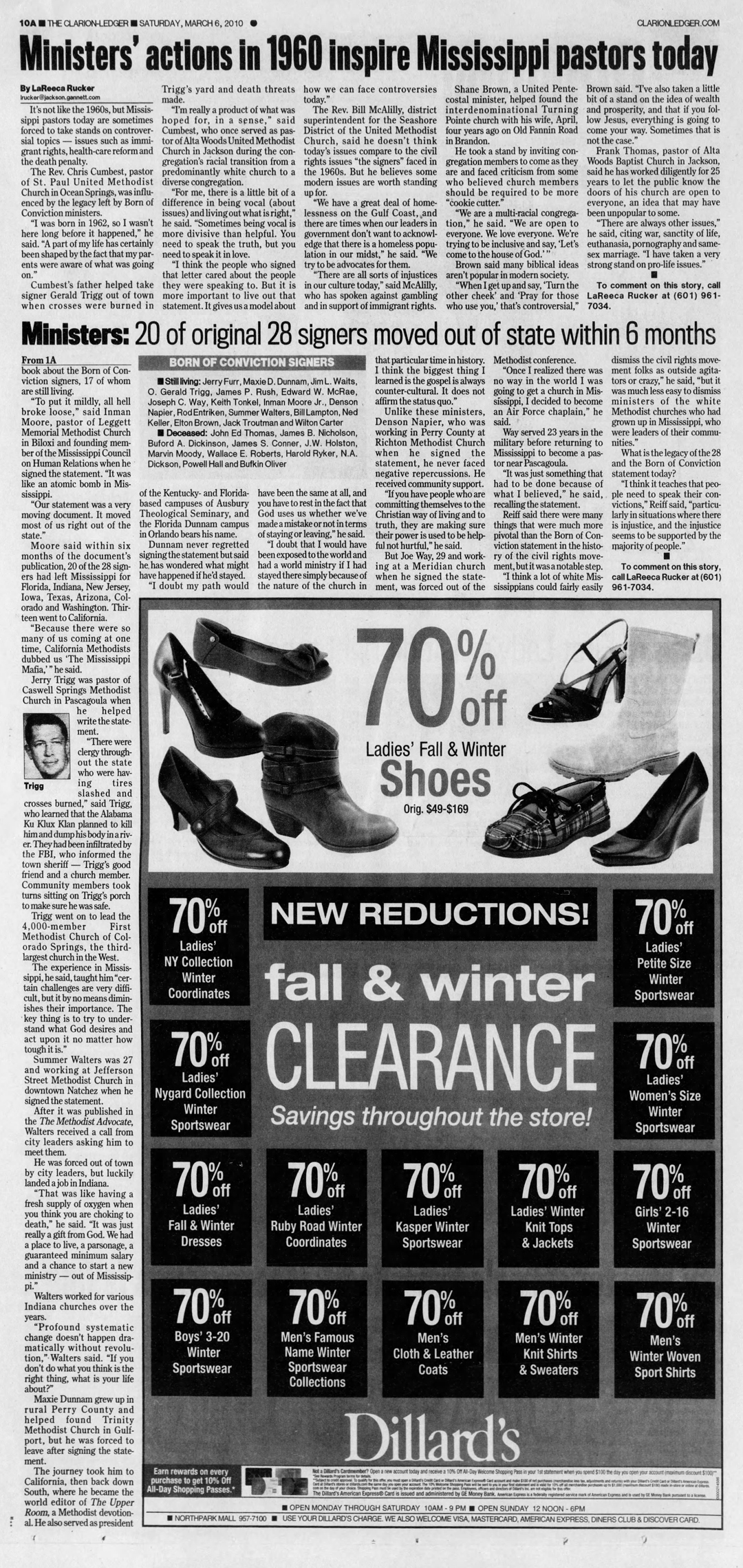 "I was born in 1962, so I wasn't here long before it happened," he said. "A part of my life has certainly been shaped by the fact that my parents were aware of what was going on."
Cumbest's father helped take signer Gerald Trigg out of town when crosses were burned in Trigg's yard and death threats made.
"I'm really a product of what was hoped for, in a sense," said Cumbest, who once served as pastor of Alta Woods United Methodist Church in Jackson, during the congregation's racial transition from a predominantly white church to a diverse congregation.
"For me, there is a little bit of a difference in being vocal (about issues) and living out what is right," he said. "Sometimes being vocal is more divisive than helpful. You need to speak the truth, but you need to speak it in love.
"I think the people who signed that letter cared about the people they were speaking to. But it is more important to live out that statement. It gives us a model about how we can face controversies today."
The Rev. Bill McAlilly, district superintendent for the Seashore District of the United Methodist Church, said he doesn't think today's issues compare to the civil rights issues "the signers" faced in the 1960s. But he believes some modern issues are worth standing up for.
"We have a great deal of homelessness on the Gulf Coast, and there are times when our leaders in government don't want to acknowledge that there is a homeless population in our midst," he said. "We try to be advocates for them.
"There are all sorts of injustices in our culture today," said McAlilly, who has spoken against gambling and in support of immigrant rights.
Shane Brown, a United Pentecostal minister, helped found the interdenominational Turning Pointe church with his wife, April, four years ago on Old Fannin Road in Brandon. He took a stand by inviting congregation members to come as they are and faced criticism from some who believed church members should be required to be more "cookie cutter."
"We are a multi-racial congregation," he said. "We are open to everyone. We love everyone. We're trying to be inclusive and say, 'Let's come to the house of God.'"
Brown said many biblical ideas aren't popular in modern society.
"When I get up and say, 'Turn the other cheek' and 'Pray for those who use you,' that's controversial," Brown said.
how we can face controversies today," Brown said. "I've also taken a little bit of a stand on the idea of wealth and prosperity, and that if you follow Jesus, everything is going to come your way. Sometimes that is not the case."
Frank Thomas, pastor of Alta Woods Baptist Church in Jackson, said he has worked diligently for 25 years to let the public know the doors of his church are open to everyone, an idea that may have been unpopular to some.
"There are always other issues," he said, citing war, sanctity of life, euthanasia, pornography and same-sex marriage. "I have taken a very strong stand on pro-life issues."