Bottled-up Emotions: Bottle tree may be symbol of the new South
LaReeca Rucker:
The Clarion-Ledger
As a kid, Rick Griffin often saw bottle trees while traveling between Ocean Springs and Vicksburg to visit his grandparents. Fascinated by them, he later erected a 10-foot bottle tree in his yard.
"It's about being a nonconformist," said Griffin, a landscape architect who owns the Jackson furniture and design store Latitudes. "When you want to be a little different, and you like to loosen up and have fun things, you have a bottle tree."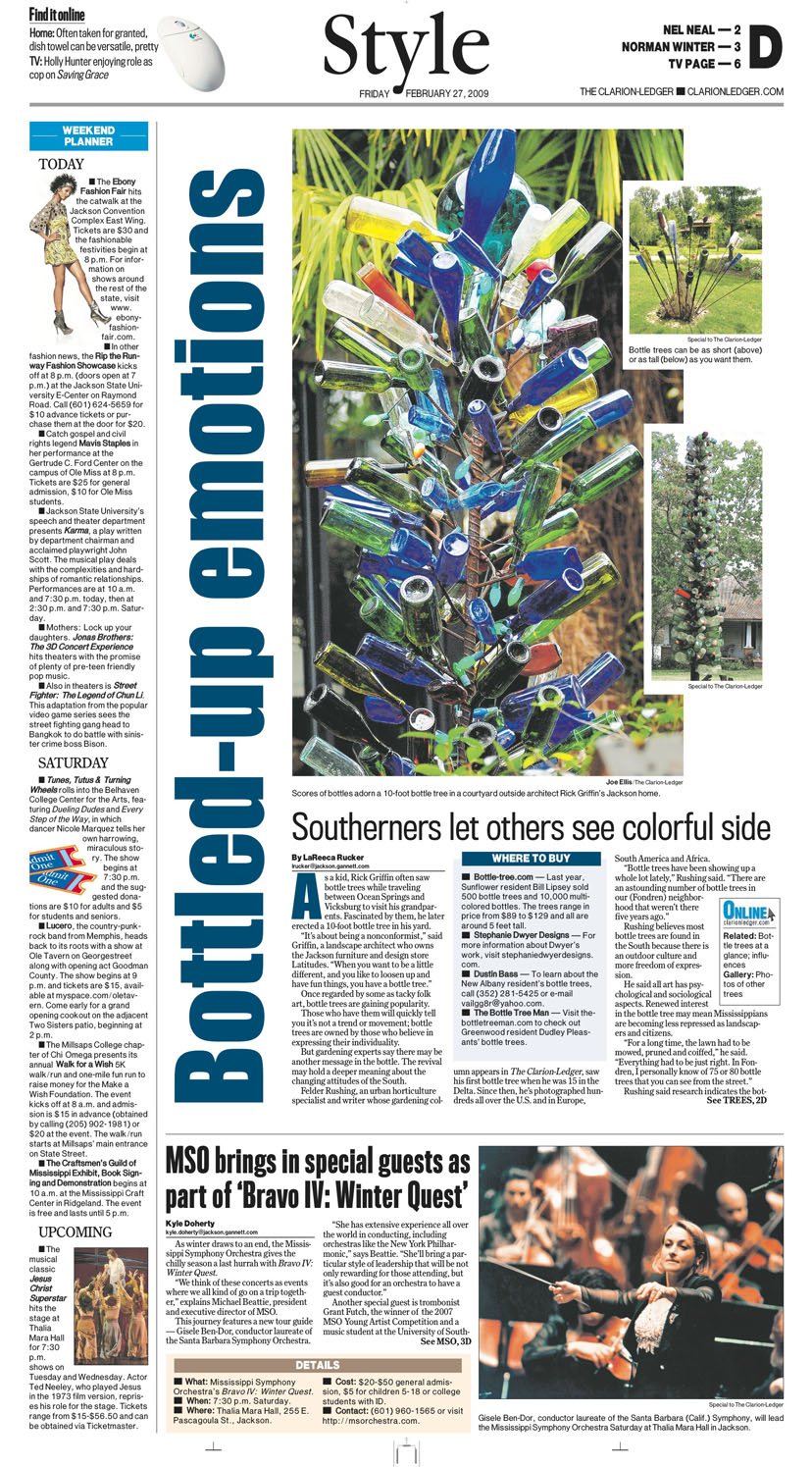 Once regarded by some as tacky folk art, bottle trees are gaining popularity. Those who have them will quickly tell you it's not a trend or movement; bottle trees are owned by those who believe in expressing their individuality.
But gardening experts say there may be another message in the bottle. The revival may hold a deeper meaning about the changing attitudes of the South.
Felder Rushing, an urban horticulture specialist and writer whose gardening column appears in The Clarion-Ledger, saw his first bottle tree when he was 15 in the Delta. Since then, he's photographed hundreds all over the U.S. and in Europe, South America and Africa.
"Bottle trees have been showing up a whole lot lately," Rushing said. "There are an astounding number of bottle trees in our (Fondren) neighborhood that weren't there five years ago."
Rushing believes most bottle trees are found in the South because there is an outdoor culture and more freedom of expression. He said all art has psychological and sociological aspects. Renewed interest in the bottle tree may mean Mississippians are becoming less repressed as landscapers and citizens.
"For a long time, the lawn had to be mowed, pruned and coiffed," he said. "Everything had to be just right. In Fondren, I personally know of 75 or 80 bottle trees that you can see from the street."
Rushing said research indicates the bottle tree concept originated in Northern Africa where glass was made as early as 3500 B.C. By the time clear glass was invented in Alexandria around 100 A.D., tales began to circulate that spirits could live in bottles. Nowadays, bottle trees are mostly viewed as interesting garden ornaments.
How do you make one?
"It's a concept, not a recipe,"Rushing said.
Many use wine bottles, medicine bottles and bottles they collect. Some trees come with them. Others order bottles online. While some bottle trees are made of metal, Rushing said you can create one using a dead tree, limbs tied together, or wooden posts with large nails.
Dudley Pleasants, 53, grew up on a Delta farm in the 1950s where he saw many neighboring tenant houses with bottle trees. In the early 1990s, he made one for his wife, and eventually became known as "The Bottle Tree Man." When he launched thebottletreeman.com four years ago, business exploded.
"It seems like everybody who buys a bottle tree has some kind of Southern connection," he said.
While most of his trees have been purchased by Mississippians, sales also have been good in the Carolinas, West Virginia, Texas, New York, Maine and Washington. Mother's Day is the biggest day of the year for bottle tree purchases, and a bottle tree chandelier is the newest addition to his site.
Jackson resident Stephanie Dwyer began making bottle trees two years ago. Now, they account for 80 percent of her business, Stephanie Dwyer Designs. Her prices typically range from $165 to $345.
"I think Mississippians, whether people love them or hate them, have some kind of a memory of a bottle tree," she said. "I go to a lot of art shows and listen to people stand in front of my trees and talk about their first experiences with them when they were children. These trees have introduced me to more people in the South than anything else I've done."
Rushing said the fact more Mississippians are adding bottle trees to their lawn also may indicate the cultures of the state are blending. The bottle tree may be a symbol of the New South, as modern Southerners of all races embrace the entirety of their Southern heritage, including its African influences.
"You used to see bottle trees only in African-American gardens," Rushing said. "We've gotten past all that. One of the reasons we are seeing more things like this in people's gardens is because we've gotten more comfortable with who we are as a society. A lot of people felt they were superstitious icons, but now we see them for what they are - beautiful things that sparkle in the sun."