Jackson native lands film role in major motion picture: Carrie MacLemore is a 'Damsel in Distress'
LaReeca Rucker:
The Clarion-Ledger
When Carrie MacLemore was 2, she asked her father for a stage.
"She would watch people on television and ask me to let her 'do it, too," said her mother, Dolly MacLemore. "When adult friends came over, she wanted to sing for them. And one time, when she thought their attention was wandering, she said, "Wait! There's more!'"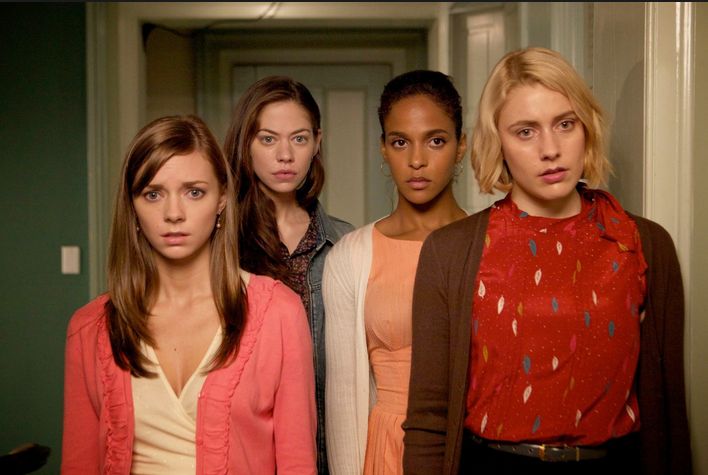 Today, MacLemore, 25, is still getting attention for her performances.
After a number of minor television roles, she landed a significant part in her first film, "Damsels in Distress." The movie was picked up by Sony Pictures Classics and is being distributed around the United States in limited release.
According to the film press site, the Mississippi Film Institute will show "Damsels in Distress" at 5 p.m. Sunday at Davis Planetarium, and on Sept. 9, it will come to the Memphis Brooks Museum of Art.
The film was written and directed by Wilt Stillman, who was nominated for an Academy Award for Best Original Screenplay for his 1990 film "Metropolitan." He also wrote "Barcelona" and "The Last Days of Disco."
Damsels in Distress premiered as the closing film at the Venice International Film Festival. It stars Greta Gerwig (Arthur 2011), Adam Brody (The O.C.) and Analeigh Tipton (America's Next Top Model).
MacLemore plays one of three young women at an East Coast university who takes a transfer student under her wing.
The Brandon native grew up in the Castlewoods neighborhood with siblings Andrea and Jackson. All were involved in church.
Her dad owned a Jackson jewelry store in Purple Creek Plaza off County Line Road called Andrew's Jewelry, while her mom was involved in community service organizations.
"Carrie was encouraged at a young age to serve others and started performing with a group of friends called Talent Sprouts, who would go to nursing homes and entertain the residents," said Dolly MacLemore.
She began dancing at 5 and working with Black Rose Theatre in Brandon at 8.
MacLemore also began taking voice lessons and later won the junior division of the state fair talent competition singing "Over the Rainbow."
Director Lavonne Bruckner, who later founded Actor's Playhouse Company in Pearl, took MacLemore and a friend to New York when she was 10 to see Broadway shows.
MacLemore attended Northwest Rankin schools until she was 13. Her parents later moved to Montgomery, Ala., and in the ninth grade, she was accepted by the theater program at Birmingham's Alabama School of Fine Arts.
"It was hard for her to leave family and friends to go to that school, yet she was so determined," Dolly MacLemore said. "It was really, at that point, that I knew she was serious and willing to make sacrifices."
She also attended an Alabama Shakespeare Festival Camp and spent six weeks at the London Academy of Music and Dramatic Arts during her school days.
At 14, a family friend introduced the teen to an agent in New York. She signed with a talent scout that year, and the family decided to move to New York.
"We decided to take the plunge and come up here a little while," MacLemore said. "I finished high school in New York."
Dolly MacLemore said she wanted to support her daughter.
"My older two children were adults when Carrie got an agent in NYC, so my husband and I decided I had the freedom to let her pursue the opportunity of moving there and seeing if it was really what she wanted to do," MacLemore said. "The agent was adamant that 'you must be present to win,' and that it was not practical to travel to NYC for auditions.
"I moved with her to a fourth-floor, walk-up, one-room, studio apartment. My husband and I went back and forth to see each other.
"I don't recommend this option to other families unless they fully understand how hard and expensive it will be. I have heard of other families that have sent their children with a governess to live in New York or Los Angeles, but we wanted to raise her."
Almost immediately after arriving, MacLemore booked a Nickelodeon show and began three years of acting lessons with industry professionals. She also continued to take dance and vocal lessons.
Her first gig was playing a "mean girl" on a Nickelodeon show.
"It was a show about life in middle school and junior high called 'Six in the Suburbs,'" she said. "It was when 'Sex and the City' was very popular."
During her senior year of high school, she won a small part on "Law & Order: Special Victims Unit."
"I didn't have to play a victim, which is usually the case on that show," she said. "I played a girl just out of high school who was supposed to be the undercover decoy person who was going to bait this bad guy.
"They wanted someone who looked really young. I was 18 and looked 14. The bad guy we were supposed to be catching was from 'The Terminator.'"
On "Gossip Girl," MacLemore's character attended a college beach party and went on a date with the character, Dan.
"The director for the episode was Andrew McCarthy," she said. "He was in the Brat Pack in the 1980s. I was like, 'He looks so familiar.'"
Next up was "Damsels in Distress," released April 6 in New York and Los Angeles.
"It's my biggest body of work so far, and my first film," she said. "It's just really sweet. It's about these three girls at their grungy East Coast college campus who take a transfer student under their wings and try to teach her their ways.
"They are this unique clique. Their clothes are sort of inspired by Grace Kelly. They like nostalgic things of the '40s and '50s.
"They have this self-appointed mission to run a suicide prevention center to reach out to the youth. My character is one of the three girls who takes in the transfer student. She's kind of the resident dummy."
Being a young actress isn't always easy, MacLemore said.
"You have to have boundaries," she said. "There are certain things I don't do. What always comes up, especially as a young woman, is nudity and sex. It's not something I feel I can be a part of, and that means saying no to a lot of opportunities."
One opportunity she didn't say no to was a proposal. MacLemore was married Aug. 27, 2011, to Streeter Wiatt.
"He was my blind date to a debutante ball in Montgomery," she said. "He went to Auburn. When he finished, he followed me to New York and got a job in finance."
The couple resides in New York as MacLemore continues to pursue her career, but the South is in her heart.
"Sometimes, I'll go to Southernliving.com and look at the pictures of porches," she said.