The NASA Challenger disaster 25 years later
LaReeca Rucker:
The Clarion-Ledger
Jane Merchant grew up in Huntsville, Ala., where her father worked for NASA as an Ordnance Guided Missile School instructor. Those early childhood experiences led her to shoot for the stars in an attempt to become the first teacher in space.
Merchant, a ninth-grade social studies teacher at West Point Junior High School in 1986, applied for the position that was later awarded to Christa McAuliffe. It's been 25 years since McAuliffe and six astronauts died during the Challenger disaster. Mississippians still live with the tragedy.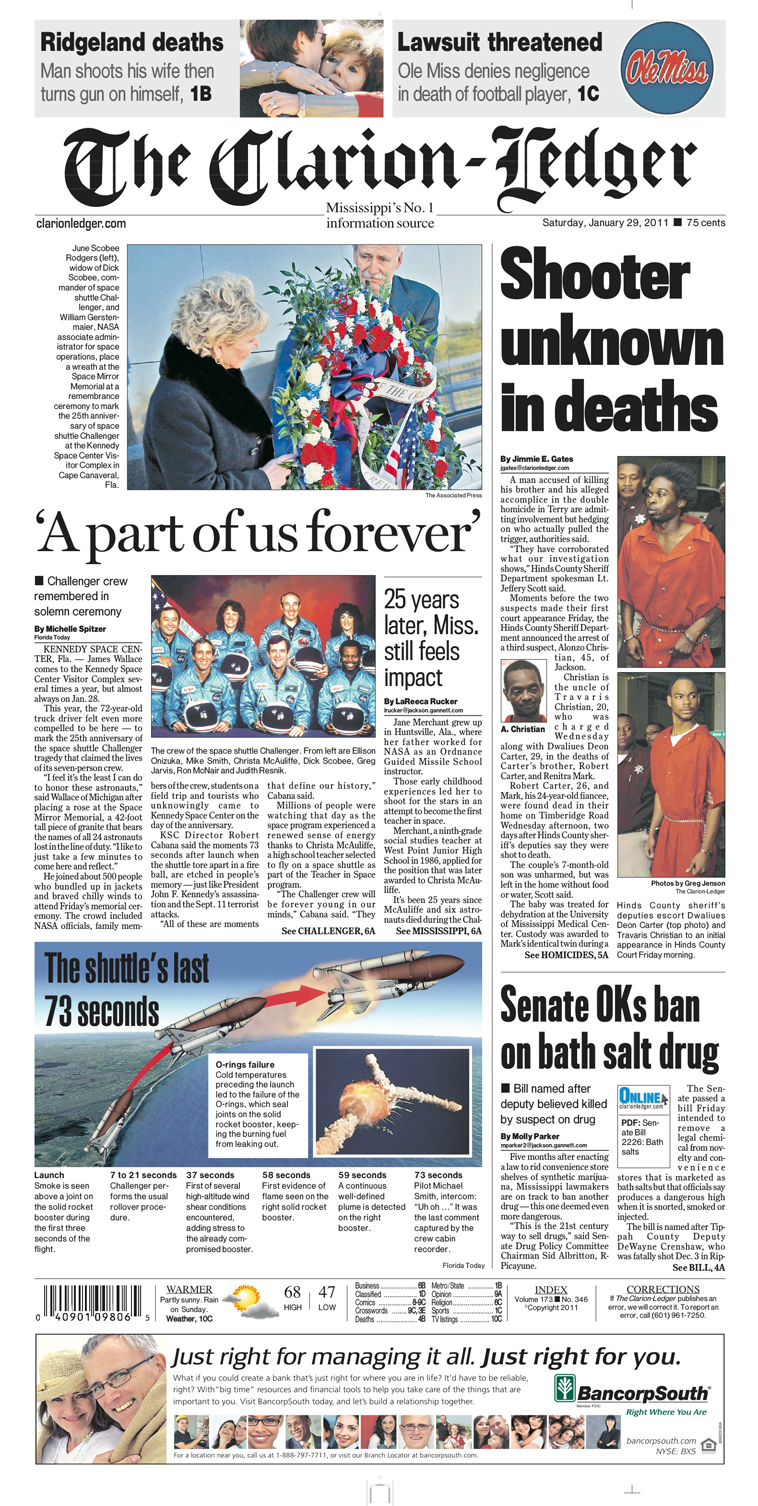 On Jan. 28, 1986, Merchant was teaching when she heard a knock on her classroom door. It was the school secretary.
"She had tears in her eyes and said the Challenger had exploded," she said.
Despite tragedy, Merchant, now 63, said she is proud she participated in the program.
"I wanted to see if birds could fly in zero gravity," said the retired teacher, who was 38 when selected as one of five Mississippi finalists for the Teachers in Space program.
Jackson's Russell C. Davis Planetarium named its theater after astronaut Ronald McNair, who died in the explosion. McNair visited Jackson in the 1980s to work on a planetarium-produced film project called The Space Shuttle: An American Adventure that opened in 1984, two years before the disaster.
John Williams, planetarium production supervisor, said McNair was instrumental in filming the space shuttle on several missions for the film, and the Jackson planetarium received permission to have the first commercial camera ever put on a spacecraft for it. The planetarium also houses a portrait of McNair by artist Marshall Bouldin that depicts him sitting in the shuttle holding a 35-millimeter camera in his lap.
Williams, who was 25 when the disaster occurred, remembers it clearly because he was simultaneously watching TV news reports on four television monitors while working as a VCR repairman in downtown Jackson.
"There was no feeling like that that I've ever experienced," he said. "It was very surreal and shocking to watch it from many angles. It left a very tight knot in your stomach just like it did 10 years ago sitting in front of my TV watching 9-11, the twin towers."
NASA officials determined that the disaster occurred because extremely cold temperatures caused a problem with a solid rocket booster during ignition.
While the solid rocket boosters were tested in Utah prior to the launch, Mississippi's Stennis Space Center tested other rocket engines that powered the shuttle.
Robert Bruce, who does advanced planning development at Stennis, was put in charge of implementing a third test for rocket engines at Stennis in 1987, a direct result of the disaster.
"At the time of the Challenger accident, we had two engine test stands that were providing tests on all the rocket engines," he said. "As the result of the Challenger accident, there was a determination that we needed to do a lot more testing and increase the safety and durability of the engines even more."
Bruce, who began working at Stennis in 1981, was 34 when the explosion happened. He was in a conference facility without a television feed when someone told the assembled group of senior managers an anomaly had occurred and a serious situation was underway.
"The entire group got up in mass and walked to a training facility that had the live television feed," he said. "You've probably seen the images where you see the smoke contrails in the aftermath. That was all we saw on the screen at the time. Everyone was starved for technical information about what happened."
Bruce, now 58, said NASA held a Day of Remembrance Thursday to recognize the astronauts who lost their lives in the Apollo, Challenger and Columbia space disasters.
Brandon resident Simon Hall was 11 and had only lived in the U.S. a year when the disaster happened. While growing up in England, his father worked for the British Aircraft Authority and had access to many levels of Heathrow Airport that civilians normally do not. Fascinated with planes and spacecraft since England had no space program, Hall said he was thrilled to move to the U.S. and that Mississippi was relatively close to Florida.
"I wondered, in my youthful exuberance, if perhaps I would be able to see the distant lift-off of spacecraft in Florida from my new home," he said.
In 1986, the sixth-grade St. Andrew's Middle School student watched the launch on television with classmates.
"For weeks we had learned about the program and what the astronauts would be doing for scientific research during their time up there," he said.
And then the countdown: 3 ... 2 ... 1 ... .
"We watched with amazement as that magnificent craft thrust itself skyward," he said. "And then it happened. In a single horrific moment, there was a fireball, and then the white smoke filled the screen. There were a couple of gasps in the room, and I think someone began to cry. But mostly it was just silence, disbelief. It doesn't occur to an 11-year-old that what these brave men and women are engaging in is an incredibly dangerous endeavor and, indeed, things can go wrong.
"I distinctly remember the two booster rockets that kept firing over the explosion, giving it the appearance of some horrible, crablike monster that had just devoured our brave astronauts."
His teacher "finally was able to gather enough strength to run to the TV and turn it off. But the damage had been done, not just to my class, but to thousands of other young boys and girls from all over America and, indeed, the world." Hall said he was never able to watch another shuttle launch.
"The horror of that day took a lot of the wind out of my love for aviation and space flight," he said. "It seemed like in a single moment my childhood innocence had been lost and replaced with a more mature, pessimistic view of the world. I think a lot of us lost our innocence that day."