Cloaks of Many Causes: 'Little green dress' makes statement
LaReeca Rucker:
The Clarion-Ledger Jackson native Meredith Walker Sullivan, 28, earned a degree in marketing from Mississippi State University and later enrolled in New York City's Fashion Institute of Technology.
She studied fashion merchandising and management, eventually meeting Stephanie Doucette, one of the lead designers behind the Doucette Duvall clothing line.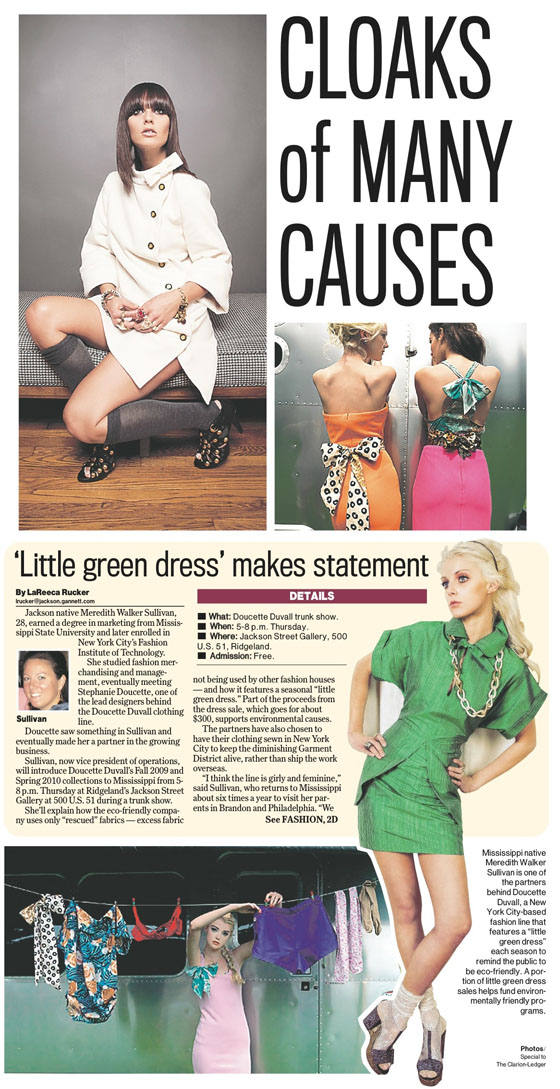 Doucette saw something in Sullivan and eventually made her a partner in the growing business.
Sullivan, now vice president of operations, will introduce Doucette Duvall's Fall 2009 and Spring 2010 collections to Mississippi from 5-8 p.m. Thursday at Ridgeland's Jackson Street Gallery at 500 U.S. 51 during a trunk show.
She'll explain how the eco-friendly compny uses only "rescued" fabrics - excess fabric not being used by other fashion houses - and how it features a seasonal "little green dress." Part of the proceeds from the dress sale (approximately $300) supports environmental causes.
The partners have also chosen to have their clothing sewn in New York City to keep the diminishing Garment District alive, rather than ship the work overseas.
"I think the line is girly and feminine," said Sullivan, who returns to Mississippi about six times a year to visit her parents in Brandon and Philadelphia. "We like to have fun and mix patterns and colors."
Beginnings
Doucette, a 37-year-old Connecticut native, had a passion for fashion, but no real interest in starting her own fashion line until she met co-designer and partner Annebet Duvall. The two were neighbors in New York City's Little Italy while Austin, Texas, native Duvall was working at Vogue magazine.
"She knew that fashion was what she wanted to do," said Doucette, "where as, I just sort of fell into it."
Both shared a love for secondhand shopping. "I have very little trash, because I've always composted and recycled," Doucette said, "and if I don't want something, I give it away to someone else. Thrifting is a really smart way to keep the circle of life flowing."
The two started the company in 2004, and a year later, they began selling clothing to stores like Henri Bendel, a legendary Fifth Avenue boutique. Prices in the line range from about $165 to $600.
"The clothes are 100 percent functional," Doucette said. "It's important that you can live in the dress and it doesn't interfere with your day."
The designers like prints, color and the unexpected.
"Our nightmare is to match," Doucette said. "We don't want people to rely on a trend-driven explanation for what a person should be wearing from season to season."
The "little green dress" featured in every collection is an eco-friendly reminder. Part of its sale helps fund Build It Green! NYC, a non-profit retail outlet for salvaged and surplus building materials.
Doucette said her customers are women with a sense of humor who can interpret each piece of clothing individually.
"She is not afraid to do her own thing, and she cares that we manufacture stateside and that we are reducing waste," she said.
Duvall, 29, once aspired to be a fashion editor, but now works with the clothing line full time.
"I think the clothes are a little more timeless than trendy," she said, "and I think once you get a piece or two of ours in your wardrobe, you are going to have it for a long time. Hopefully, you can pass it down to your daughters like our mothers did with us."
Paula Jackson, owner of Ridgeland's Jackson Street Gallery, said the public is invited to attend the trunk show.
"We are located in the hub of Ridgeland, and there are a lot of people here with an interest in fashion," she said.
Sullivan hopes the line will grow.
"We hope to continue to travel, build our brand, get our name out there and find the right stores that we fit into," she said.