Cowboy Churches: Boots and Bibles
LaReeca Rucker:
The Clarion-Ledger
Dean Cook spent two years leading a Kentucky church before he rode back into town to create a church for horse enthusiasts.
Last month, the Baptist preacher took the reins of His Brand: Cowboy Church in the Dirt, a Brandon nondenominational ministry. It's one of at least 200 U.S. cowboy churches with the objective: Ride a horse; save a cowboy.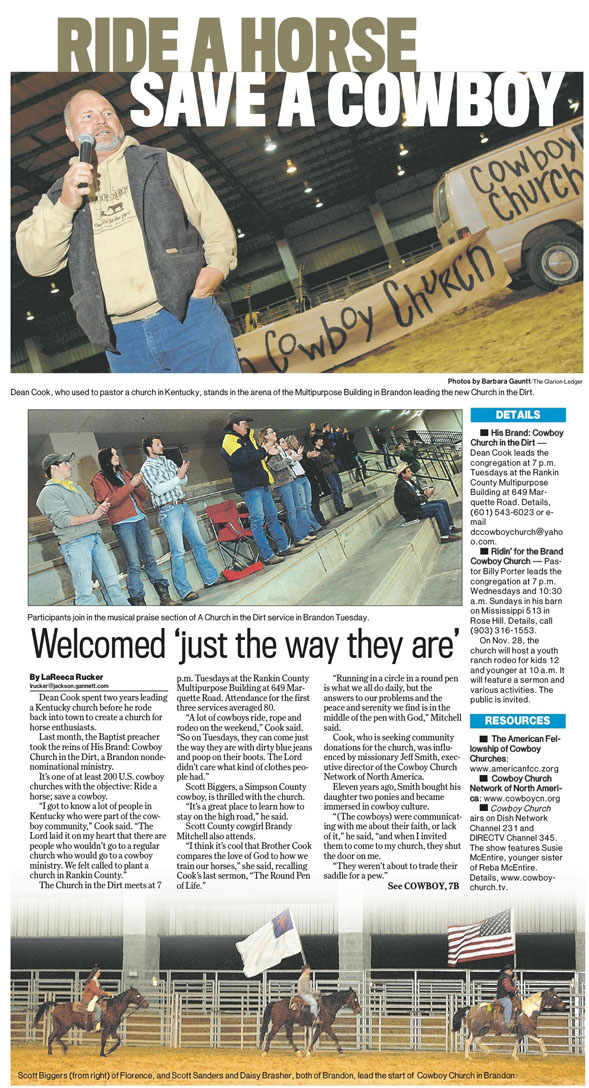 "I got to know a lot of people in Kentucky who were part of the cowboy community," Cook said. "The Lord laid it on my heart that there are people who wouldn't go to a regular church who would go to a cowboy ministry. We felt called to plant a church in Rankin County."
The Church in the Dirt meets at 7 p.m. Tuesdays at the Rankin County Multipurpose Building at 649 Marquette Road. Attendance for the first three services averaged 80.
"A lot of cowboys ride, rope and rodeo on the weekend," Cook said. "So on Tuesdays, they can come just the way they are with dirty blue jeans and poop on their boots. The Lord didn't care what kind of clothes people had."
Scott Biggers, a Simpson County cowboy, is thrilled with the church. "It's a great place to learn how to stay on the high road," he said.
Scott County cowgirl Brandy Mitchell also attends. "I think it's cool that Brother Cook compares the love of God to how we train our horses," she said, recalling Cook's last sermon, "The Round Pen of Life."
"Running in a circle in a round pen is what we all do daily, but the answers to our problems and the peace and serenity we find is in the middle of the pen with God," Mitchell said.
Cook, who is seeking community donations for the church, was influenced by missionary Jeff Smith, executive director of the Cowboy Church Network of North America. Eleven years ago, Smith bought his daughter two ponies and became immersed in cowboy culture.
"(The cowboys) were communicating with me about their faith, or lack of it," he said, "and when I invited them to come to my church, they shut the door on me. They weren't about to trade their saddle for a pew."
So he founded a Monday night cowboy church and today leads two in North Carolina. The Cowboy Church Network of North America includes more than 60 in the U.S. and Canada.
Some have questioned Smith's approach.
"A guy asked me once if you can worship in a barn," Cook said. "Jesus was born in a barn. He said we should be fishers of men, but some churches are just aquarium keepers trying to steal fish from other churches."
Rose Hill residents Becky and Billy Porter in September founded Ridin' for the Brand Cowboy Church between Meridian and Bay Springs - an affiliate of the American Fellowship of Cowboy Churches. The Mississippi natives brought the idea back from Texas after living there for five years.
"I was raised up rodeoing," Becky Porter said. "We thought it was a wonderful way to get the Gospel out."
The 30-member, nondenominational congregation gathers in the Porters' barn for Bible study Wednesday nights at 7 and Sundays at 10:30 a.m. They also host monthly riding events and ride after church on Sundays.
Louisiana resident Gary Brewster is the American Fellowship of Cowboy Churches leader who oversees Mississippi. He's been leading his Cowboy Church at the OK Corral in Eros, La., the past three years.
Today, there are about 160 American Fellowship-affiliated churches in Texas and at least 20 outside the state.
"Some who come just like to wear cowboy boots and hats," he said. "They don't own a horse or cow. Others like John Wayne movies. And if you have a honky tonk band playing gospel music on Sunday morning, a lot of people will come because they like the music. Some who haven't been to church in 40 years have found something to come back to."
Brewster said cowboy churches change the method of ministry, not the message.
"We want them to know God loves you just like you are," he said. "It's not uncommon for the preacher to have cows get out early Sunday morning and come to church with manure all over his jeans and boots. I've gone to church not really neat and clean. But hey, that's life."