Lions and skunks and owls ... oh my!: Crocheted hats make babies picture perfect
LaReeca Rucker:
The Clarion-Ledger
Dean Cook spent two years leading a Kentucky church before he rode back into town to create a church for horse enthusiasts.
Photographer Jennifer Sparrow doesn't have to leave the state of Mississippi to find wildlife and interesting creatures to digitally capture. So far, she's photographed lions, skunks, owls, frogs, caterpillars, giraffes, reindeer and even a mermaid.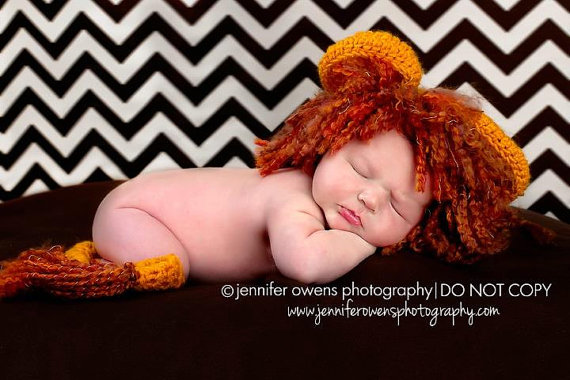 The stay-at-home mother of three, who operates Simply Newborn Photography, said photographing babies in crocheted character hats has become a popular photography trend in the past two years.
"I have actually gotten a lot more newborn clients since I have started using the crocheted hats and props," she said.
When she needs a new one, she contacts her friend, Seminary native Felicia Mauldin, 25, who began making the hats after the birth of her daughter, now 2. She sells them through her Etsy shop Faith and Sparrows.
"Most of my orders come from mommies-to-be and photographers, who are looking for unique, one-of-a-kind items to set their newborn pictures apart from all the others out there," Mauldin said. "I think that it has inspired us, as designers and creators, to keep upping the ante of what is expected and what actually can be created."
And it doesn't hurt that the hats are absolutely, without a doubt, precious as pie, cute as a button, adorable.
"All babies are cute, so when you put a cute little crochet animal hat on a baby, you get double cutesy," she said. "It makes your newborn pictures stand out and inspires others to create ideas too, thus creating the trend."
Mauldin said she's sold crocheted character hats to Turkey, Bangladesh and Australia, so she knows it's not just an American trend.
"It amazes me that my items are all over the world being used for sweet little newborns," she said. "I even received some customer shots from a lady in Japan of her little girl modeling a set. This small town girl never would have imagined."
Mauldin said puppy outfits are becoming increasingly popular, and mermaids are huge during the summer.
"It is really special to actually hold something that was made specifically for your little one," she said. "Plus, they are versatile. They can be used for everyday wear after the photo shoot, and once outgrown, it is a perfect keepsake to have to actually remember how tiny your little one was and possibly become a family heirloom.
"How sweet would it be to see your grandbaby photographed in the same hat as his/her mom or dad was as a newborn? Priceless. This is why I love what I do. I love being a part of those special moments in the lives of complete strangers."
Columbia resident Kayla Sistrunk sells baby hats through her Etsy store Kayla's Kountry Stitches. Her Etsy name is bowshatsandmore.
She thinks the hats are popular because "they are unique, and everyone wants something that is not mass produced."
Her biggest sellers are crocheted Cowboy- and Saints-inspired football hats.
Mississippi resident Whitney Stone, 26, is a stay-at-home mother of three who sells the hats on Etsy under the seller name The Apple and Tree, a business shared with her mom.
"Once I figured it out, I couldn't stop," she said. "Friends started wanting to buy my hats, and I branched out from there."
During Halloween, her skunk hat is most popular. The rest of the year, it's all about the sock monkey.
"I think that moms love them because they remember the sock monkey toy when they were a kids," she said. "I know I do. Maybe they call their babies their 'little monkeys.'"
Grenada County resident Sherry Sullivan, owner of SheriSBoutique on Etsy, began selling crocheted character hats last year after seeing her photographer daughter use them as props during photo shoots.
"I was like, 'I can make those,'" she said. 'I thought they were so cute, so I made my first one and it turned out really good."
That was a turtle hat, followed by a camel.
When Bonnie Evans isn't teaching a Silver Sneakers fitness classes and water aerobics to senior citzens and being a caregiver to her husband, a disabled Vietnam veteran, she crochets baby hats and sells them through her Etsy shop SewBizGirl's Originals .
"I started making the crocheted character hats about six months ago," she said. "People seem to love them. I saw the simple basic hat, and began to get ideas for the many different characters I could create from it. I have always been interested in baby/children's fashion."
Evans creates owls, bears, kittens, puppies, sock monkeys, friendly monsters, "and the latest one I'm working on is a camo-colored hat with contrasting deer antlers."
Why does she think the hats have become so popular?
"Kids love to pretend and love wearing an animal or character," she said. "Parents like them because they are adorable. The earflaps also keep little ears warm."