Domestic violence program's funding to end
LaReeca Rucker
The Oxford Eagle
A legal assistance program that aids Jackson area domestic violence victims will run out of money next month.
Brandi Brown, senior attorney and program manager of the Catholic Charities Legal Assistance Clinic, said the clinic is operating with money provided by the Mississippi Bar Association, but funding ends Sept. 30.
Brown's staff has applied for federal and local grants, and is awaiting - responses. Without funding, she said it's impossible to say what will happen to the 250-300 women and children the clinic serves annually.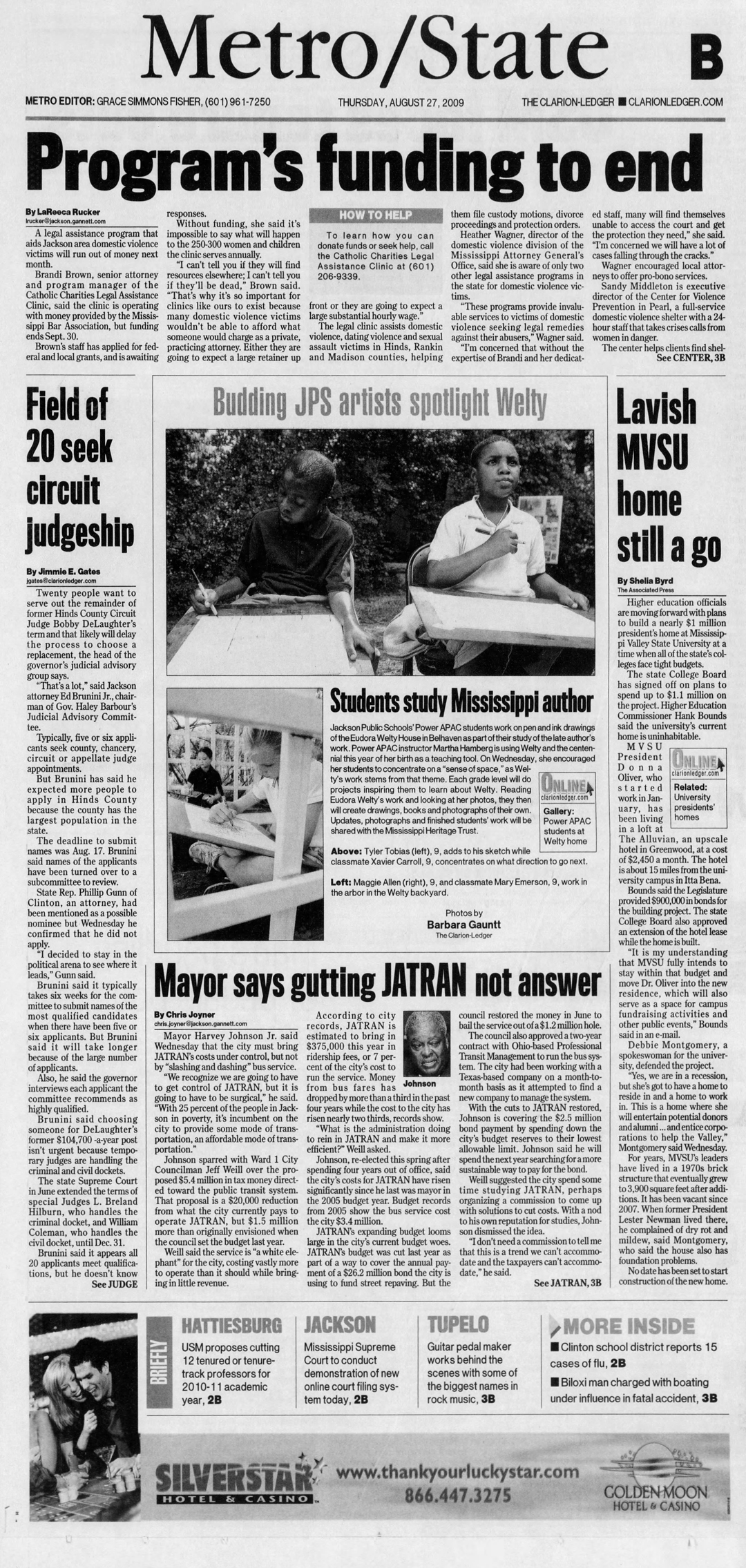 "I can't tell you if they will find resources elsewhere," Brown said. "I can't tell you if they'll be dead. That's why it's so important for clinics like ours to exist because many domestic violence victims wouldn't be able to afford what someone would charge as a private, practicing attorney. Either they are going to expect a large retainer up front or they are going to expect a large substantial hourly wage."
The legal clinic assists domestic violence, dating violence and sexual assault victims in Hinds, Rankin and Madison counties, helping them file custody motions, divorce proceedings and protection orders.
Heather Wagner, director of the domestic violence division of the Mississippi Attorney General's Office, said she is aware of only two other legal assistance programs in the state for domestic violence victims.
"These programs provide invaluable services to victims of domestic violence seeking legal remedies against their abusers," Wagner said.
I'm concerned that without the expertise of Brandi and her dedicated staff, many will find themselves unable to access the court and get the protection they need," she said. I'm concerned we will have a lot of cases falling through the cracks."
Wagner encouraged local attorneys to offer pro-bono services.
Sandy Middleton is executive director of the Center for Violence Prevention in Pearl, a full-service domestic violence shelter with a 24-hour staff that takes crises calls from women in danger.
The center helps clients find shelter and safety and assists them in finding housing and employment. She said her center relies on the work of legal assistance clinics and attorneys who work pro bono.
"We are fortunate to have a number of pro-bono attorneys who are gracious enough to take many of our cases, however, most attorneys shy away from divorce cases because they tend to be long-term, domestic-violence situations that are very sticky and ugly," Middleton said.
"It is very difficult for a woman who is in a domestic-violence situation and has very little means of support for herself and her children to then have to pay a sizeable attorney's fee on top of that," she said.
"Many times what they wind up doing is not getting a divorce, and that makes the relationship harder to end."