Dorm Decor: Students use color schemes to turn rooms into top-of-the-class living quarters
LaReeca Rucker:
The Clarion-Ledger
Shelbi Bobo said goodbye to Clinton High School in May and will start anew Aug. 27 at Mississippi College as a chemical and medical science major.
There will be books to buy and a new college wardrobe, but right now, Bobo is focused on decorating her dorm - a place where she'll learn independence.
"My roommate and I have been friends since I moved to Clinton, and we have been kind of getting our stuff together. We have our color scheme picked out, and I'm getting really excited about it. We've chosen pink and purple, and we've both chosen a black-and-white print to centralize (the decor) around. We are planning on putting all black-and-white pictures up and kind of holding to that motif."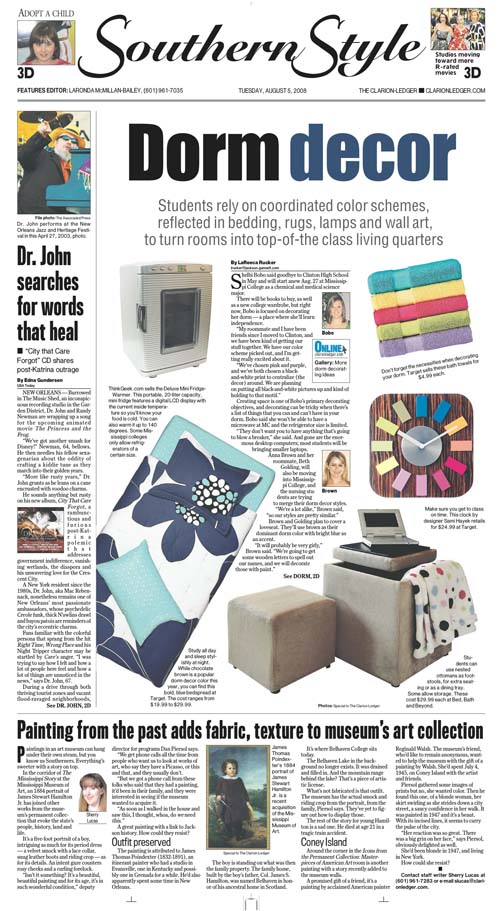 Creating space is one of Bobo's primary decorating objectives, and decorating can be tricky when there's a list of things that you can and can't have in your dorm. Bobo said she won't be able to have a microwave at MC, and the refrigerator size is limited.
"They don't want you to have anything that's going to blow a breaker," she said.
Also gone are the enormous desktop computers; most students will bring smaller laptops.
Anna Brown and her roommate, Beth Golding, will also be moving into Mississippi College, and the nursing students are trying to merge their dorm decor styles. "We're a lot alike," Brown said, "so our styles are pretty similar."
Brown and Golding plan to cover a loveseat. They'll use brown as their dominant dorm color with bright blue as an accent. "It will probably be very girly," Brown said. "We're going to get some wooden letters to spell out our names, and we will decorate those with paint."
The roomies will also add a bulletin board, storage shelves and closet organizers.
Lady Cox, who works in Mississippi State University's Dean of Students Office, said chocolate brown is one of the most popular dorm decor colors right now. "It's so versatile," she said. "It goes with anything.
She's seen students pair it with teal, lime green, orange, blue and purple. Florals are out this year, Cox said. Instead, students are opting for bold stripes, geometric shapes and animal prints. Black and white also continues to be popular, as well as bright colors like aqua and hot pink.
"One of the decorating tips I love right now is to get wall decals," Cox said. "There are some great options at Target.com, store.dvider.com and Whatisblik.com. These are quick, easy and affordable ways to really change the personality of a room."
Cox said lamps with funky shades and rugs can also enhance a dorm room. "Rugs with a lot of texture, like mohair or shag rugs, are really comfy and make the space feel more fun," Cox said.
Jeff Gawronski of Dormbuys.com said a recent survey of 1,120 college students found that 92 percent ranked "the ability to personalize their dorm" as an essential aspect of making college living comfortable.
Of the students surveyed, 42 percent said posting pictures was essential; 16 percent said they wanted things in their dorm that held meaning, like posters, framed T-shirts or drawings; 16 percent said sleeping comfortably was important; 20 percent said they wanted to decorate with their favorite colors; and 10 percent said having a comfy chair was a necessity.
Melissa Tosetti, editor and publisher of Budget Savvy magazine, said posters are an easy and inexpensive way to add personality. She said you can find ideas at 5dollarposters.com, PosterGods.com and AllPosters.com.
Tosetti said Ikea, Wal-Mart and Target are also great resources that offer inexpensive throw pillows, lamps and towels. "For a more personal touch, pick up an inexpensive bulletin board and cover it with photos of your friends and family," Tosetti said. "You'll appreciate seeing all those friendly faces when you've had a particularly rough day at school."
Don't be tempted to buy things just to fill space. Buy the basics, then finish decorating with items you fall in love with. Tosetti said it's also a good idea to wait until you actually move in before deciding how to decorate. You may not have as much space to work with as you thought.
Madison Central graduate Jocelyn Cotten will be moving into a dorm at Jackson State University Aug. 16. "My colors are chocolate brown and lime green," she said. "I just bought everything the same color."
The computer science major also purchased a flat screen TV to save space. "I'm hoping to arrange stuff so I will feel like I'm at home because I don't like a lot of clutter," she said.