Dream Dresses: Prom season punctuated with color
LaReeca Rucker:
The Clarion-Ledger
It's that time of year again, when young girls are on a quest for the perfect prom dress, and we've spoken to several experts who can give teens and moms the heads-up on what will be trendy for Prom 2013.
Susan Nash, owner of Susan's Shoppe Formals in Brookhaven, Madison, Hattiesburg and Mobile, said expect high-low dresses, jersey styles with cut-outs and volcano stone embellishments. She explains:
"High-lows are dresses that are short in the front and long in the back, or have a short dress underneath a longer skirt," Nash said. "Jersey knit dresses are so comfy and forgive the wearer to gain or lose a couple of pounds without compromising the fit. Coupled with cut-outs, this prom season's jerseys are winners. Volcano stones, also called rock star stones, are beautiful in a combination of green, blue and pink."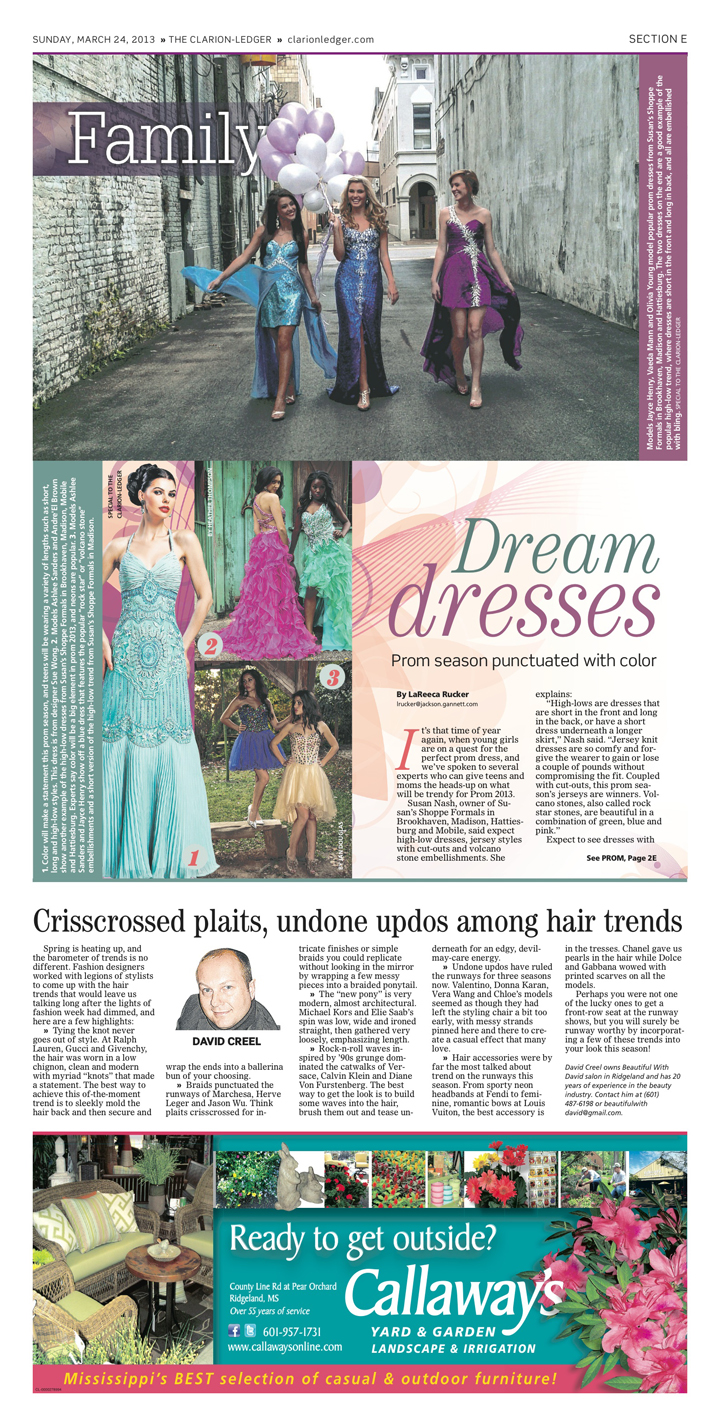 Expect to see dresses with lots of bling, some that are fully sequined, and others with chunky stones. Colors will go to extremes. Neutrals and neons will be popular, and many dresses will feature rhinestones.
"We are also seeing the prom jewelry, shoes and hair trends following along these lines," Nash said.
Dresses trending now seem to differ at her various stores. While Madison and Brookhaven teens are going for a variety of styles — long, short and high/low — Hattiesburg girls are buying very few short dresses. In Mobile, they're only buying long gowns, Nash said.
"One-shoulder/one-sleeve gowns are still a novelty and are selling like hot cakes," she said. "Also, the romantic, off-shoulder, portrait straps are perfect for the young ladies that love pearls and lace."
A few trends that emerged at the turn of the century have stuck around, Nash said.
"The trends that are already back in style that I saw in the early 2000s are the fully sequined gown and the tendrils that hang on the hem of short dresses," she said.
Trends that have been around five or so years include: flowy chiffons, trains on the back of dresses and intricate rhinestone detailing.
"The prom dress has evolved from the 1980s department store duplication into a very sophisticated red carpet style and quality," Nash said. "Today's fabrics include silky charmeuse, soft jersey knits and flowing chiffons.
"In the '80s and '90s, we wore heavy bridal satins, taffetas and scratchy cottons, but with the new trend of one sleeve, we are seeing a few shoulder pads again."
Nash said teens, or their parents, are typically spending $300 to $400 on prom dresses.
Whitney Little, of Once Upon a Dress in Madison, said fully beaded dresses are very popular.
"Also, the illusion dresses with sheer bodices and heavy beading have been requested by many young ladies," she said.
Rompers and one-sleeve dresses are "all the rage these days," Little said.
Other trends include high-low dresses and fitted short dresses in neon colors.
Little said short dresses are more popular for prom, and long dresses are usually purchased for more formal events and pageants.
"About 80 percent of our client base wears short dresses to their proms," she said. "The more rhinestones, beading and bling, the better. Young ladies want dresses that make a statement."
Little said the high-low dress trend has been consistent.
"This style has been popular for several years now and will probably be for several more years," she said. "It offers a compromise for the young lady wanting the flirty look of a short dress and the elegance of a long dress."
A style that has been recycled from 1990s is the two-piece dress, Little said.
"This is the first year our clients have requested this look, but we feel confident two-piece dresses will be a staple in most prom dress designers' collections next year," she said.
Los Angeles-based designer Sue Wong, who designs prom dresses that are sold in Neiman Marcus, Saks Fifth Avenue, Bloomingdale's and Macy's, said look out for the following:
Sparkle - Young women, especially on this memorable time in their lives, want to feel like a star," she said. "So, why not look the part by wearing a piece with a generous amount of beading that can catch the light and allow anyone to shine as bright as she can."
Color - "In a crowd setting, nothing sets you apart better than a good dose of color," she said. "The right hue can express anything from confidence to a joyful mood, from innate elegance to a reflection of one's personality."
Drama - "Make a grand entrance in a dress designed with dramatic flair," she said. "For a memorable event, you need an unforgettable dress."
The new economy - "These days, everyone wants to get the most out of their purchase," she said. "You don't want a dress that you wear once and never take out of the closet again. So you want a dress that's both price accessible, will remain timeless and may be worn at other events."
Wong said the most popular styles among her clients are dresses with intricate hand-embroidery and beading.
"We're also seeing a lot of interest in vibrant colors as a way of adding a special dazzle to your look," she said.
Everything from current music to movies are impacting shoppers.
"I had just designed an entire collection inspired by the Disney film 'Oz the Great & Powerful,' " she said, "and we're already seeing a reaction to how that sense of fantasy and romance translates into dressing, including for prom. I believe you will definitely be seeing a lot of that kind of sensibility in this season's prom styles."
Online: For more information about the stores mentioned in this article, visit:
http://www.susansshoppe.com/
http://www.onceuponadress.net/
http://www.suewong.com