Faith, Family and Ducks: Mississippians identify with Duck Dynasty's moral message
LaReeca Rucker:
The Clarion-Ledger
It's that time of year again, when young girls are on a quest for the perfect prom dress, and we've spoken to several experts who can give teens and moms the heads-up on what will be trendy for Prom 2013.
Daniel Jones, a student minister at Corinth's Tate Baptist Church, recently went to a worship service wearing a long, fake beard while dressed as Uncle Si Robertson from the popular A&E reality television series "Duck Dynasty."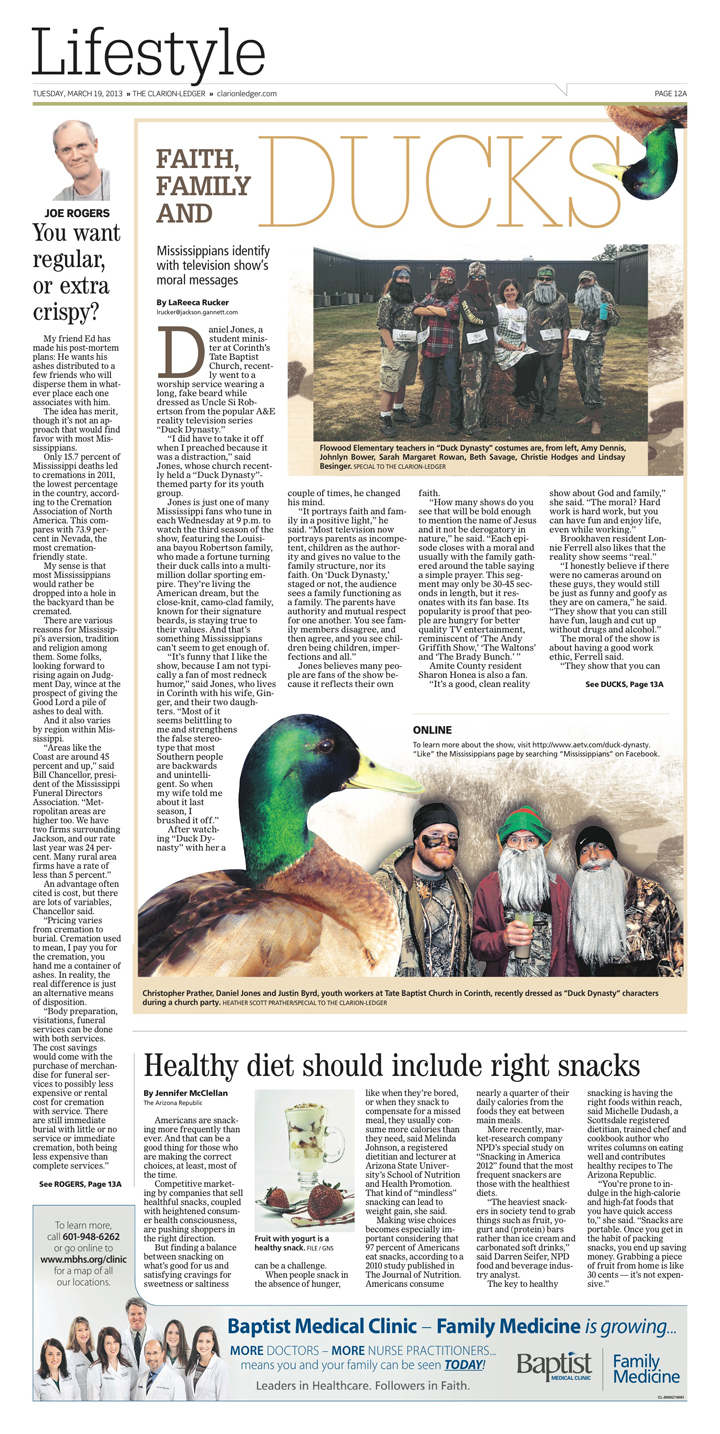 "I did have to take it off when I preached because it was a distraction," said Jones, whose church recently held a "Duck Dynasty"-themed party for its youth group.
Jones is just one of many Mississippi fans who tune in each Wednesday at 9 p.m. to watch the third season of the show, featuring the Louisiana bayou Robertson family, who made a fortune turning their duck calls into a multimillion dollar sporting empire. They're living the American dream, but the close-knit, camo-clad family, known for their signature beards, is staying true to their values. And that's something Mississippians can't seem to get enough of.
"It's funny that I like the show, because I am not typically a fan of most redneck humor," said Jones, who lives in Corinth with his wife, Ginger, and their two daughters. "Most of it seems belittling to me and strengthens the false stereotype that most Southern people are backwards and unintelligent. So when my wife told me about it last season, I brushed it off."
After watching "Duck Dynasty" with her a couple of times, he changed his mind.
"It portrays faith and family in a positive light," he said. "Most television now portrays parents as incompetent, children as the authority and gives no value to the family structure, nor its faith. On 'Duck Dynasty,' staged or not, the audience sees a family functioning as a family. The parents have authority and mutual respect for one another. You see family members disagree, and then agree, and you see children being children, imperfections and all."
Jones believes many people are fans of the show because it reflects their own faith.
"How many shows do you see that will be bold enough to mention the name of Jesus and it not be derogatory in nature," he said. "Each episode closes with a moral and usually with the family gathered around the table saying a simple prayer. This segment may only be 30-45 seconds in length, but it resonates with its fan base. Its popularity is proof that people are hungry for better quality TV entertainment, reminiscent of 'The Andy Griffith Show,' 'The Waltons' and 'The Brady Bunch.' "
Amite County resident Sharon Honea is also a fan.
"It's a good, clean reality show about God and family," she said. "The moral? Hard work is hard work, but you can have fun and enjoy life, even while working."
Brookhaven resident Lonnie Ferrell also likes that the reality show seems "real."
"I honestly believe if there were no cameras around on these guys, they would still be just as funny and goofy as they are on camera," he said. "They show that you can still have fun, laugh and cut up without drugs and alcohol."
The moral of the show is about having a good work ethic, Ferrell said.
"They show that you can be successful and maintain integrity and respect," he said. "I think it's great the way they teach the children life lessons and try to pass on some of the ways of the older generations."
Gulf Shores resident Blythe Elizabeth Reid feels like she knows the characters personally.
"It almost seems like you become a distant part of this family when watching it," she said. "They are a simple family who did well doing what they love. My husband, Chris, and I love that they are open about their Christian beliefs and that they openly pray on each show."
Lindsay Besinger, a second-grade teacher at Flowood Elementary, dressed like a "Duck Dynasty" character at school last year, along with fellow teachers Sarah Margaret Rowan, Amy Dennis, Johnlyn Bower and Christie Hodges.
She likes "Duck Dynasty" because "It's always nice to just watch something with your family that makes you laugh. Faith, family and ducks — that's what they say, and that keeps us watching. Faith first, family second, then everything else falls into place."
Online
To learn more about the show, visit http://www.aetv.com/duck-dynasty.