Elf on the Shelf keeps tabs on naughty, nice kids: Santas new spies are latest holiday craze
LaReeca Rucker:
The Clarion-Ledger
It's an age-old fact that Santa Claus makes a list and checks it twice to find out who is naughty or nice. But around 2005, it was discovered that he was being assisted by toy-making elves who make their own moral judgments about children and report back to the boss.
We may never know why The Elf on the Shelf was deemed a necessity by Santa, but we are now aware that they help him divide up his most important lists.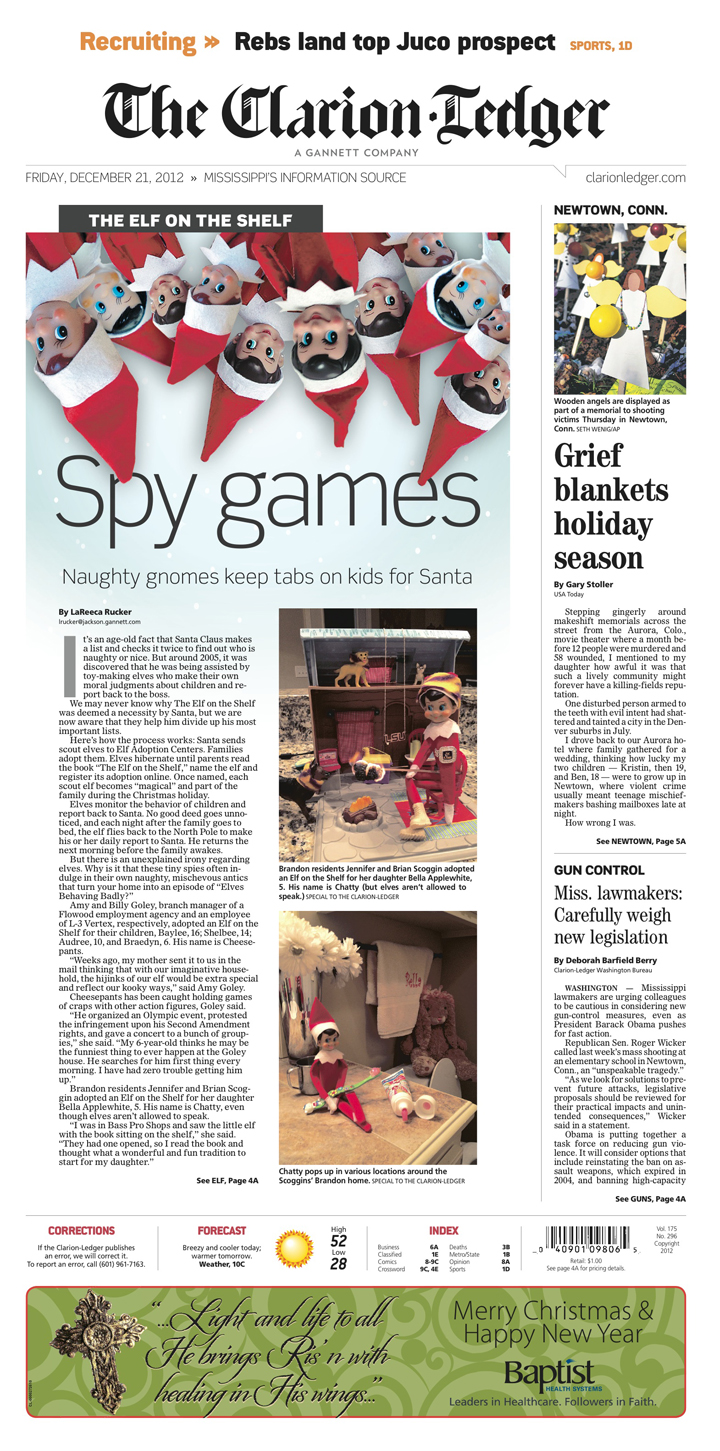 Here's how the process works: Santa sends scout elves to Elf Adoption Centers. Families adopt them. Elves hibernate until parents read the book "The Elf on the Shelf," name the elf and register its adoption online. Once named, each scout elf becomes "magical" and part of the family during the Christmas holiday.
Elves monitor the behavior of children and report back to Santa. No good deed goes unnoticed, and each night after the family goes to bed, the elf flies back to the North Pole to make his or her daily report to Santa. He returns the next morning before the family awakes.
But there is an unexplained irony regarding elves. Why is it that these tiny spies often indulge in their own naughty, mischevous antics that turn your home into an episode of "Elves Behaving Badly?"
Amy and Billy Goley, branch manager of a Flowood employment agency and an employee of L-3 Vertex, respectively, adopted an Elf on the Shelf for their children, Baylee, 16; Shelbee, 14; Audree, 10, and Braedyn, 6. His name is Cheesepants.
"Weeks ago, my mother sent it to us in the mail thinking that with our imaginative household, the hijinks of our elf would be extra special and reflect our kooky ways," said Amy Goley.
Cheesepants has been caught holding games of craps with other action figures, Goley said.
"He organized an Olympic event, protested the infringement upon his Second Amendment rights, and gave a concert to a bunch of groupies," she said. "My 6-year-old thinks he may be the funniest thing to ever happen at the Goley house. He searches for him first thing every morning. I have had zero trouble getting him up."
Brandon residents Jennifer and Brian Scoggin adopted an Elf on the Shelf for her daughter Bella Applewhite, 5. His name is Chatty, even though elves aren't allowed to speak.
"I was in Bass Pro Shop and saw the little elf with the book sitting on the shelf," she said. "They had one opened, so I read the book and thought what a wonderful and fun tradition to start for my daughter."
Chatty has made snow angels out of flour on the kitchen counter. He drew cat faces on the outside of a family photo frame. He went fishing in her daughter's bathroom with goldfish snacks. He popped popcorn and watched movies in the popcorn bowl. He took a bubble bath in the sink full of marshmallows. He was caught eating whipped topping out of the refrigerator, and he built an elf-sized deer camp out of a Barbie house and roasted marshmallows.
"Bella tells anyone who will listen about her elf," Scogggin said. "We read and re-read "The Elf on the Shelf" book at least once or twice a week. It's fascinating to her. She is on her best behavior while Chatty is here. I usually don't have to ask her twice to do anything. Bella's favorite saying is, 'You better not pout. You better not cry, because Chatty's watching, and he will tell no lie. ... Santa Claus is coming to town.'"
Crystal Springs residents Stephanie and Jonathan Miller adopted an Elf on the Shelf for their son Braxton Miller, 5. The elf's name is Fire.
"I purchased it to use it as a good behavior tool," Stephanie Miller said. "He sits and watches the child during the day and flies back to the North Pole every night and reports back to Santa on the child's behavior. You're not allowed to touch him because he will loose his "magical flying powers" and will not be able to go home every night. Christmas night, he goes back to the North Pole to start working on toys for next year until he comes again."
Like many of the elves, Fire may not have offered the best example of good behavior.
"He has wrapped our commode in wrapping paper, and covered Braxton's head with silly string while he was sleeping," Miller said. "He also drew a mustache on Braxton's school picture."
A Southern elf at heart, Miller said Fire went turkey hunting this year and dressed like a Duck Dynasty character.
"Fire is a country boy just like me," said Braxton Miller.
He has also gone bowling, run a marathon, had a cookout with G.I. Joe buddies and gone bungee jumping. He was forced to shovel reindeer poop and ended up as bass bait during a fishing trip.
"Last year, he was horrible," Stephanie Miller said. "He went mud-riding on a four-wheeler in our kitchen and got mud everywhere. He rolled our Christmas tree, made a snow angel in powdered sugar, wrote on our wall with crayons, and went spot-lighting with G.I. Joe, to name a few."
Her son is not a morning person, but when Fire is in the house, that changes.
"He gets up every morning just to see what he is doing for the day," she said. "He talks to him like a real person, and even gets on to him when he has done mischievous things. He believes in him 100 percent, and is very protective of anyone getting close enough to touch him."
Hazlehurst residents Tammy and Darrel Pruitt, an administrative assistant at the University of Mississippi Medical Center and forklift driver, respectively, adopted an Elf on the Shelf for their daughter Catherine, 2, and named him Randolph.
"I thought it would be a fun idea for her to grow up with," Tammy Pruitt said. "Randolph has been hanging out up high because a 2-year-old doesn't understand that you can't touch him, because he will lose his magic."
And while he has kept a watchful eye on Catherine, he has zip-lined through the Pruitt's living room from the ceiling fan to the wall using a piece of yarn, and he sometimes rides the dinner bell hanging in the kitchen.
"We never know where he will show up," she said. "Catherine loves to look for Randolph every morning, and just giggles and smiles when she finds him. Every day she has told Randolph that she wants a baby doll."
Franklin County residents Samantha and Tommy Sivils adopted an Elf on the Shelf for their children Dacey, 14; Jaden, 12; Isaac, 10; and Connor, 6. His name is Elvis, and he knows a little thing or two about being naughty.
"He has toilet papered my daughter's bedroom and turned each child into Rudolph while they were sleeping using red lipstick," Samantha Sivils said. "He has redecorated our Christmas tree using the kids' underwear, turned our milk green, ate the kids' Christmas cookies and one morning, taped the commode lid shut with a message that read, 'Ho, ho, ho, who has to go?' He has also set up a Facebook page where he shares the kids' behavior with friends and family."
Sivils said the kids love him.
"As soon as they get out of bed each morning, they begin the hunt to see who will be the first to find him and see what mischief he has gotten into while they were asleep," she said.
The Sivils also gave heir elf a small dog who travels with him named Cane.
"Recently, I overheard my 6-year-old son, Connor, say, 'I sure am going to miss you and Cane when Christmas is over.' We all will."
Brookhaven residents Darlene and Sam Stewart, a hospital medical records director and an accountant, respectively, adopted an Elf on the Shelf for their son Sam, 6. His name is Elfie.
"I thought it was a great idea and would be a family tradition as Trace grew up, which it has definitely turned out to be," she said. "This year, he was anxiously awaiting Thanksgiving because that's when our elf arrives each year at our home."
Elfie has also been mischievous.
"We woke up and found him under the Christmas tree riding in Trace's 4x4 toy truck," said Stewart. "He had been eating tootsie rolls and left the wrappers all over the living room floor. This morning, we woke up and found that he played in Trace's bathroom last night and rolled the bathroom with toilet paper. He has also been caught in the marshmallow bag eating marshmallows."
Stewart said her son loves to look for him each morning and see what mischief he has gotten into.