The world needs more Elvis impersonators
LaReeca Rucker:
The Clarion-Ledger
Growing up in North Mississippi between Tupelo and Memphis, it was hard to ignore the fact that Elvis Presley was part of my cultural heritage. I spent several summers during college and after I graduated working at a Tupelo newspaper, where I met a lot of people who knew "the king."
I covered the annual Tupelo Elvis Festival, and met fans from all over the world, who wanted to see where the superstar was born. I interviewed many of Presley's relatives and distant relatives, including the late sheriff, Harold Ray Presley, who was killed during a police stand-off.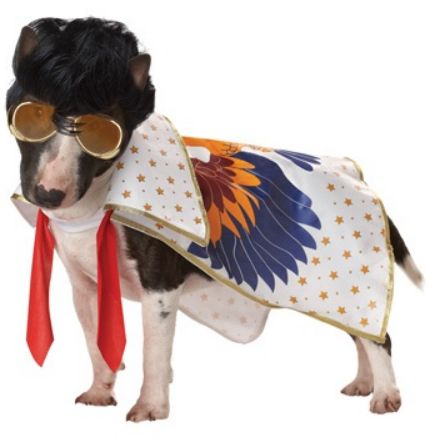 I forged a working relationship with the late Janelle McComb, who was in charge of the Presley birthplace and had been a close friend of Elvis in the final years of his life. She told me stories about Lisa Marie's visit to Tupelo to see her father's birthplace.
And I interviewed the owner of Tupelo Hardware, where Elvis Presley decided against a .22 caliber rifle and opted, instead, for a guitar.
During my stint as a reporter in Tupelo, I even interviewed a few Elvis impersonators.
In the last few weeks, it seems the world has gone mad. With shootings, bombings and alleged poisonings, we've taken a Crazy Train to Kookyville, and it's time we find another method of transportation to a new destination. Until then, we will remain at DEFCON 1 or Deranged Elvis Fanatic's Conspiracy Obsession is Nuts.
This week, we were introduced to Paul Kevin Curtis, a Mississippi Elvis impersonator who was arrested for allegedly sending ricin-poisoned letters to a Mississippi judge, senator and the POTUS.
A lot has already been written about Mr. Curtis – who, because of prior dealings with the justice system, would probably choose "Jailhouse Rock" as his least favorite Elvis song - but I thought I would familiarize myself with his social media presence, and here are 10 facts gleaned from it that you may or may not have already read:
1. Curtis doesn't understand why people are deceptive. When told that a picture he re-posted of the Boston bombings was fake, he asked: "Why? why does anyone take the time to create fake photos and/or stories to mis-lead?" One of his Facebook friends replied: "For the same reasons people do other evil and disgusting things…they are evil and disgusting."
2. He was upset about the circus elephant who was recently shot in Tupelo. "So Sad..even our animals are not safe anymore to walk the streets!"
3. He is appreciative of the people who care about him. On Tuesday, he thanked a man who has been his father figure since he was 14, and Curtis mentioned his prior criminal record. "Hope you like your birthday present dad! Thanks for always being there! From the courts to the stages…from an email to a jail cell (theres my next country song) !"
4. It's possible he's a melon expert. He offered the following gardening advice. "The minimum optimum temperature for great melons is to sew the seed when the temperature of the soil reaches 60 degrees and is maintained. Of course it is difficult and nearly impossible to achieve the ideal without a green house or artificial way of warming the soil."
5. He noted that "Cultures of War" was a "good read." According to Amazon.com, it's a book that examines the cultures of war by looking at Pearl Harbor, Hiroshima, 9-11, and the invasion of Iraq. The book "offers comparative insights into individual and institutional behavior and pathologies that transcend 'cultures' in the more traditional sense, and that ultimately go beyond war-making alone."
6. He's a fan of noted justice enforcer Buford Pusser. He visited his home and even tried on some of his clothes, according to a Facebook photo.
7. He has a certificate from the International Institute of Reflexology and pays tribute to its founder, Eunice D. Ingham, in a Facebook post. Reflexology is the study of reflex areas in the feet and hands that some believe correspond to all glands, organs and parts of the body.
8. Curtis was an author . . . . . . A photograph of the mock-up cover of his book, "Missing Pieces," which may or may not have been written yet, appears on his Flickr account. The cover reads: "Missing Pieces: How far will one man go to expose a government cover-up." Beneath the photo, he writes: "My novel 'they' don't want you to read."
9. . . . . but he was not a savvy e-book marketer. Apparently, Curtis didn't want the public to read his book either, since it was not put on Amazon.com before he gained national notoriety. That's puzzling because he probably could have made some cash in the last few days. I guess in every story there are always Missing Pieces that we may never understand.
10. Like many of us who have read about his arrest, all the other crazy news lately, and wondered, 'What could possibly happen next,' so did Curtis. Monday, he wrote: "We the people are just not safe anymore! I mean bombs where folks are "racing"??? Elephants in Tupelo Circus getting SHOT??? What next! I guess there will come a time when Elvis fans can't even go out to watch a bunch of Elvis Impersonators pay tribute to a man who gave his life for we the people! Geesh! It's a sad sad world!"
Funny thing is, It seems like the lesson to be learned in all of this is from Elvis Aaron Presley. If some of the world's angry and misguided individuals would impersonate him by literally and metaphorically choosing guitars instead of guns, like he did at Tupelo Hardware, the world might be a better, safer place.