Fatal fire breaks hearts: School principal calls child killed in blaze delightful, bright
LaReeca Rucker:
The Clarion-Ledger
She wore a white coat and a stethoscope on career day at Wilkins Elementary School because she wanted to be a doctor when she grew up.
But 9-year-old Tirysha Taylor's life was cut short 15 days before Christmas when she died from smoke inhalation following a south Jackson house fire.
There were two adults in the house with her Thursday when the fire erupted. While officials have not released the names, multiple sources have confirmed that Tirysha's father, Rakeem Muhammad, and her stepmother, Debra Riley, were living in the 2048 Monaco St. home that was destroyed.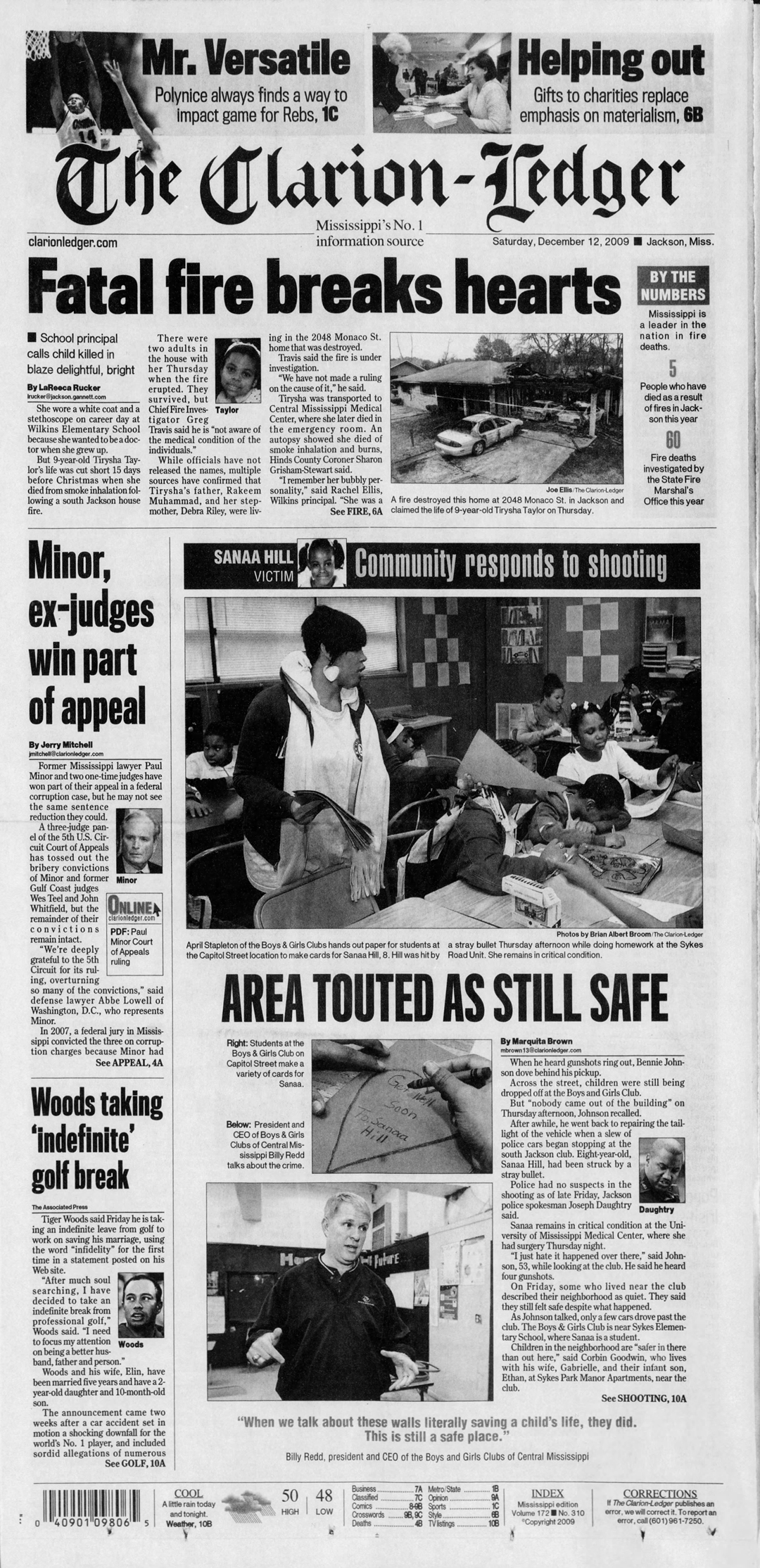 They survived, but Chief Fire Investigator Greg Travis said he is "not aware of the medical condition of the individuals." Travis said the fire is under investigation. "We have not made a ruling on the cause of it," he said.
Hinds County Coroner Sharon Grisham-Stewart said Tirysha was transported to Central Mississippi Medical Center, where she later died in the emergency room. An autopsy showed she died of smoke inhalation and burns.
"I remember her bubbly personality," said Rachel Ellis, Wilkins' principal. "She was a really outgoing person with a beautiful smile every day - a delightful, bright child. She loved school, reading and drawing. We have several examples of her work that she drew for class."
Ellis said officials from the Jackson Public School's grief counseling department met with students and faculty Friday morning to inform them of the tragedy and offer counseling.
"She was in my son's classroom. The class will miss her," Ellis said. "They are working on a memorial booklet for her parents."
Friday afternoon, yellow tape stretched across the front of the one-story, brick home where three burned cars were parked in the driveway and garage. A damaged dining room table and chandelier were visible from the front yard, and passers-by slowed to view the home's remains.
Ken Hamilton, who lives alone in a brick home next door, recalled the fire. "I was actually sitting outside in the car, and she (Riley) came running out, tapped on the window and said call the fire department," Hamilton said, "so I got out and saw all the smoke coming out of the door and ran and called 911."
Hamilton knew Tirysha. "She was a just a bright, fun little girl," he said. "She and my niece were like best friends. They played together all the time."
Neighbor Gregory Jackson, who lives two doors down, called it heartbreaking. "I can't even think about it happening to one of my grandkids," he said. "I feel for the parents not being able to save the child. It's just awful.
"When something like this happens so close to Christmas every year it will be a reminder. It's a cheerful time of year, but everything will be so sad."
Westhaven Memorial Funeral home is handling the funeral arrangements.