Festival of Faiths: Groups building on MLK's legacy
LaReeca Rucker
The Clarion-Ledger
The legacy of the Rev. Martin Luther King Jr. lives on, but some say his vision of peace and equality has not been fully realized.
That's why a group of Jackson residents representing an array of religious beliefs has united to promote the ideals that King envisioned.
"His vision of the world has not yet been achieved, and we have an obligation to work together to achieve that," said Michael Steiner, a member of Jackson's Beth Israel Congregation.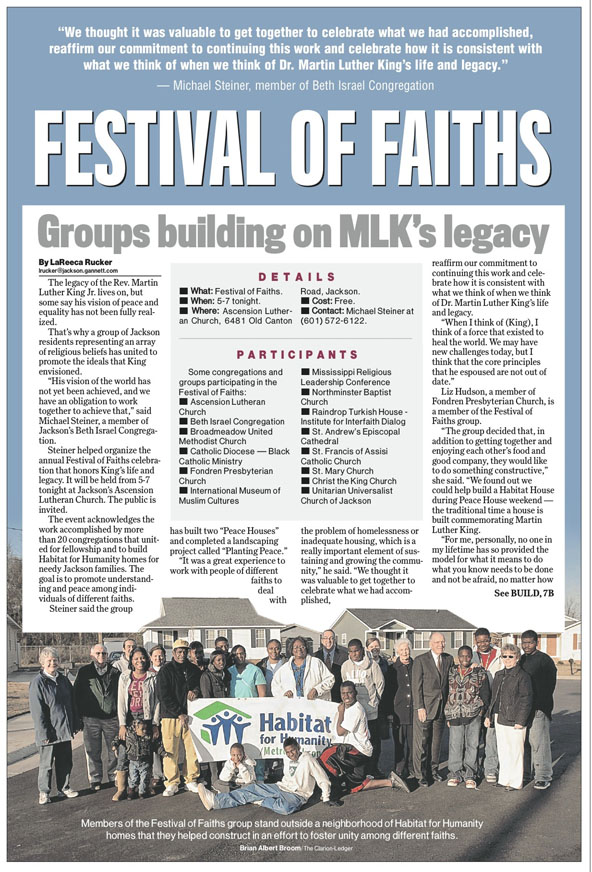 Steiner helped organize the annual Festival of Faiths celebration that honors King's life and legacy. It will be held from 5-7 tonight at Jackson's Ascension Lutheran Church. The public is invited.
The event acknowledges the work accomplished by more than 20 congregations that united for fellowship and to build Habitat for Humanity homes for needy Jackson families. The goal is to promote understanding and peace among individuals of different faiths.
Steiner said the group has built two "Peace Houses" and completed a landscaping project called "Planting Peace."
"It was a great experience to work with people of different faiths to deal the problem of homelessness or inadequate housing, which is a really important element of sustaining and growing the community," he said. "We thought it was valuable to get together to celebrate what we had accomplished, reaffirm our commitment to continuing this work and celebrate how it is consistent with what we think of when we think of Dr. Martin Luther King's life and legacy.
"When I think of (King), I think of a force that existed to heal the world. We may have new challenges today, but I think that the core principles that he espoused are not out of date."
Liz Hudson, a member of Fondren Presbyterian Church, is a member of the Festival of Faiths group.
"The group decided that, in addition to getting together and enjoying each other's food and good company, they would like to do something constructive," she said. "We found out we could help build a Habitat House during Peace House weekend the traditional time a house is built commemorating Martin Luther King.
"For me, personally, no one in my lifetime has so provided the model for what it means to do what you know needs to be done and not be afraid, no matter how hard it might be. I think there are still things left to be done that (King) dreamed about, but we've certainly made progress toward fulfilling that dream."
Cindy Griffin, executive director of Habitat for Humanity Metro Jackson, said the Festival of Faiths group launched its first Peace House project on King's birthday several years ago. It later completed a second Peace House, and followed it with the Planting Peace project that involved landscaping a cul-de-sac off Wood Street in Jackson. "It was truly transformative," she said. "It was a real picture of a true community."
Tom Clark, pastor of Ascension Lutheran Church and a member of the Mississippi Religious Leadership Conference a statewide multiracial organization said his church is proud to host the Festival of Faiths event.
"I believe it is important for all Americans to remember Dr. King's contribution, because he reminded us that the great moral principles of liberty and justice on which our country was founded are only great when they are offered and applied to all Americans," he said.
Will Jemison, director of the office of Black Catholic Ministries, said it will be enjoyable to break bread together in the name of unity.
"It's more important to have discussions on cultural issues now than 40 years ago," he said. "Having events where we are being candid about what our actual issues are can only prove to help our relationships with each other. You find out that you don't really have that many differences and, hopefully, the dialogue from that day forward will be more positive."
Jemison said he believes King's dream would essentially be the same today. "The only difference would be that he would demand that we expect more out of our elected officials in facilitating a dialogue among the communities," he said.
"In his day, there was such a push to get basic civil rights through. Now we have those, but we aren't deciding how to maintain them. We need to make sure our elected officials have the greater good for everyone in mind."