Forging ties: Friendship Ball honors two longtime workers for racial reconciliation
LaReeca Rucker:
The Clarion-Ledger
Through their work to foster change, they carry the torch ignited by civil rights leaders who dared to envision a Mississippi inclusive of all.
And Saturday night, two community leaders will be honored for their efforts to create positive relationships that bridge the gap of racial divide.
That's why members of Jackson 2000, an organization founded 20 years ago to focus on racial reconciliation, selected Shirley Tucker and Dorothy Triplett as 2008 honorees.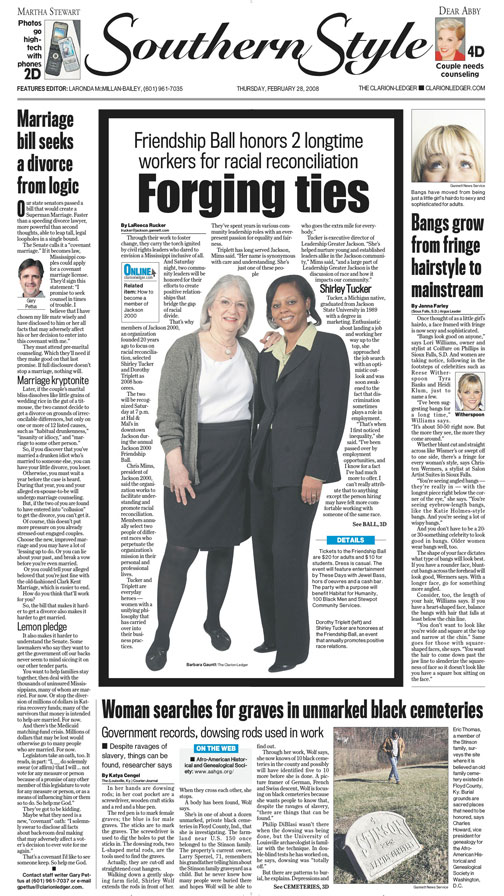 The two will be recognized Saturday at 7 p.m. at Hal & Mal's in downtown Jackson during the annual Jackson 2000 Friendship Ball.
Chris Mims, president of Jackson 2000, said the organization works to facilitate understanding and promote racial reconciliation.
Members annually select two people of different races who perpetuate the organization's mission in their personal and professional lives.
Tucker and Triplett are everyday heroes - women with a unifying philosophy that has carried over into their business practices. They've spent years in various community leadership roles with an ever-present passion for equality and fairness. Triplett has long served Jackson, Mims said.
"Her name is synonymous with care and understanding. She's just one of these people who goes the extra mile for everybody."
Tucker is executive director of Leadership Greater Jackson. "She's helped nurture young and established leaders alike in the Jackson community," Mims said, "and a large part of Leadership Greater Jackson is the discussion of race and how it impacts our community."
Shirley Tucker
Tucker, a Michigan native, graduated from Jackson State University in 1989 with a degree in marketing. Enthusiastic about landing a job and working her way up to the top, she approached the job search with an optimistic outlook and was soon awakened to the fact that discrimination sometimes plays a role in employment.
"That's when I first noticed inequality," she said. "I've been passed over by employment opportunities, and I know for a fact I've had much more to offer. I can't really attribute that to anything except the person hiring may have felt more comfortable working with someone of the same race.
"I've watched unfair employment behavior, and I've always been vocal about that. I know the reason people do that is their lack of knowledge in realizing that all people are equal. And I think people need to be given jobs based on their qualifications, and certainly not because of their race."
Tucker has spent 14 years working at the Greater Jackson Chamber Partnership, where she serves as executive director of Leadership Greater Jackson. Founded in 1986, the community-wide group works to locally develop existing and emerging leaders and educates participants about major community issues and alternate approaches to addressing community problems.
Tucker coordinates sessions for the leadership programs aimed at adults and youth in the Jackson metro area. "Our topics include health care, racial diversity and the criminal justice system," said Tucker, who has worked alongside Jackson 2000 members. "What I do at the chamber is my livelihood, but I know the importance of establishing relationships across racial lines. It is important, not only inMississippi but America. I ended up here, and 14 years later I understand why I was sent here."
Tucker said she was humbled by the honor. "I'm usually one of the people always working in the back," she said. "I always give awards, and very seldom do I receive them. I guess I was somewhat elated." Tucker and husband, Ellis, have three children. Bryston, 15, attends school at St. Joe Catholic School in Madison, while Austin, 11, and daughter Taylor Elise, 9, are enrolled in the McWillie Elementary School Montessori program in Jackson.

Tucker is working to extend the Jackson Public School District's Montessori programs offered at McWillie and Van Winkle Elementary Schools. The educational approach allows students to learn at their own pace.

Tucker said she also plans to continue fostering relationships with those outside her race. "I can truly say that I have genuine friends, very close friends, of a different race," she said. "I practice every day of my life maintaining relationships with folks who don't necessarily look like me. My goal is to interact with all people and treat them the same."

The Junior League of Jackson member also serves on a committee that helps administer the ACT to students, and she is YMCA board president.
Dorothy Triplett
The Milwaukee native attended the University of Wisconsin as a single mother and earned a degree in community education for social change at age 38. Triplett moved to Mississippi in 1978 with her Mississippi native husband and began working for Head Start. In 1982, she joined the Tougaloo College staff as a consumer counselor, giving advice to people on a fixed income.

She was later hired by General Electric to manage the company's Employee Assistance Program. In 1988, she began working at the Governor's Office of Federal-State Programs as deputy director. She later worked for Secretary of State Dick Molpus as director of business services and director of constituent services. Triplett also served as director of public affairs and communication for Jackson Mayor Harvey Johnson Jr.

"I've had some wonderful bosses," she said, "and when I officially retired from state and local government, I came to work full-time where I had volunteered close to 20 years with the crises line."
The 24-hour Contact The Crises Line has been operational since 1971. "We are an interfaith ministry of listening and availability," Triplett said.
"People call us for all sorts of reasons. They may just be lonely. They may have been evicted. They may have relationship problems. They may be trying to make a decision about something, and they are looking for someone to talk to who can offer an unbiased opinion.
"We also have a program called Reassurance Contact where we make calls to people who are elderly or disabled and live alone. It's a friendly call and a safety check each day. And we have a statewide Spanish language crises line."
Triplett said she's had a lifelong interest in justice issues. "It probably started before 1951 when I wrote a paper about William Lloyd Garrison, an abolitionist in the 1800s," she said. "I was inspired by some of his words and continued to learn more.
"In everything I have done, I have always been intentional in making sure that any program I ever had anything to do with was inclusive. When I see an injustice of any kind, I have to respond because if I don't, I am participating in that injustice."
Triplett said she was surprised to learn she was selected as an honoree. "I had nominated some other people who were far more deserving," she said. "I was very humbled and honored." She said Americans must focus on doing away with institutional and systematic racism. It's not just Mississippi and not just Jackson. I travel all over, and if you know what to look for, you see it everywhere. If you know what to listen for, you hear it everywhere.
"I have been known to go to a table in a restaurant and respond to it, but I think if you call people on something and say, 'That has not been my experience,' or 'I don't agree with you because,' that sometimes has more impact than attacking someone verbally."
Sean Perkins, past president of Jackson 2000, said the group will continue to focus on race-related challenges and racial reconciliation. "What our organization intends to do is continue the dialogue and keep people of opposite races in contact with one another," he said. "We are a very diverse group of citizens - male, female, black, white, Jewish - from all different religions, and we really believe that dialogue will foster a better understanding between the races."
Tucker and Triplett are deserving honorees, Perkins said. "These are people who are just common folks doing good things without looking for any type of recognition," he said. "Their work has brought people together.
"We have come a long way with race relations in Mississippi and Jackson, and we all recognize that fact. We just want to make sure that we continue to take more steps in bettering communication."