Here's the good news: Fox anchor Shepard Smith talks about his home state, Mississippi
LaReeca Rucker:
The Clarion-Ledger
Like a living portrait of regal English aristocracy, riders in scarlet coats and black hats atop horses with braided mane elegantly jump an obstacle and disappear into the wooded fall acreage of Gulf Haven Farms with their hounds.
Fox News anchor Shepard Smith knows he probably shouldn't be gushing about Oxford. He's aware of what could happen if he divulges all of its secrets to the general public.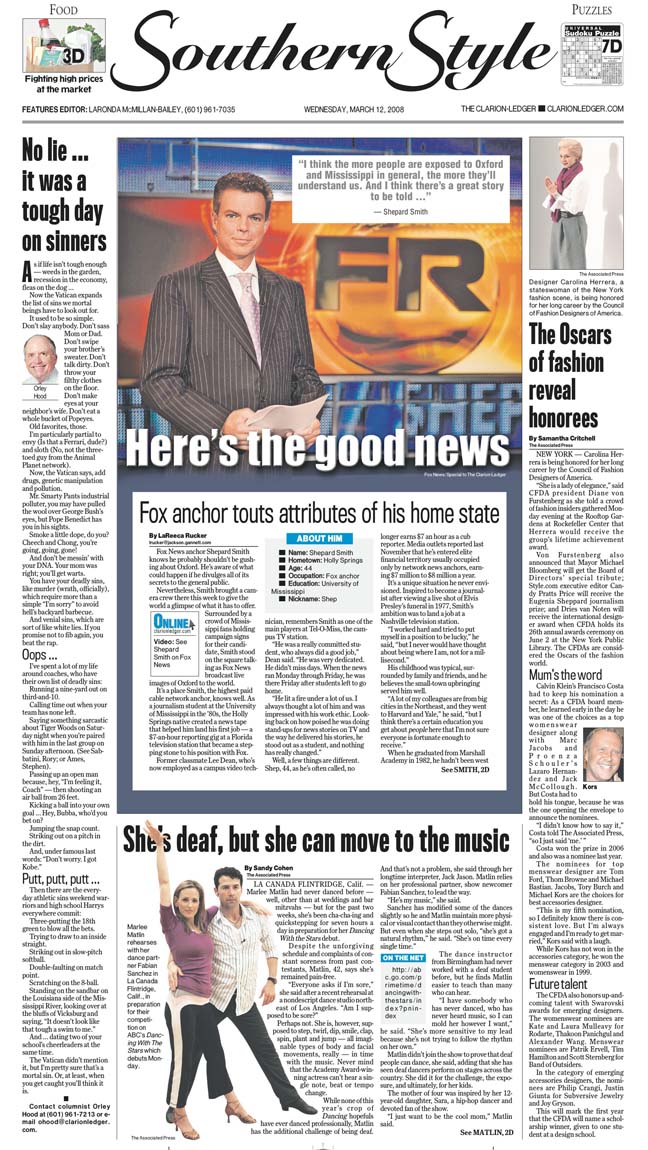 Nevertheless, Smith brought a camera crew there this week to give the world a glimpse of what it has to offer.
Surrounded by a crowd of Mississippi fans holding campaign signs, Smith stood on the square talking as Fox News broadcast live images of Oxford to the world.
It's a place Smith, the highest paid cable network anchor, knows well. As a journalism student at the University of Mississippi in the '80s, the Holly Springs native created a news tape that helped him land his first job - a $7-an-hour reporting gig at a Florida television station that became a stepping stone to his position with Fox.
Former classmate Lee Dean, who's now employed as a campus video technician, remembers Smith as one of the main players at Tel-O-Miss, the campus TV station.
He was a really committed student, who always did a good job," Dean said. "He was very dedicated. He didn't miss days. When the news ran Monday through Friday, he was there Friday after students left to go home.
"He lit a fire under a lot of us. I always thought a lot of him and was impressed with his work ethic. Looking back on how poised he was doing stand-ups for news stories on TV and the way he delivered his stories, he stood out as a student, and nothing has really changed."
Well, a few things are different. Shep, 44, as he's often called, no longer earns $7 an hour as a cub reporter. Media outlets reported last November that he's entered elite financial territory usually occupied only by network news anchors, earning $7 million to $8 million a year.
It's a unique situation he never envisioned. Inspired to become a journalist after viewing a live shot of Elvis Presley's funeral in 1977, Smith's ambition was to land a job at a Nashville television station.
"I worked hard and tried to put myself in a position to be lucky," he said, "but I never would have thought about being where I am, not for a millisecond."
His childhood was typical, surrounded by family and friends, and he believes the small-town upbringing served him well.
"A lot of my colleagues are from big cities in the Northeast, and they went to Harvard and Yale," he said, "but I think there's a certain education you get about people here that I'm not sure everyone is fortunate enough to receive."
When he graduated from Marshall Academy in 1982, he hadn't been west of Arkansas. Now, he's visited every state and 16 countries.
While some things have changed, others have remained stable, like his affection for Mississippi and pride in Oxford, the town in which his father, David Shepard Smith Sr., now lives.
"Everywhere I go, there's hardly anything that stacks up to this," Smith said. "There are amazing things in Oxford you'll never find anywhere else. I love to show it off."
Smith showed Oxford off this week covering the state primary.
"Mississippi's vote has never much mattered," he said. "I think there's a great deal of excitement about being involved and being part of the process.
"I met a lady from New Albany today (Monday), and she brought her two sons, 8 and 13, who are probably on spring break. She wanted them to see Chelsea (Clinton spoke on the steps of the Ole Miss Student Union Monday), see the media and ask questions.
"She said there may not be another time that Mississippians' votes matter as much as they do this year, and she wanted them to see what democracy is all about."
Smith said he's also excited Oxford will be the site of the first presidential debate between Democratic and Republican nominees Sept. 26.
"That's going to bring thousands of journalists from all over," he said. "I know we can put on a world-class event. It's an enormous challenge for a small town like Oxford, but if anyone can do it, Oxford can.
"I think the more people are exposed to Oxford and Mississippi in general, the more they'll understand us. And I think there's a great story to be told about our triumph over tragedies."
Katrina is one of the tragedies over which Smith hopes the state will triumph. His journalistic presence in New Orleans and Mississippi following the 2005 hurricane helped the public better understand the tragedy, and he received praise for his coverage.
"I wish it was a story we could cover every day," he said, adding that he felt Mississippians responded to Katrina with grace. "I was just beaming with pride about people who were so hard hit, yet still had time to help each other."
Smith said he believes Katrina coverage may have changed perceptions of Mississippi.
"Sometimes we get a bum rap," he said. "Sometimes people don't look at the progress the state has made and at the wonderful people who come out of this state - doctors, lawyers, writers.
"I don't think my friends from New York and New Jersey think of this state as a real cultural mecca. It's just not what they've learned about us. And when they come here and go to Square Books, or visit William Faulkner's house, or take a stroll through the grove, it's a great thing."
An Ole Miss sports enthusiast, Smith returns to Oxford as often as he can. He attended six football games last year and recently came to watch the Feb. 20 Ole Miss vs. Mississippi State basketball game.
While home, Smith also spoke to journalism students attending the University of Mississippi's Southeast Journalism Conference. Ralph Braseth, director of student media, said Smith, without warning, was eager to oblige.
"I somehow got Shepard's personal cell phone number," Braseth said, "and I was a little nervous about calling him. I thought I was going to have to beg, and instead, he immediately said 'yes.' "
"He talked about how he got started in the industry," Braseth said. "He talked about his pride in the state and Ole Miss. I walked away really impressed with how much he cares.
"Yeah, he's a big star, and he's the highest-paid cable network news anchor. He's very famous and influential, and yet, in the blink of an eye, he gave up two-and-a-half hours to be with young people and encourage them. How can you not be impressed by that?"
Smith said he plans to attend Ole Miss baseball games this season.
"I just love everything Rebel," he said. "I love coming back and participating. This is an amazing institution of higher learning, and I'm so proud to have ties to it. Where is a better place on Earth than Oxford? It has culture, great music, and this is where I want to be when I can.
"I'm not sure you can always put into words what this place is. It's more of a feeling than anything. There's a certain spirit here. It's modernized, but the way people deal with each other is so classically Southern and hospitable.
"It's exciting to bring people here and show off our place, but I hope the whole world doesn't find out because we'll be over run with people."