Freaking Out: Halloween costumes
LaReeca Rucker:
The Clarion-Ledger
Like a living portrait of regal English aristocracy, riders in scarlet coats and black hats atop horses with braided mane elegantly jump an obstacle and disappear into the wooded fall acreage of Gulf Haven Farms with their hounds.
Wearing ballet slippers covered in pink glitter and coat hangers bent into fairy wings, Jill Newell fluttered and floated through the neighborhood collecting candy as Tinkerbell.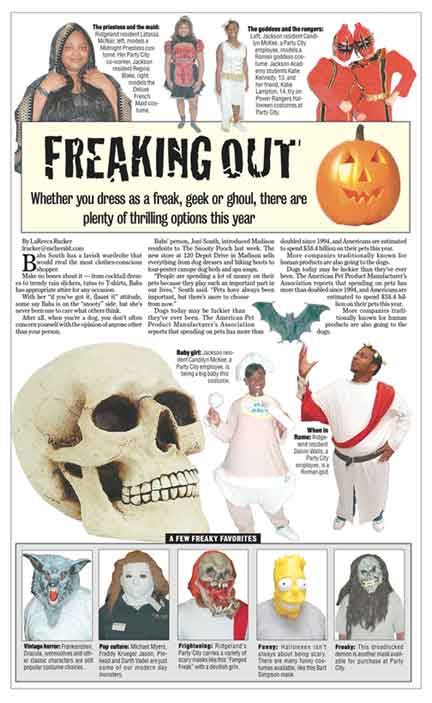 "The wings were covered with pink, shimmery, see-through material and outlined with pink sequins," said Newell, who won a costume contest that year. "I wore a pink leotard and pink stockings."
Her costume choice was Tinkerbell, but perhaps Newell, now a counselor at Madison Crossing School, is more like Peter Pan, the boy who never grew up, if growing up means forefiting the opportunity to wear a Halloween costume.
Newell and her husband will attend a party dressed as "Gilligan's Island" cast members this year. Her twin boys, Blake and Graham, 8, will be "Star Wars" characters Darth Vader and a clone. And her 16-year-old daughter, Alex, who dressed as a pirate for homecoming, will also wear a costume, but she's keeping what kind a secret until fright night.
The National Retail Federation predicts that Americans will spend $4.96 billion on Halloween this year, up $1.67 billion from last year. And they say almost 60 percent of consumers will "freak out" this season, spending an average of $21.57 each on Halloween costumes.
The princess is the top children's costume of 2006. Other favorites include pirates, popular because of the "Pirates of the Caribbean" movie franchise, and superheroes like Spider-Man, Superman and Power Rangers. Pirate costumes are also popular with adults, as well as witches, vampires, clowns and fairies.
Mary Ellen Turner, vice president of seasonal merchandise, said pirates have stolen the spotlight at Party City on County Line Road in Ridgeland.
"We think customers will find a lot of them on their Costume variety also abounds throughout cyberspace," she said.
At buycostumes.com, you'll find naughty nurse and French maid ensembles, as well as Nacho Libre costumes inspired by comedian Jack Black's wrestling character.
Fans of "CSI" can solve a Halloween mystery in a CSI-inspired jumpsuit. And "South Park" fans can become Cartman, Kyle or Kenny for the night.
New costumes include psycho straight jackets; life-size lottery tickets, cell phones and Swiss Army knives; a "God's gift to women" gift-wrapped package costume; the man from the Operation game board; and a "bun in the oven" costume (that is literally a bun in the oven) for pregnant women.
Madison County resident Ashley Rea's 4-month-old boy will be a cow this Halloween. Mistye Canoy's daughter will dress as Ariel from "The Little Mermaid." And Carrie Owens' 17-month-old daughter will be a sock hop girl.
The Olde Towne Middle School teacher said her favorite childhood costume was Wonder Woman.
"I dressed up in my Wonder Woman Underoos, and my mom made the headband, wristbands, lasso and boots," Owens said.
Angela Knight, a Ridgeland High School Spanish teacher, said her daughter, 7, and son, 10, will be an angel and soldier this Halloween. "My son is 10 and wants to be like his father and mother, who were both in the active Army for six years each," Knight said.
While some opt for store-bought costumes, others have fun making their own. Last year, Ridgeland High School teacher Holly Clay helped her daughter, Madison, 9, create a costume using a thrift store bridal gown.
"I thought she wanted to be the classic bride in a white gown and veil," said Clay. "Oh no, she wanted to go as a dead bride. So we painted her face with grease pens and gave her a really pale complexion and dark circles under her eyes."
Elizabeth Gober also made a costume for her 3-year-old daughter, Savannah Grace. She'll be wearing overalls with patches, a worn hat, red cheeks, pig tails and official "Wizard of Oz" costume straw stuffed in her sleeves and pants legs. "She is so excited," Gober said.
Madison County resident Cherie White, 31, made the Flintstones costumes that her family wore to a Sunday School Halloween party last year.
"My husband was Fred, I was Wilma, and my child was Pebbles," said White, who plans to dress her daughter as a dragon this year. White said costumes have come along way since the late '70s and early '80s when she was a child.
"Our costumes, as children, were the plastic ones that usually ripped before the night was over," she said. "You could only wear underwear underneath them or you would pass out from heat exhaustion, and you would usually end up showing your undies before the night was over because the costumes were always split right down the back."
With that said, White said few things could match the excitement of getting a new costume each year. Madison County resident Donna Musselwhite still loves that feeling.
"My children are all grown, but that doesn't mean the fun has to stop at my house," she said. "I totally embarrass my husband, who usually stays inside with the dogs, but I continue to enjoy the faces of both the kids and the parents at Halloween."
Musselwhite will be a witch this year. "I usually end up throwing the candy on the lawn for the little ones to pick up because they will not come close to me, which is why I bag the candy," she said.
Angela Welch, a Ridgeland High School teacher, said her favorite childhood costume was a princess. "I was always able to borrow old prom dresses from neighbors," she said.
Welch remembers fondly the Halloweens of her childhood, the neighborhood trick-or-treaters and her pesky brother who removed the heads of her dolls every Halloween and hung them in trees.
"It was a time for dressing up and being something or someone you always wanted to be for a few hours, even a little devil or a witch," she said. "It was, and is, just a day to wear a costume, play dress up and get candy.