Freedom Riders inspire playwright: Latest work to tour Mississippi as part of 50th anniversary
LaReeca Rucker:
The Clarion-Ledger
The first African-American president of the Southern Baptist Convention will appear in Jackson Tuesday and Wednesday at the 177th gathering of the Mississippi Baptist Convention.
This year marks the 50th anniversary of the Freedom Riders - civil rights activists who traveled to the South in 1961 risking their lives to desegregate interstate bus travel.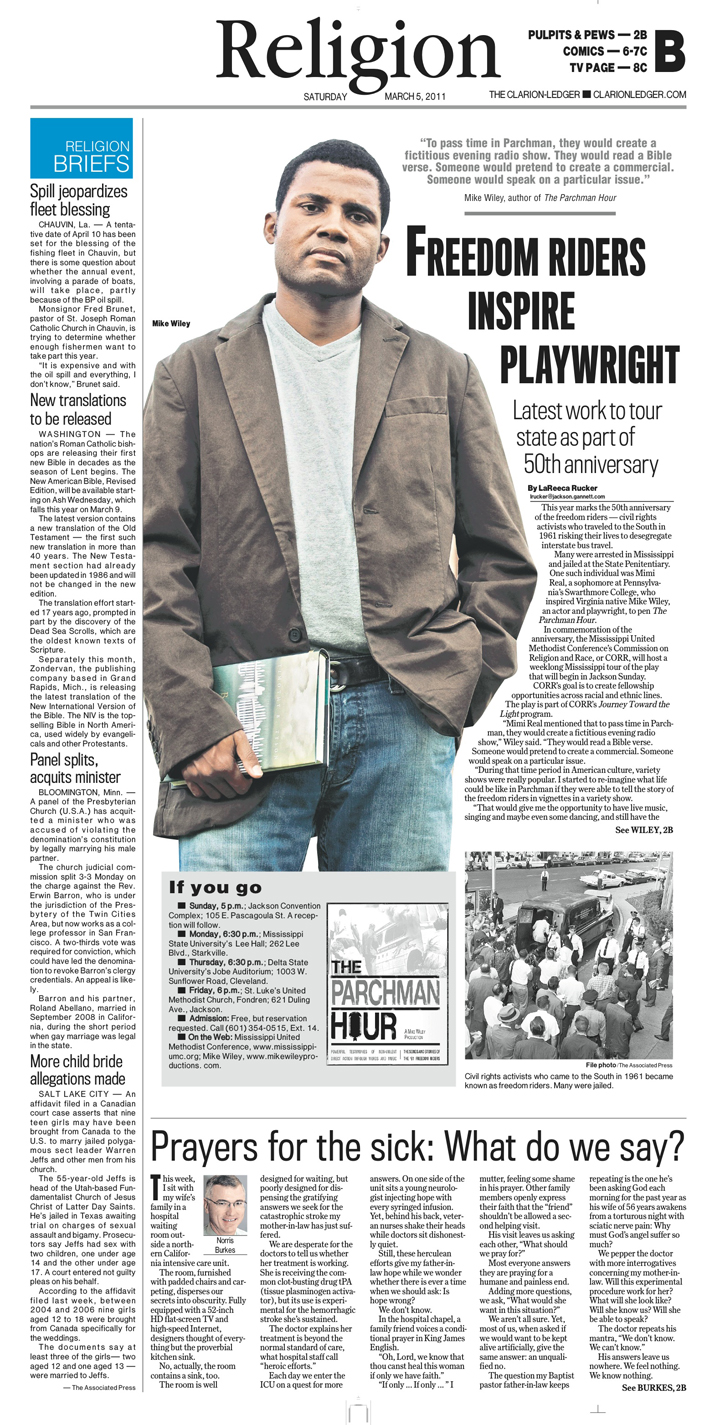 Many were arrested in Mississippi and jailed at the state penitentiary. One such individual was Mimi Real, a sophomore at Pennsylvania's Swarthmore College, who inspired Virginia native Mike Wiley, an actor and playwright, to pen The Parchman Hour.
In commemoration of the anniversary, the Mississippi United Methodist Conference's Commission on Religion and Race, or CORR, will host a week-long Mississippi tour of the play that will begin in Jackson Sunday.

CORR's goal is to create fellowship opportunities across racial and ethnic lines. The play is part of CORR's Journey Toward the Light program.

"Mimi Real mentioned that to pass time in Parchman, they would create a fictitious evening radio show," Wiley said. "They would read a Bible verse. Someone would pretend to create a commercial. Someone would speak on a particular issue.

"During that time period in American culture, variety shows were really popular. I started to re-imagine what life could be like in Parchman if they were able to tell the story of the Freedom Riders in vignettes in a variety show.

"That would give me the opportunity to have live music, singing and maybe even some dancing, and still have the seriousness of the Freedom Riders and the gravity of what those men and women were doing."

Wiley earned his master's degree from the University of North Carolina at Chapel Hill. He was the 2010 Lehman Brady Visiting Joint Chair Professor in Documentary Studies and American Studies at Duke University and the University of North Carolina at Chapel Hill. He has spent the last decade writing and performing in plays designed to educate schools and communities about African-American history.

The Parchman Hour is his latest project. The 90-minute play was originally produced by the Center for Documentary Studies at Duke University and The Lab at the University of North Carolina at Chapel Hill. It features a 14-member cast and a four-piece band. Wiley has also adapted a 50-minute student version for grades 6 and up.

"I realized almost 12 or 13 years ago that instead of waiting for someone to give me a play of some substance, a play that reflected my culture and history - specifically my African-American history - perhaps I was going to have to write it myself," said Wiley, who has written plays that tell stories about important civil rights figures and events.

Wiley, who now resides in North Carolina, said he became friends with Bishop Hope Morgan Ward of the Mississippi Conference of the United Methodist Church, and has brought several performances to Mississippi in the last few years.

The Rev. Steve Casteel, director of Connectional Ministries for the Methodist Conference, has helped coordinate Wiley's appearance.

"When he came last time, he brought his play about Emmett Till," Casteel said. "It was so well-received, and we just kind of clicked with Mike. He's just such a great young guy.

"When he released The Parchman Hour, we were really excited to help them come. On the 50th anniversary, so many people don't even know the story of the Freedom Riders and have no idea about this part of history."

Brenda McGloster, projects coordinator for Connectional Ministries, has helped coordinate the event.

"With a play like this, I'm hoping it will start the think tank," she said. "I'm hoping that as (Freedom Rider) events take place in the state, we've already set the tone for the commemoration in the fashion that it deserves for those who have paved the way."

Wiley said he hopes people of all ages will better understand those who risked their lives to desegregate the South so that future generations would be free.

"My hope is that those individuals would not only walk away with the respect and love for what those individuals did, but also an appetite for knowledge - an appetite to know who in their lives stepped forward to say enough is enough," he said.