Interest in paranormal raises profile of Mississippi groups
LaReeca Rucker:
The Clarion-Ledger
Travis Romberger spent the summer of 1993 on his uncle's Kentucky farm, and every morning, he and his cousin, Tim, lifted weights inside a rickety old house where gym equipment was stored. One night, Romberger went alone to the house, walking over the dirt floor and creaky steps to the weight room.
Squinting and straining to meet his fitness goal, he soon opened his eyes, shocked to discover he was in an entirely different room. "I looked up at the ceiling, and it was white, like it had been painted yesterday," he says. "The equipment was not around me anymore."
The door and window had also moved, and when mist began forming above the door, he questioned whether the house was on fire. Romberger closed his eyes again for several seconds, told himself the vision wasn't real, and normalcy soon returned.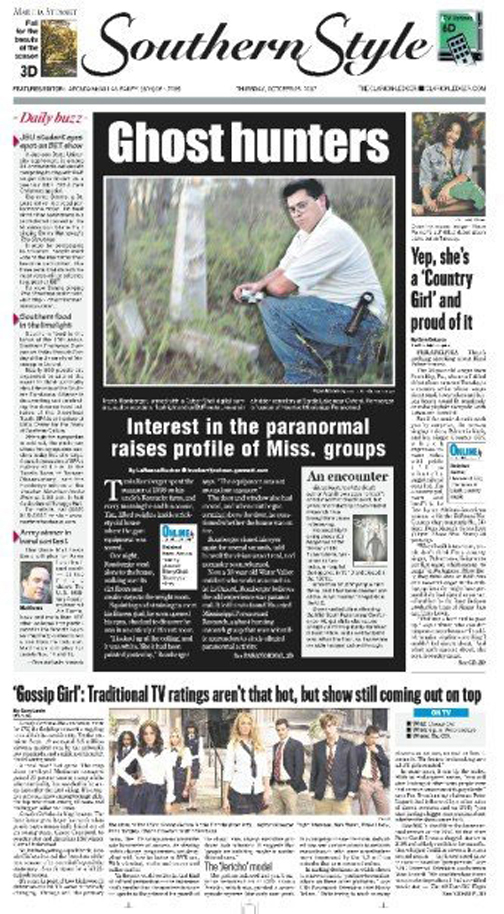 Now, a 30-year-old Water Valley resident who works as a machinist in Oxford, Romberger believes the odd experience was paranormal. It led him to found Haunted Mississippi Paranormal Research, a ghost-hunting research group that uses scientific approaches to study alleged paranormal activity.
"I wanted to know more," he said, "and I knew that if we could get more data about what is actually taking place, we would have a much better shot of either proving or disproving the field altogether."
Romberger isn't alone. There are at least 10 paranormal investigation groups in the state, from Biloxi to Ripley, and more than 300 in the U.S. and U.K. Perhaps influenced by television shows like "Ghost Hunters," "Haunting Evidence," "Medium" and "Ghost Whisperer," interest in the paranormal is a growing trend.
Romberger is training three investigators and is frequently contacted by perspective candidates.
"I've been getting membership applications from the Pearl and Jackson area like no other," he said, explaining that only those who take the research seriously are considered.
Skepticism is the prevailing characteristic of a true paranormal investigator, Romberger says.
"We have disproved a lot of things, such as a visual illusion at Sardis Lake caused by the reflected light of the moon," he says. "It looks like there is someone hanging on a branch."
But he said other experiences warrant further investigation, like a voice recording Romberger captured at Gravity Hill, a Kentucky landmark rumored to be the site of a tragic 1940s automobile accident. The voice seems to be saying, "someone needs to come down here and look."
"The electronic voice phenomena I've caught are probably the closest I've ever come to proving something," he says.
Oklahoma native Dolly Litke, 43, believes she grew up in a haunted house. She co-founded Shadowz Paranormal Investigations in Biloxi last March with her son, Jared.
"I wanted to help people because I know what it feels like to live somewhere that you are terrified," she says.
Litke is one class away from becoming a certified paranormal investigator, having completed three online courses through Flamel College, a Web site offering classes in alchemy, parapsychology and certificates for Wiccan practitioners, tarot consultants and wizard apprenticeships.
Shadowz investigated a Jackson home last weekend in which the 27-year-old homeowner reported hearing an invisible baby crying and woman screaming. Litke's group took electromagnetic field detectors, infrared monitors and video and night vision cameras to the site where they recorded around 40 hours of evidence they are still examining.
Meridian resident Alan Brown, an English professor at the University of West Alabama, is also a paranormal examiner. The author of Ghost Hunters of the South conducted interviews with 43 paranormal investigation group leaders throughout the South.
Brown said the Internet has been a boon for ghost hunters, who conduct most of their investigations at private residences, and many spend a lot of money on equipment.
"You have to be willing to shell out thousands of dollars to do it the way they do it on TV," he says.
Brown said paranormal investigators are very dedicated.
"I ran across a handful of individuals who might have been a little flaky, but most people are very intelligent," he says. "You'll have housewives, doctors, truck drivers, a lot of law enforcement officers, college professors - people you wouldn't expect. It's a hobby most of them do on the weekends.
"Basically, they are trying to do what physicians, writers and philosophers have tried to do for centuries, which is learn what happens to the soul after death, and they are using a scientific method to do it," he said, adding that most seek validity.
"They really want acceptance for what they are doing," he said. "They get scoffed at and mocked. Everyone references the 'Ghostbusters' movie, and they really hate that because they want people to take what they do seriously."
Brown said the popularity of ghost hunting may also indicate we are becoming a more spiritual nation.
"Paranormal investigations are not tangible proof, but it satisfies a need to know if the spirit lives on, and to me, there's nothing wrong with that," he said.
Natchez resident David Cupit, founder of the Miss-Lou Paranormal investigation group, investigates homes primarily in Natchez and Vidalia, La. The 44-year-old security guard said he always approaches investigations with skepticism.
"Everybody says, 'Here's a picture of a (ghostly) orb,' and I say, 'No, that's probably dust,'" he said. "About 90 percent of paranormal investigations are disproved, but you still get some stuff that leaves you scratching your head."
Sandersville resident Wesley Hill, 28, co-founded the Southern Paranormal and Cryptozoological Society with his wife, Tiffany. The former video store owner with a degree in automotive technology, said a trip to Stuckey's bridge near Meridian left him puzzled. According to legend, a man named Stuckey once owned an area hotel and murdered his guests, so the townspeople hung him from the steel bridge over the Chunky River.
"When we were there, the bridge jolted, like he was being hanged," Hill said. "And in the woods, it sounded like someone falling."
Hill said his investigations have strengthened his belief in the afterlife and made him less afraid of the paranormal.
"I'm not worried about the dead people," he said. "The live people are the ones you have to worry about."
Romberger said that it's difficult to be a paranormal investigator and client in Mississippi because many have religious beliefs that conflict with the idea, a fact he finds ironic.
"The Bible is one of the best sources for paranormal experiences," he says. "Just think about Jesus raising Lazarus from the dead. But we are definitely not trying to push anything on anyone, and we don't want to get into a battle about who knows the most about religious Scripture.
"I would just have to say that in my journey to understand things, there is definitely a lot more to our world than what meets the eye."
An Encounter
Ghost Hunters of the South author Alan Brown said he hasn't concluded that ghosts exist, but years of conducting ghost-related research have brought him closer to believing. His most frightening encounter happened at the Waverly Hills Tuberculosis Sanitarium in Kentucky, a hospital that opened in 1910 and closed in the 1970s.
More than 60,000 people died there, and it has been deemed one of the "most haunted" hospitals in the U.S. Brown visited while attending the Mid-South Paranormal Conference. He got chills when a door abruptly and inexplicably slammed in front of him, and a wet footprint was left on the floor, as if someone invisible had just walked through.
TYPES OF HAUNTINGS
Paranormal investigator Dolly Litke believes there are four types of hauntings:
Traditional or intelligent: The most common type. "The ghost can speak to you. It can move things. It can open doors," she said.
Demonic: An inhuman haunting. "Those are the bad boys. They can actually possess you."
Residual: A recorded playback from history. "You might see a ghost walking down the staircase over and over."
Portal: "The portal is an opening or doorway into another dimension that lets in spirits and creatures," she said, adding that portals can exist in homes and graveyards.
STATE GROUPS
Haunted Mississippi Paranormal Research
Shadowz Paranormal Investigations
Southern Paranormal and Cryptozoological Society
Miss-Lou Paranormal
SPIRE: Southern Paranormal Investigatons, Research and Education
Mississippi Paranormal Investigations
Mississippi Delta Paranormal Research Group
Orbservations
North Mississippi After Life
To find more groups, visit www.ghostvillage.com/links/links_groups.shtml