Mississippi tales of the supernatural get top billing on Halloween
LaReeca Rucker:
The Clarion-Ledger
Mississippi is filled with legends, and some involve the supernatural. Ghosts are rumored to inhabit several of the state's historic homes, some toured annually by Halloween thrill-seekers.
While no one can prove the existence of ghosts, these tales are often designed to convey lessons about morality, despair, danger and undying love. Here are a few: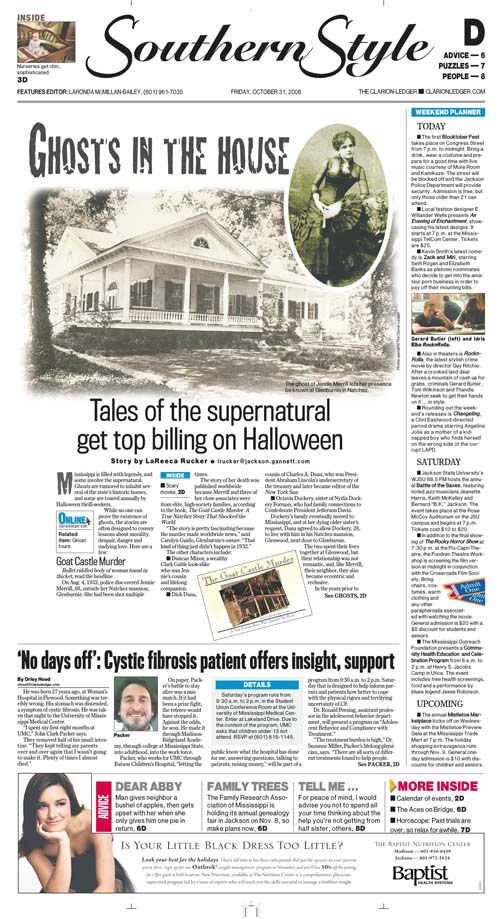 Goat Castle Murder
"Bullet riddled body of woman found in thicket" read the headline. On Aug. 4, 1932, police discovered Jennie Merrill, 68, outside her Natchez mansion, Glenburnie. She had been shot multiple times.
The story of her death was published worldwide because Merrill and three ofher close associates were from elite, high-society families, according to the book, The Goat Castle Murder: A True Natchez Story That Shocked the World.
"The story is pretty fascinating because the murder made worldwide news," said Carolyn Guido, Glenburnie's owner. "That kind of thing just didn't happen in 1932."
Other characters include:
Duncan Minor, a wealthy Clark Gable look-alike who was Jennie's cousin and lifelong companion.
Dick Dana, cousin of Charles A. Dana, who was President Abraham Lincoln's undersecretary of the treasury and later became editor of the New York Sun.
Octavia Dockery, sister of Nydia Dockery Forman, who had family connections to Confederate President Jefferson Davis.
Octavia Dockery's family eventually moved to Mississippi, and at her dying older sister's request, Dana agreed to allow Dockery, 28, to live with him in his Natchez mansion, Glenwood, next door to Glenburnie.
The two spent their lives together at Glenwood, but their relationship was not romantic, and like Merrill, their neighbor, they also became eccentric and reclusive.
In the years prior to Merrill's death, the goats on Dana and Dockery's property often crossed over to munch on Merrill's flowers creating friction between them. And the fact that Minor, Merrill's best friend, had purchased Glenwood at a tax sale with plans to evict the two was another source of conflict.
The known animosity between Merrill and her neighbors led police to initially charge Dana and Dockery with her murder, but when the sordid story was made public, readers were equally fascinated by the deplorable conditions in which Dana and Dockery had lived.
Once elite society members, in 1932, the two were living in their dilapidated mansion with goats and other animals that roamed freely among cobwebs, cockroaches and mice. The media nicknamed the home "Goat Castle."
Police later discovered that Emily Burns, owner of a Natchez boarding house, and her boarder, George Pearls, shot Merrill during a robbery attempt, and Dana and Dockery were released. Free to return to Goat Castle, the two opened their home as a public sideshow, hoping to profit from the publicity. Tourists who came saw historic papers, antiques and the goats that continued to roam inside the decaying house.
After Dana and Dockery died, the home was demolished in 1955. Guido's family has owned Glenburnie the past 30 years, and Carolyn Guido said Merrill's presence is still felt.
Some have heard her call out to them. Carpenters have reported hearing sounds in the basement, and party guests have said they saw Merrill walk by windows.
"We feel like Miss Jennie is here," Guido said. "We do hear things and see things every now and then, but we feel like she's a good ghost."
Guido said she last felt Merrill's presence while preparing for the Natchez Spring Pilgrimage.
"I just felt like there was someone in the room," she said. "You know how you get that feeling that someone is standing behind you. But no one was there."
The Amos Deason home
Newt Knight was a Civil War deserter who formed a renegade army of 100 men who hid out in the Leaf River swamp. When Confederate troops learned of his whereabouts, they sent Major Amos McLemore to capture him, according to prairieghosts.com.
But Knight was a step ahead of them. After learning McLemore had set up camp in Amos Deason's Ellisville home, he went there one night and shot him.
Barbara Knotts, a Daughters of the American Revolution member, said the raised French cottage built circa 1840 is the oldest home in Jones County and is now owned by the Tallahala chapter of the DAR.
"One of the primary ghost stories centers around McLemore's murder in 1863 during the Civil War," she said. "There were bloodstains on the floor they could never get up. One of the people who lived there put in a new floor, but workers have been underneath and seen bloodstains on the sub-boards, so he must have bled quite a bit."
The public will have the opportunity to tour the home tonight and Saturday. Ghost tours start at 6 p.m., and Sons of the Confederate Veterans will conduct a murder reenactment.
Knotts said other ghosts are believed to occupy the home.
"Someone took pictures, and there appeared to be a young woman in one," she said. "The other looked like a child. We don't know who they are. Some women working in the house painting said they felt someone touch them, or their tools were moved when their backs were turned. They heard heavy footsteps in the house when no one else was there and felt their hair being touched. One woman said she caught a glimpse of an apparition of a woman.
"Personally, none of this has ever happened to me, but I have had strange feelings, like I wasn't by myself."
The ghost of Nellie Weaver Tucker
Nellie Weaver Tucker was the only daughter of merchant William B. Weaver, who built the Columbus mansion Errolton circa 1848. She married in 1878 and scratched her name into her bedroom window with her engagement ring.
Years after her death, the window was broken and replaced during renovations, but homeowners later reported seeing the etched name "Nellie" reappear on the replacement window.
Gaines Bateman Gaskin, the home's current owner, said Nellie's bedroom was in the back parlor.
"She fell into the fireplace and died from injuries to that," said Gaskin, whose grandmother bought the house in the 1950s and restored it. That's when the etched window was initially broken.
After Gaskin purchased the home from her siblings, they continued renovations, and something eerily similar happened. After warning workers not to break the legendary window like her grandmother had years earlier, Gaskin heard glass shatter.
Fortunately, the famous window had not been broken, but another had.
"By the window where her name is etched, the ladder slipped and went into the wall where the worker had just wallpapered," she said. "He said it was the strangest thing; the ladder just started rocking and he fell."
Gaskin said she later witnessed tiny footprints appear on a newly waxed floor leading to the window, but Nellie has been quiet since the home was restored. The family has never been afraid of occupying a house with a ghost.
"My daughter just had a blast with all of it," she said. "She's able to share the stories like I did when I was growing up. She really appreciates it.
"I think the way the story was told, Nellie loved the laughter of children and she was a teacher, so we were never afraid of her."