Giraffe prints reach new heights: Safari look roams urban landscape
LaReeca Rucker:
The Clarion-Ledger
It sounds wild, but giraffes have literally been spotted all over Jackson.
On Wednesday, one leisurely lounged under a shade trade on Pearl Street, shielding itself from the sun, while another swiftly strolled down Capitol and a third grazed a meal from a Congress Street deli.
Take your own urban safari across the state, and you're bound to eye the Mississippi trend of the moment. Giraffe prints are on the loose, and fashion merchandising experts say there may be a little more to the animal print craze than meets the eye.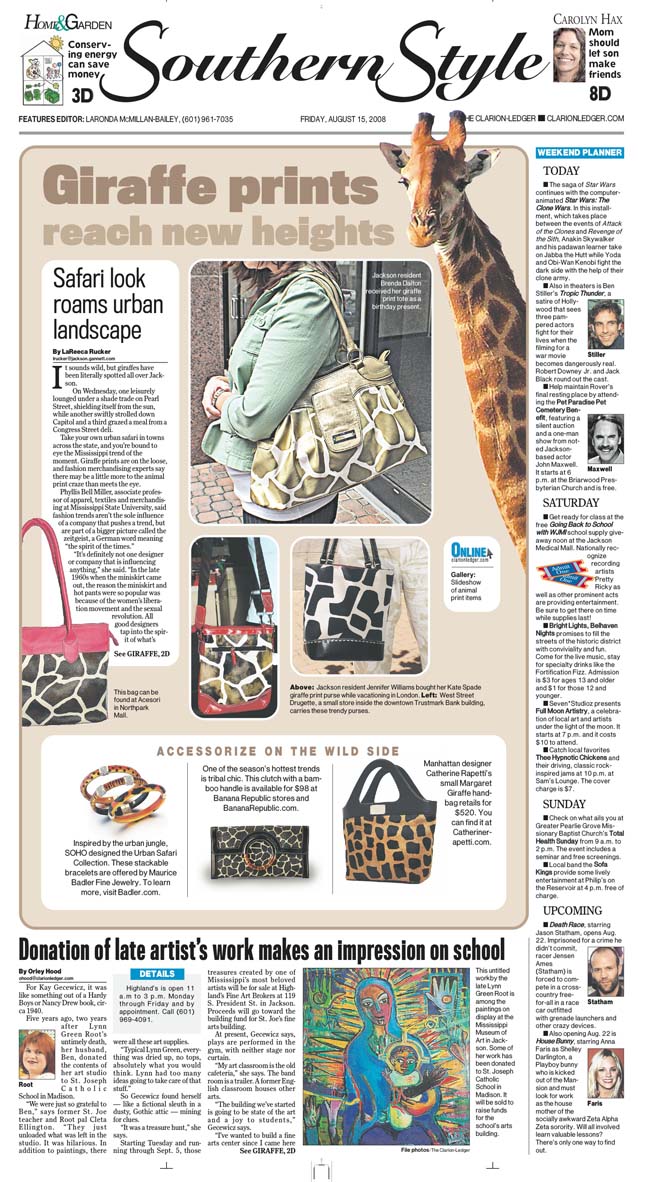 Phyllis Bell Miller, associate professor of apparel, textiles and merchandising at Mississippi State University, said fashion trends aren't the sole influence of a company that pushes a trend, but are part of a bigger picture called the zeitgeist, a German word meaning "the spirit of the times."
"It's definitely not one designer or company that is influencing anything," she said. "In the late 1960s when the miniskirt came out, the reason the miniskirt and hot pants were so popular was because of the women's liberation movement and the sexual revolution. All good designers tap into the spirit of what's going on in the world and reflect that in their fashion."
Miller said a lot happens behind the scenes before something is created with trend potential. Trend forecasting companies often send representatives around the world two to three times a year to observe and take notes about the political and social climates, cultural influences and other topics and concerns on the public's mind.
That information is used to tap into what's happening and provide designers with information about what trends might resonate with the public.
"I think that you are seeing a lot of animal prints right now because of the environmental concerns of Americans," Miller said. "There's also an interest in what is going on in Africa, and there are ecological concerns that arise any time we talk about the environment. It's not just that it's a pretty print."
Katrina Broadrick, manager of the Northpark mall store Acesori, said animal prints, in general, are always popular, but the giraffe is finally having its day in the sun.
"Giraffe bags are the thing right now," she said. "It's the purse of the year. The giraffe print is just something a little different."
Broadrick said cow prints were big last year, and tigers and leopards will likely attack Jackson by winter, while zebra seems to be neck and neck with giraffe.
"We've had giraffe shoes all summer and purses in several shades of giraffe," she said. "This fall, we hope to have purple, blue and green giraffe prints, so the trend will continue into winter. There will also be some textured prints and shiny patent ones."
Christine Holland of the Texas-based company Give Simple also sells giraffe totes at givesimple.com.
"Giraffe has recently become our best-selling animal print," she said. "Leopard and zebra prints have been popular many times, and may already be in women's wardrobes. Giraffe is a fresh take on animal prints. It has a clean graphic elegance and adds a new twist to a stylish wardrobe."
Holland predicts leopard will be big again this fall.
"Most leopard prints are pretty dark, and can look heavy," she said. "Giraffe is more versatile while the weather is still warm."
Jackson resident Jennifer Williams was spotted sitting on a park bench under a shade tree Wednesday with her Kate Spade giraffe print handbag. She found the versatility of the design appealing.
"It just goes with everything," she said. "I just thought it was so fashionable and stylish. I bought it while I was on vacation in London."
Brenda Dalton, a Jackson interior designer, carried a gold giraffe handbag down Capitol Street.
"I've seen them everywhere," she said. "A lot of people at work have them. My boss has one. My daughter wants one. I got this one as a birthday gift."
Dalton said trends in fashion and furniture all tie together, and she's seen animal prints used a lot lately in interior design.
"I'm sure it has something to do with going green," she said.
Stacy McElroy, a Jackson computer programmer, was spotted leaving Steve's Deli on Commerce Street Wednesday afternoon wearing a giraffe print sweater.
"I've seen a lot of people with the bags," she said. "Maybe it has something to do with going back to nature."
Myra Stevenson, owner of West Street Drugette, a small store inside the Trustmark Building downtown, sells a variety of items, including the trendy animal print purses.
"Right now, people see them everywhere, and they either don't want one because everyone has one, or they want one because everyone has one," she said. "I have had to reorder them several times. You can't walk down the street without seeing one."