High-tech Tots: Toys, activities for tykes quicky take on grown-up porportions
LaReeca Rucker:
The Clarion-Ledger
Brandon resident Jasmine Wilson never leaves home without her laptop and cell phone. She routinely puts both in her backpack and uses them at her convenience.
But her cell phone of choice isn't an iPhone. It's a Little Tykes Call of the Wild model with a tiger face. And her laptop isn't a MacBook. It's a V-Tech toy computer she swiped from her 5-year-old brother, Jeremiah.
Maybe 20-month-old Jasmine gets it from her daddy, Kwandis Wilson. She's watched the Jackson State University computer science graduate build computers from scratch, and like her father, she has an interest in all things technological.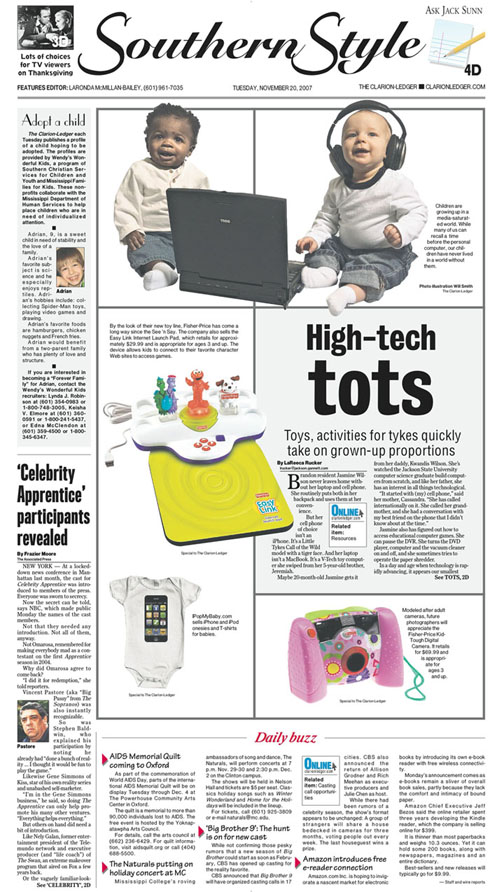 "It started with (my) cell phone," said her mother, Cassandra. "She has called internationally on it. She called her grandmother, and she had a conversation with my best friend on the phone that I didn't know about at the time."
Jasmine also has figured out how to access educational computer games. She can pause the DVR. She turns the DVD player, computer and the vacuum cleaner on and off, and she sometimes tries to operate the paper shredder.
In a day and age when technology is rapidly advancing, it appears our smallest children are advancing with it, becoming a new generation of techno-savvy tots.
Don Schwartz, chairman of the Department of Computer Science at Millsaps, can attest to that. Last semester, his software engineering class developed a program for a pre-K class at St. Richard Catholic School in Jackson.
"The teacher had downloaded some software from the Internet, but the 4-year-olds were already getting bored with it," Schwartz said. "We had to develop software that didn't require any reading at all. Everything had to be visual, intuitive and very consistent. Now St. Richard kiddies are clowning around. CLOWNS, an acronym for colors, letters, objects, words, numbers and symbols, teaches concentration, reading, object identification and hand-eye-mouse coordination. Students log in by clicking next to a photo of themselves and decide which educational games they want to play."
Little kids have never been in a world without computers," Schwartz said, "so they have no fear about clicking the wrong thing. They want to click to see what happens."
Shelia Foggo, who teaches computer classes to St. Richard students, said it's now necessary to introduce young children to computers.
"If they're not exposed to it at 4 years old or even earlier, they are going to be behind," she said. "I have some in here who have been constantly exposed to it at home, and they are way ahead, so I have to find more challenging programs for them."
Many child care centers also offer computer classes. Pearl resident Christie Copeland, director of Jackson's Sunshine Learning Center, said her child care facility is routinely visited by educators from Computertots, a franchise that helps children 3-5 strengthen computer skills.
Her son Chase, 3, is in the program. "It's helped him a ton," she said. "My older children didn't know this much at this age. I feel like it's definitely going to give him a heads up."
Madison resident Helen Pinkerton has owned Central Mississippi Computertots for the past 15 years. She said the program is taught in more than 50 schools and child care centers in the Jackson metro area, and many have begun inquiring about computer classes for children younger than 3.
"When I started the business in 1993, there were a lot of skeptics out there," she said. "They said, 'What are 3- and 4-year-olds going to learn?' But now it's a must for children."
The fact that very young children now live in a media-saturated environment led to a study published in the Official Journal of the American Academy of Pediatrics in May.
Researchers found that on a typical day, 75 percent of the children surveyed watched TV, and 32 percent watched videos/DVDs for approximately one hour.
They discovered that 18 percent of children 0-2 and more than one third of 3- to 6-year-olds had televisions in their bedrooms. Fifty percent of children 2 and younger could turn on TVs by themselves, and many could put in a video or DVD.
The study concluded that more research is needed to determine the impact of media exposure on very young children's development.
Madison resident Rhonda Rhoden's 17-month-old son, Luke, is fascinated with buttons, loves computers, plays with the "mote" control and likes to pretend he's talking on his cell "tone," a $200 Motorola Sliver.
"We have a toy phone he can play with, but when one of our real phones broke, we gave it to him because he liked it better," Rhonda said.
Luke also is fascinated by the dishwasher, which he frequently turns off and on, and he knows how to power on the digital camera and look through the pictures.
But despite his tech-savvy ways, Luke also enjoys curling up on the sofa with Mama and Daddy to read Guess How Much I Love You and Goodnight Moon.
"Sometimes he'd rather sit and read a book than play with toys," said Rhonda, who makes sure her son isn't being raised by technology.
She also doubts Luke will ever have a TV in his room. "It's more important for all of us to sit down and fight over a TV show, than it is for us to sit in different rooms and watch different programs," she said.
Pearl resident Amy Harper also makes sure her 2-year-old techno-tot, Benjamin, doesn't suffer a technological overload.
"One day, I went to the computer, and he had renamed all my desktop icons," she said. "I don't know how he did it unless he clicked on every one. Most of them were named "ZZZZ."
While she's daily amazed by Benjamin's growing technological knowledge, Harper said it's also a little frightening, and that fear has led her to limit his media exposure.
"I'm impressed by what they can do on the computer, but I'm more impressed by their imagination," said Harper, who is also mother to Zachary, 9, Brennen, 7, and Matthew, 4. "My kids mainly play outside and spend a lot of time playing with little green Army men," she said. "I realize the future is becoming more and more about computers, but I don't think it should consume them."