'Hillbilly Handfishin' lures Mississippi native to Oklahoma: Reality show casts city slickers into unfamiliar waters
LaReeca Rucker:
The Clarion-Ledger
Gulfport native and Jackson State University graduate Daniel James is a tie-and argyle-sweater-wearing flight attendant, funeral home worker and member of the Mississippi Mass Choir, but he's not a fisherman.
Not until recently.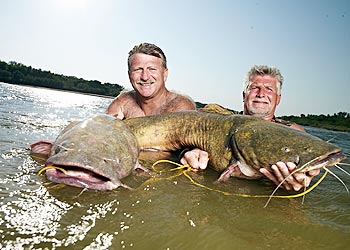 Pretty soon, you'll get a chance to see James explore the world of "Hillbilly Handfishin'" on cable TV's Animal Planet. The episode airs at 7 p.m. Tuesday.
James, who now lives in Los Angeles and travels back and forth to Mississippi, said upon moving to California in 2009, he was cast on an ABC driving show called "Crash Course."
"The casting directors move from show to show," he said. "They take their files with them and remember the people they cast for different shows. So they looked me up from three years ago and thought I would be kind of interesting for this show, because I would be out of my norm. This was not anything I thought I would ever be doing."
Fearing that he might encounter a SUV-sized catfish in a river or lake like the tales he'd heard about fish in the Mississippi River, James was apprehensive about filming the show in Oklahoma.
"I would not let myself watch a whole episode because I didn't want to talk myself out of not going," he said.
When he arrived on location, it was more than 100 degrees.
"As soon as we got there to get set up and start filming at a gas station, a dust storm came out of nowhere," he said. "I had sand in all these different parts of my body."
They saw roadrunners, coyotes and were greeted by show hosts Skipper Bivens and Trent Jackson at a cabin. After being told they might encounter a variety of snakes and critters, they made their first stop at Cache Creek, where they found garfish and water-walking spiders. A trip to the murky Red River followed.
"We got to this one point where Skipper and Jackson had already found a hole," James said. "We were trying to stay afloat and not get swept out. I was having a meltdown.
"The producer was like 'We have a reality show, and we have to get the emotions on camera. And I was like, 'Whether we do this now or next week, the emotions aren't going anywhere because I don't want to do this.'"
The hole was deep.
"They were like, 'Whatever you do, keep your face away from the bank because if a snake is there, he will bite,'" James said.
Then they told him to put his legs in the hole and go into the deep burrow.
"All of a sudden this massive fish grabs out and latches onto my foot," he said. "I put my right foot under his chin, and they said you have to hold on and pull out easy. I pulled him out, and he was a 34-pounder. He was a little mad and feisty."
Show hosts Bivens and Jackson, friends for 25 years from Cotton County, Okla., led the show into its second season this August.
After making a few fishing documentaries and posting them online several years ago, television producers came calling.
"The whole premise is we take city slickers out to the raw elements of Oklahoma, and let them face down their fears," Bivens said. "If they catch a huge giant catfish, that will make a memory for a lifetime."
Bivens said James was "a screamer."
"This guy was so full of energy - a very flamboyant young man and very well-spoken," he said. "It took an act of Congress to even get him in the hole. This guy is a whole show in itself.
"A catfish took a bite out of him. It was a big old mean blue cat. It sounded like distant thunder when it bit him, and then it sounded like Ahhhaaaaaaaaaaaaa! He saw the show Jaws, but he actually became the bait."
James said the experience was life-changing.
"I was totally out of my element in a lot of different ways," he said. "I had always wanted to go camping, and that was camping in every sense of the word.
"I'm not a good swimmer, and I don't do holding my breath under water, but it showed me I could. I shoved my body in ... a hole for something to bite on me."
James said he now has new skills as a flight attendant.
"I said that if we ever crash, we will never go hungry because I can teach everyone how to handfish," he said.