Cool gifts for hip dads
LaReeca Rucker:
The Clarion-Ledger
Gulfport native and Jackson State University graduate Daniel James is a tie-and argyle-sweater-wearing flight attendant, funeral home worker and member of the Mississippi Mass Choir, but he's not a fisherman.
His triplets were born on March, 3, 2003. Yep. That's right. Three on 3-3-03. That means Jackson resident Josh Huff, 34, is three times cooler than your average dad, and as an urban hipster, this is how he rolls.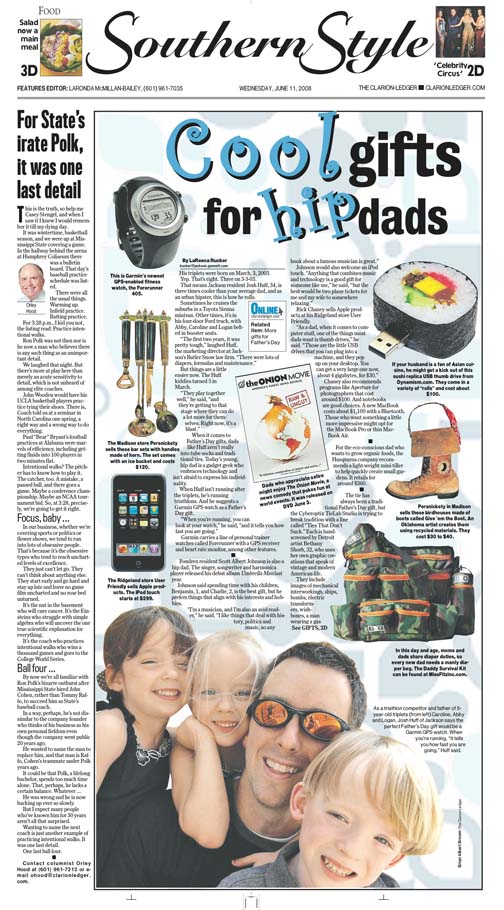 Sometimes he cruises the suburbs in a Toyota Sienna minivan. Other times, it's in his four-door Ford truck, with Abby, Caroline and Logan belted in booster seats.
"The first two years, it was pretty tough," laughed Huff, the marketing director at Jackson's Butler Snow law firm. "There were lots of diapers, formulas and maintenance."
But things are a little easier now. The Huff kiddies turned 5 in March. "They play together well," he said, "and they're getting to that stage where they can do a lot more for themselves. Right now, it's a blast."
When it comes to Father's Day gifts, dads like Huff aren't really into tube socks and traditional ties. Today's young, hip dad is a gadget geek who embraces technology and isn't afraid to express his individuality. When Huff isn't running after the triplets, he's running triathlons. And he suggests a Garmin GPS watch as a Father's Day gift.
"When you're running, you can look at your watch," he said, "and it tells you how fast you are going."
Garmin carries a line of personal trainer watches called Forerunner with a GPS receiver and heart rate monitor, among other features.
Fondren resident Scott Albert Johnson is also a hip dad. The singer, songwriter and harmonica player released his debut album Umbrella Man last year.
Johnson said spending time with his children, Benjamin, 1, and Charlie, 2, is the best gift, but he prefers things that align with his interests and hobbies. "I'm a musician, and I'm also an avid reader," he said. "I like things that deal with history, politics and music, so any book about a famous musician is great."
Johnson would also welcome an iPod touch. "Anything that combines music and technology is a good gift for someone like me," he said, "but the best would be two plane tickets for me and my wife to somewhere relaxing."
Rick Chaney sells Apple products at his Ridgeland store User Friendly. "As a dad, when it comes to computer stuff, one of the things most dads want is thumb drives," he said. "Those are the little USB drives that you can plug into a machine, and they pop up on your desktop. You can get a very large one now, about 4 gigabytes, for $30."
Chaney also recommends programs like Aperture for photographers that cost around $100, and notebooks are good choices. A new MacBook costs about $1,100 with a Bluetooth. Those who want something a little more impressive might opt for the MacBook Pro or thin MacBook Air.
For the eco-conscious dad who wants to grow organic foods, the Husqvarna company recommends a light-weight mini-tiller to help quickly create small gardens. It retails for around $360.
The tie has always been a traditional Father's Day gift, but the Cyberoptix TieLab Studio is trying to break tradition with a line called "Ties That Don't Suck."
Each is hand-screened by Detroit artist Bethany Shorb, 32, who uses her own graphic creations that speak of vintage and modern American life. They include images of mechanical interworkings, ships, bombs, electric transformers, wishbones, a man wearing a gas mask, a raven, beehive, meat grinder, gun, chandelier, phonograph, snakes and screws.
And for those going the T-shirt route, the Personalization Mall at pmall.com sells personalized shirts for dad and his mini-me that read "Big Guy" and "Little Guy," "Tool Guy" and "Lil' Tool Guy" and "Big Slugger" and "Lil' Slugger."
The wallet is another traditional gift, but Zales.com offers a hip version. The company sells a leather tri-fold wallet with a chrome plate. Three initials can be engraved in it for $50.
Some dads are X-tremely hip. They're skateboarders, dirt bikers and bunji jumpers. So why not give them something that lets them record all their adventures?
The Oregon Scientific ATC2K action cam is waterproof to 10 feet and mounts to handlebars or helmets, enabling daredevil dads to capture action shots. The company said it works with most video-editing software. You can find it for $130 at sporting goods stores like R.E.I. and Mountaingear.com.
Sherri Hilton, owner of the Madison store Persnickety, recommends a bar set with handles made of horn that costs around $120 and comes with an ice bucket.
And those looking for an unusual gift can Give 'em the Boot. Hilton sells birdhouses made from boots created by an Oklahoma artist who uses recycled materials she finds at thrift stores. They cost $30-$40.
"I'd say get Dad anything to keep his mind off work," Hilton said. "I used to always get my dad a tie, and my dad never wore a tie except when he went to church. Now I think it's a whole different generation."
Josh Huff is raising a new generation.
"By the time I get home, Cameron, my wife, is worn out because she's been chasing the kids all day," he said.
And there's no indication that things will slow down any time soon. "We actually just found out Saturday that we are about to have another baby that was not planned by us, but was certainly planned by the Lord," Huff said. "So we are really excited about that."
The new little Huff is due around Christmas.