Learning about Judaism: History, theology, concepts of God
LaReeca Rucker
The Clarion-Ledger
Stacy Dampf, a Presbyterian, grew up in Baton Rouge and sometimes felt like a religious outsider as a Catholic school student.
After marrying a Jewish man, she decided to gain a new inside perspective on religion by attending Beth Israel Congregation's Introduction to Judaism classes Wednesday nights through April 4.
"As we started seriously dating, we had a lot of discussions about religion and what it meant to us. My husband is interested in raising any future children we might have in the Jewish faith.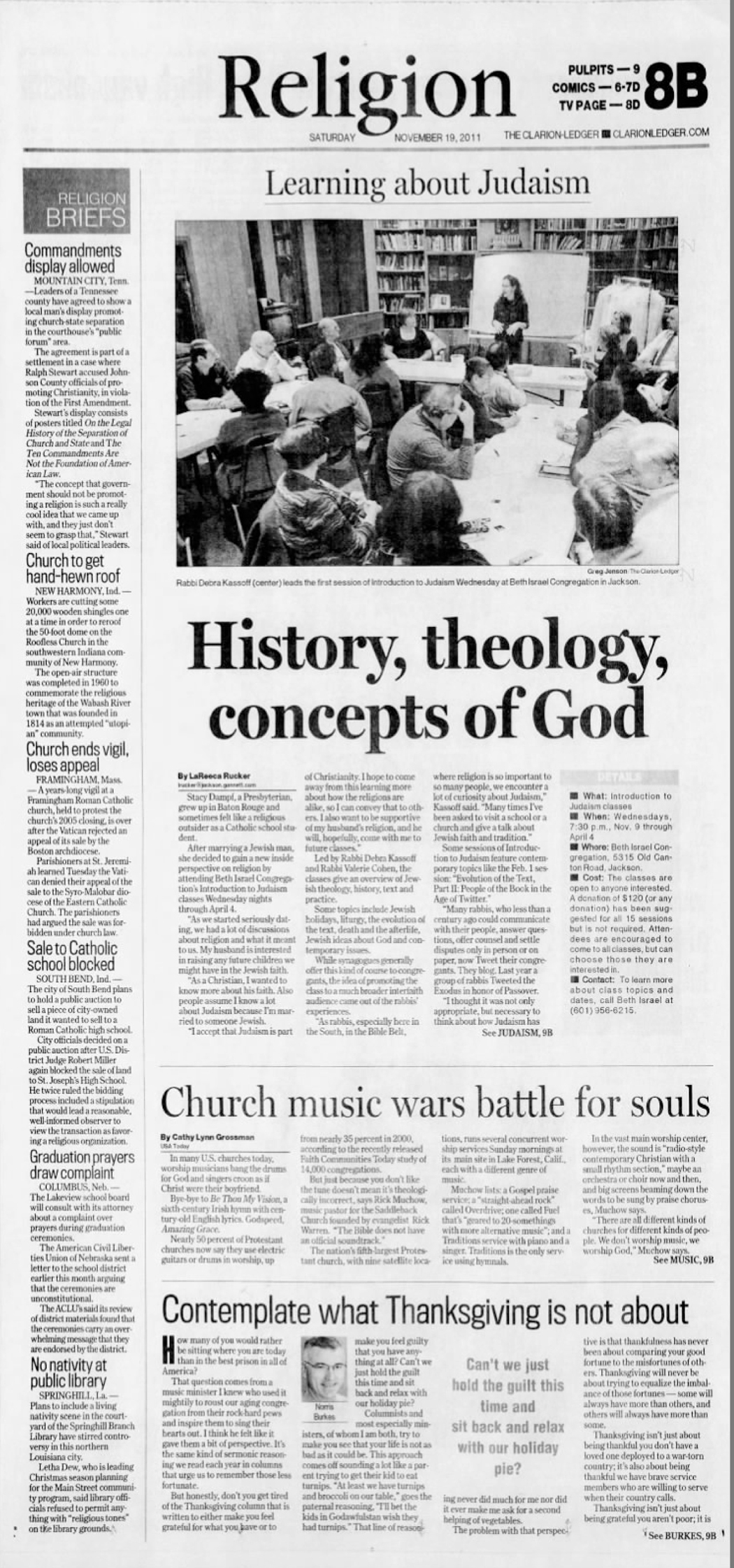 "As a Christian, I wanted to know more about his faith. Also people assume I know a lot about Judaism because I'm married to someone Jewish.
"I hope to come away from this learning more about how the religions are alike, so I can convey that to others. I also want to be supportive of my husband's religion, and he will, hopefully, come with me to future classes."

Led by Rabbi Debra Kassoff and Rabbi Valerie Cohen, the classes give an overview of Jewish theology, history, text and practice. Some topics include Jewish holidays, liturgy, the evolution of the text, death and the afterlife, Jewish ideas about God and contemporary issues.
While synagogues generally offer this kind of course to congregants, the idea of promoting the class to a much broader interfaith audience came out of the rabbis' experiences.
"As rabbis, especially here in the South, in the Bible Belt, where religion is so important to so many people, we encounter a lot of curiosity about Judaism," Kassoff said. "Many times I've been asked to visit a school or a church and give a talk about Jewish faith and tradition."
Some sessions of Introduction to Judaism feature contemporary topics like the Feb. 1 session: "Evolution of the Text, Part II: People of the Book in the Age of Twitter."
"Many rabbis, who less than a century ago could communicate with their people, answer questions, offer counsel and settle disputes only in person or on paper, now Tweet their congregants," Kassoff said. "They blog. Last year a group of rabbis Tweeted the Exodus in honor of Passover.
"I thought it was not only appropriate, but necessary to think about how Judaism has changed and developed in response to new technologies, especially technologies of communication, of storytelling and asking questions."
The rabbis will discuss Jewish Ideas about God" on Feb. 22. Kassoff said Jews are left with lots of latitude for what they believe about God. That leaves many things to ponder, such as:
* Is God transcendent or immanent?
* Is God high above us in the heavens or everywhere around us, as near as our own breath?
* Does God continue to act in human history or not?
* Do you picture God as a fatherly figure in the sky, or do you see God in the wonders of the natural world, or do you find God in your daily encounters with other human beings?
"Judaism allows room for all of these possibilities," Kassoff said. "Many life-long Jews don't understand the range of theological options we have available to us. I grew up with a rabbi who said you don't even have to believe in God to be an engaged, serious Jew.
"Too many people go through life feeling that they're not a 'good Jew' or that they are not religious because they can't embrace the early biblical images of an all-powerful, all-knowing creator-God who sits on a throne in heaven and speaks from a burning bush."
While Kassoff will teach most of the classes, Cohen will lead several sessions.
"For a lot of Christians, it's learning about the origins of their religion, or at least what came before," she said. "The classes are also for people who just like learning about religion.
"We don't proselytize. This is just an educational class. I think we're going to have a nice crowd."
Wednesday, the library was filled with learners a mix of Christians, Jews, Hindus and other faith seekers. The group was asked to define what Judaism is, and Kasoff received a variety of responses.
Dr. James Corbett of Brandon, who attends St. James Episcopal Church, said he and his wife have an ongoing love affair with Judaism that began during his days as a Chicago medical student.
"I was one of only two people in my medical school class who wasn't Jewish," he said. "I was interested in Jewish culture and was asked to go to Seders and celebrate with them.
"If you didn't learn Yiddish, you couldn't understand the jokes being told. It was like being in one big family. They all shared stories about how their families had came to Ellis Island and asked what their names were before coming to America."
Lee Boyd, who teaches a group of fifth- and sixth-graders at Jackson's Northminster Baptist Church, grew up in Oklahoma.
"There were people in the churches I grew up with who believed Moses came down from the mount with a copy of the King James version of the Bible," he told the group Wednesday night. "I am here because I believe Judaism is the foundation, and I want to be able to talk to my kids so they can look and question."