Islam at a Crossroads: Service to honor Medgar Evers' legacy
LaReeca Rucker:
The Clarion-Ledger
Islam is at a crossroads in America.
That is the theme of a conference being held this weekend at Jackson's International Museum of Muslim Cultures. The event marks the museum's eighth anniversary.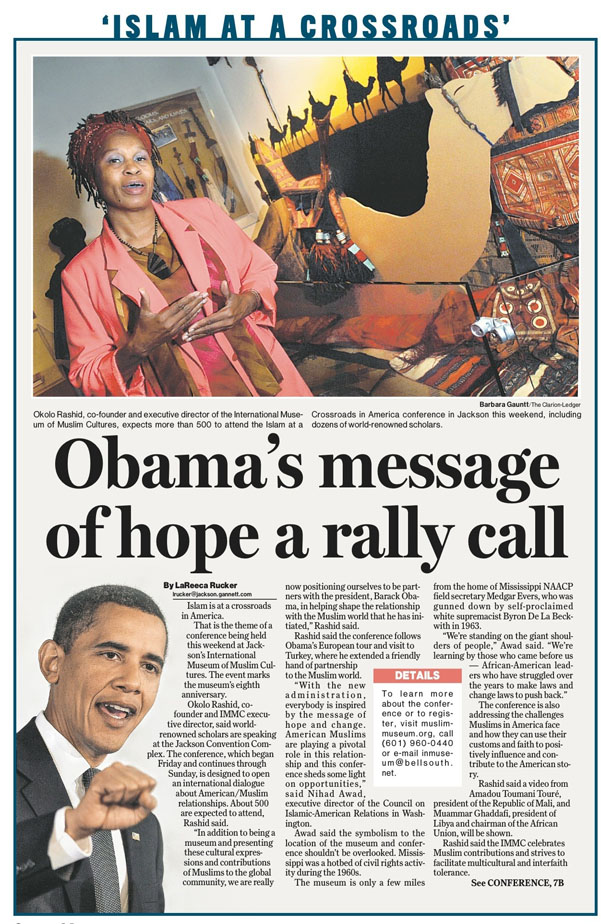 Okolo Rashid, co-founder and IMMC executive director, said world-renowned scholars are speaking at the Jackson Convention Complex. The conference, which began Friday and continues through Sunday, is designed to open an international dialogue about American/Muslim relationships. About 500 are expected to attend, Rashid said.

"In addition to being a museum and presenting these cultural expressions and contributions of Muslims to the global community, we are really now positioning ourselves to be partners with the president, Barack Obama, in helping shape the relationship with the Muslim world that he has initiated," Rashid said.

Rashid said the conference follows Obama's European tour and visit to Turkey, where he extended a friendly hand of partnership to the Muslim world.

"With the new administration, everybody is inspired by the message of hope and change. American Muslims are playing a pivotal role in this relationship and this conference sheds some light on opportunities," said Nihad Awad, executive director of the Council on Islamic-American Relations in Washington.

Awad said the symbolism to the location of the museum and conference shouldn't be overlooked. Mississippi was a hotbed of civil rights activity during the 1960s.
The museum is only a few miles from the home of Mississippi NAACP field secretary Medgar Evers, who was gunned down by self-proclaimed white supremacist Byron De La Beckwith in 1963.

"We're standing on the giant shoulders of people," Awad said. "We're learning by those who came before us - African-American leaders who have struggled over the years to make laws and change laws to push back."

The conference is also addressing the challenges Muslims in America face and how they can use their customs and faith to positively influence and contribute to the American story.

Rashid said a video from Amadou Toumani Touré, president of the Republic of Mali, and Muammar Ghaddafi, president of Libya and chairman of the African Union, will be shown.

Rashid said the IMMC celebrates Muslim contributions and strives to facilitate multicultural and interfaith tolerance.

"We are really excited about the kind of reception we have received in eight years," she said.

The museum was established in 2001 at 201 E. Pascagoula St. first as a companion exhibit to the Mississippi Museum of Art's Majesty of Spain exhibition. It is on the second floor of the Mississippi Arts Center in downtown Jackson.

After inviting more than 25,000 visitors to learn more about Islamic Moorish Spain, the founders felt encouraged to establish a permanent museum and annual conference. The museum displays ancient manuscripts written in Arabic on loan from a library in Timbuktu, and a 20-by-30-foot leather camel skin ten.

"We have 7 million Muslims (in America), which is larger than the population of many countries," Rashid said. "Muslims are a very important part of this country in terms of their contributions. We think the conference is a great way of showing that."

An estimated 5,000 Muslims live in Mississippi.

Emad Al-Turk, co-founder of the IMMC and chairman of the IMMC board, said the conference features several topics important to American Muslims.

Topics include: Islamic leadership; civil rights since Sept. 11, 2001, and civic responsibility; the historical role of Islamic African leadership in Africa's development and its prospects for African Americans today; Islamic youth - hip-hop, spirituality and the arts; Islamic banking and the economic crisis; healthy family and marriage relationships; and interfaith dialogue about peace.
"It fits very well with the recent speech that President Obama gave in Cairo between the relationship of the American and Muslim world," Al-Turk said. "I think the main issue is Muslim Americans and Islam are really part of the fabric of America."

Abdul Malik Aziz, conference coordinator and IMMC board member, said he hopes the event will help forge a new relationship between Muslims and the American public.

"We want the museum to serve as a platform for Islamic thought and Muslim idea - both political, cultural and social - as it relates to American society," Aziz said. "In the past, we have not had that. We want to streamline that relationship."