A pardon for Cash, a party for fans: Starkville turns jail stay into a 'Flower Pickin' Festival' 42 years later
LaReeca Rucker:
The Clarion-Ledger
When Jarekus Singleton was 12, he played for a basketball team called the Jackson Panthers, and spent most of his time on the bench, despite the fact that he knew he could play ball.
When he left the Panthers for the Jackson Tigers, his perspective began to change. Because her daddy owned the local radio station, Sarah Matthews was privileged to have a backstage pass to all Starkville concerts.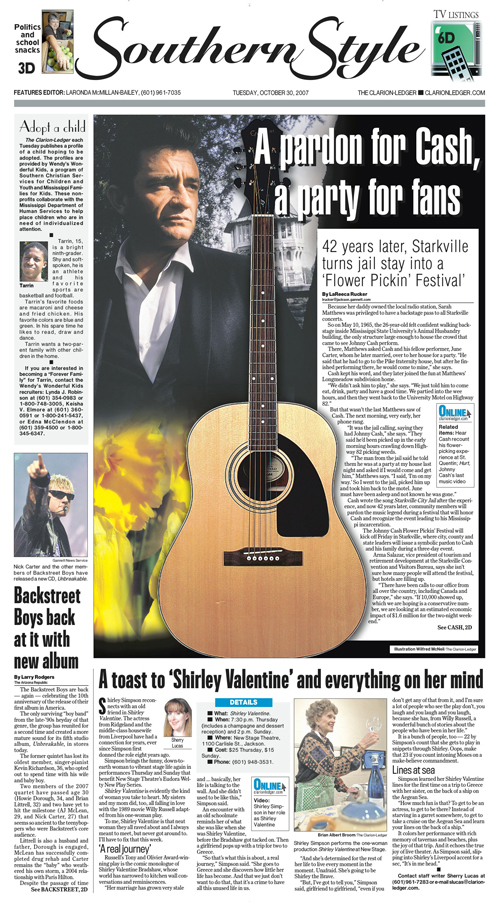 So on May 10, 1965, the 26-year-old felt confident walking back inside Mississippi State University's Animal Husbandry building, the only structure large enough to house the crowd that came to see Johnny Cash perform.
There, Matthews asked Cash and fellow performer, June Carter, whom he later married, over to her house for a party.
"He said that he had to go to the Pike fraternity house, but after he finished performing there, he would come to mine," she says.
Cash kept his word, and they later joined the fun at Matthews' Longmeadow subdivision home.

"We didn't ask him to play," she says. "We just told him to come eat, drink, party and have a good time. We partied into the wee hours, and then they went back to the University Motel on Highway 82."
But that wasn't the last Matthews saw of Cash. The next morning, very early, her phone rang.
"It was the jail calling, saying they had Johnny Cash," she said. "They said he'd been picked up in the early morning hours crawling down Highway 82 picking weeds.
"The man from the jail said he told them he was at a party at my house last night and asked if I would come and get him," Matthews said. "I said, 'I'm on my way.' So I went to the jail, picked him up and took him back to the motel. June must have been asleep and not known he was gone."
Cash wrote the song "Starkville City Jail" after the experience, and now 42 years later, community members will pardon the music legend during a festival that will honor Cash and recognize the event leading to his Mississippi incarceration.
The Johnny Cash Flower Pickin' Festival will kick off Friday in Starkville, where city, county and state leaders will issue a symbolic pardon to Cash and his family during a three-day event.
Arma Salazar, vice president of tourism and retirement development at the Starkville Convention and Visitors Bureau, said she isn't sure how many people will attend the festival, but hotels are filling up.
"There have been calls to our office from all over the country, including Canada and Europe," she said. "If 10,000 showed up, which we are hoping is a conservative number, we are looking at an estimated economic impact of $1.6 million for the two-night weekend."
Many are hoping the Johnny Cash festival has staying power comparable to Tupelo's Elvis Presley Festival.
Linda Johnson, executive director of the Tupelo Convention and Visitor's Bureau, says the Elvis event draws thousands each year.
"I think last year we had people from five countries and 28 states who attended," she said. "The festival continues to grow, and we are so lucky here to have a national and international attraction because of the birthplace of Elvis."
Johnson said she sees the potential of an annual Johnny Cash festival.
"Starkville is a sister city to Tupelo, and I would hope that the Johnny Cash festival would have a strong impact and be successful for them too," she said.
Debbie Brangenberg, director of the Downtown Tupelo Main Street Association, says it's smart to capitalize on what makes your town unique.
"In downtown revitalization, we always encourage communities to celebrate their roots, and the things that are unique to their community," she said. "We have found that people like to try new things, and if it's a good experience, they'll come back for more. It's about creating memories."
Robbie Ward, Mississippi State University research writer, conceived the idea for the Johnny Cash Flower Pickin' Festival. The former newspaper reporter said he wanted to do something to recognize the Starkville-Cash connection after writing a story about the one-year anniversary of Cash's death.
Ward describes the "man in black" as a symbol of redemption, a musical icon and a less-than-perfect man who looked out for the downtrodden of the world.
"I've learned that Johnny Cash, as a musician and as a person, has touched the lives of millions of people out there," Ward says, "and almost every person has a Johnny Cash story about how his music impacted their life.
"I think that's why putting this festival together is so important. It brings together Johnny Cash fans from all over to celebrate someone who has had such an impact on American culture.
"It's been kind of amazing hearing from all these people who have an interest in coming to the festival, but it's really not surprising to me. I would have thought some kind of festival paying tribute to Johnny Cash already existed. Elvis has Graceland and Tupelo, and now we'll give Starkville to Johnny Cash."
The University Motel wasn't the last place Matthews saw Cash. She moved away from Starkville in 1992, living in Toronto and New York before purchasing a home on Old Hickory Lake in Henderson, Tenn., a suburb of Nashville. Other neighbors who lived there at the time included Roy
Orison, Barbara Mandrell and Cash.
"I lived across the lake, and he and June Carter lived there too," said Matthews, who owned a bookstore in town called The Book Peddler that Cash occasionally visited. One day, she reminisced with him about his Starkville incarceration.
"He wrote that song Starkville City Jail, and I said, 'Couldn't you have written us a better song?'"
Now 68 and a resident of Gulf Shores, Ala., Matthews says, like others, she finds the concept of the Johnny Cash Flower Pickin' Festival humorous.
"I think it's one of the funniest things I've ever heard of," she said. "He's a legend because he's an unbelievable entertainer. He could sing. He could read poetry, and he put his life back together."