Keep your eye on rising star Katherine Bailess: a Mississippi girl who has 'Hit the Floor' on VH1
LaReeca Rucker
The Clarion-Ledger
You may remember Katherine Bailess, 33, from the first "American Idol" movie "From Justin to Kelly" in 2003 when she played the singing, dancing vixen Alexa. Or maybe you've seen her in that recent viral video "$@!# Southern Women Say" that's circulated the Web.
But come Memorial Day, the Mississippi native will "Hit the Floor" as one of the stars of VH1's new one-hour scripted series about the drama and comedy of a fictional professional dance team called the Los Angeles Devil Girls. The first of 10 episodes aired Monday.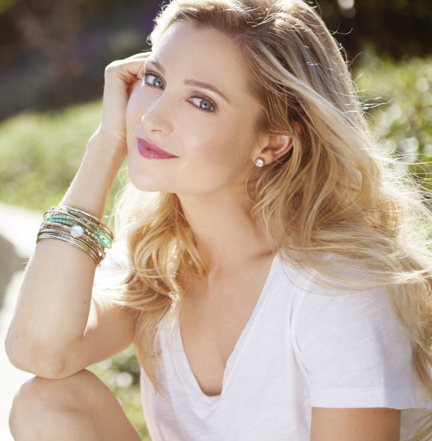 Born in 1980 in Vicksburg, Bailess is a Mississippi girl through and through with the accent to prove it. Both of her parents, Natalie and Bobby Bailess, attended The University of Mississippi.
Bobby Bailess, an attorney, was once a linebacker who played with Archie Manning on the Ole Miss Football team.
"I knew Hotty Toddy from the time I was 4 years old," said Bailess, the second of three children, who now lives in Los Angeles. "I try to get to at least one football game every year. It's one of those things that brings you back home and keeps it real for me."
The actress, who attended St. Francis Xavier Elementary and St. Aloysius Catholic High School in Vicksburg, began studying classical dance at age 4 and competing in gymnastics, dance and cheerleading. At 11, she got a gig performing live in the Miss Mississippi Pageant, and did that seven years.
Her parents were supportive of her performing arts goals. Her mom took her to New York to participate in two-week summer musical theater workshops during her freshman, sophomore and junior years of high school.
She later attended Marymount Manhattan College – Upper East Side on a dance scholarship. She spent several years in New York auditioning and performing in musicals, Broadway shows and landed a recurring role on ABC's "One Life to Live."
After moving to Los Angeles, she got what she considers her first big break with "From Justin to Kelly," a spring break adventure starring the original American Idol winner Kelly Clarkson and runner-up Justin Guarini.
"It was kind of scary," Bailess said. "I got to sing, dance, act and live in Miami for three months. Unfortunately, the movie didn't do well. It was before it's time."
Bailess appeared in other independent films, but in 2004, she won a small role in "Bring it On Again," a sequel to the Kirsten Dunst cheerleader movie. This one was about a group of students who couldn't make their college cheerleading team, so they form their own squad and prepared for a cheer-off. She also won roles on the series "One Tree Hill" and "Gilmore Girls."
Sam Haskell, former executive vice president and worldwide head of television for the William Morris Agency who now lives in Oxford, said he has known Katherine's family for decades.
"Katherine is a beautiful and talented young woman," he said. "When she first moved to L.A., she lived with us for a few months, and I was one of her agents at the William Morris Agency.
"Her director on the film 'From Justin to Kelly,' starring Kelly Clarkson, was a guy named Rob Iscove, also one of my clients and friends. Katherine is highly sought after now, and I couldn't be more proud."
Mary Haskell, wife of Sam Haskell, said they have known Bailess since she was a little girl. "We could not be more thrilled for her and the success she is finding with this new series," she said. "Hit the Floor" is her biggest role to date."
"When I booked 'Hit the Floor,' I was on the treadmill," Bailess said. "I had been waiting five days to find out. I ran off the treadmill and around the gym. I might have even cursed. You never know how you're going to react."
Her character is a member of the Los Angeles Devil Girls, who is described as "sex on legs." She's a former stripper, who is confident, witty and has a distinct Mississippi accent.
"I thought I was too wholesome for the part, but seven callbacks later, I booked the role," she said. "They didn't write her Southern. I came in. They heard the accent a little bit. I said 'I'm from Mississippi.' They told me to bring it back the next day to the callback, and they wanted me to bring another dance to see if I was a technically good dancer. They were sold."
"Hit the Floor" is about the lives and loves of the Los Angeles Devil Girls – a professional dance team like the Los Angeles Laker Girls. While there are 14 team members, only three are the main actresses, and Bailess is one of them.
She'll share the screen with basketball coach Dean Cain, who is probably best known for "Lois & Clark: The New Adventures of Superman"; Kimberly Elise, who has been in a number of movies, including Oprah Winfrey's film adaptation of the Toni Morrison novel Beloved ; and cheerleading coach Charlotte Ross, who had a long running role as Eve Donovon on "Days of our Lives," was a detective on 72 episodes of "NYPD Blue" and has appeared on "Glee."
"My character, Kyle, is in every single dance number, and we have 10 dance numbers all over the city," she said. "It's not like 'Glee' when we break out and dance. There's a specific reason for the dancing."
Bailess said Kyle provides comic relief. "There's something about a Southern belle," she said. "You can say something straight-laced and make someone pee in their pants. The writer allows me to do so much for her. I show them ideas, and they are like: 'Done. We love it.'"
Bailess said "Hit the Floor" is VH1's second scripted series. The first was "Single Ladies." Getting prepared for the role wasn't easy.
"We had July to January to train," she said. "I trained my booty off. I went to jazz, ballet, yoga. I think once you're a dancer, you're always a dancer. It's just a matter of getting your muscles into shape. I'm probably as strong as I've ever been in dancing in my entire life.
"This is the hardest thing I've ever done. We haven't danced like this since my high school competition days. I think that's what they want America and the audience to see is that the Devil Girls claim themselves to be the best dance group in America."
Bailess said she thinks the show is unique because there's never been a show about the professional basketball world.
"It's fictional, but there's truth to it," she said. "Nobody really knows what goes on behind the scenes with these professional basketball players. There's going to be scandals. There's a cliffhanger on every single episode. It's about mothers, fathers, relationships, greed, money. I feel like people are going to be hooked on the story, and dancing is such a huge part of the show."
The dance choreographer for the show is Michael Rooney, son of legendary film performer Mickey Rooney. Bailess also got noticed recently after participating in a humorous video series called "$#!+ Southern Women Say." You may have seen it shared in your Facebook newsfeed.
"I met Julia Howard, the writer and creator, at a pilates studio we both taught at," she said. When they learned they were both Southerners, Howard asked her to participate in the video.
"She said, 'I know it's not an original idea, but no one has done it,'" Bailess said. "We got two million views in two weeks. They put us on the 'Today' show with Hoda and Kathie Lee. It went viral. I didn't even know that term. I was like, 'OK, whatever that means. I know it has something to do with the Internet.'
"I got Facebook messages from people all over the country. We have three now, and Julia is producing a pilot based on the episodes. It would be such a great series, and hopefully if it ever happens, or when it happens, I can be a part of it."
What advice would Bailess offer for those trying to find success in the entertainment industry?
"I am kind of one of those girls who gives a 110 percent to whatever I do, whether it be dance, gymnastics, acting or academics," she said. "What you are passionate about is what you should pursue. Be persistent. Follow your dreams, and never give up if you have the means to do it, and you are smart about it, and you're not going to hinder your morals, like people sometimes do.
"I'm very fortunate because I know a lot of artists whose parents have not been supportive, and it's very hard," she said. "I have to give most of my thanks to my parents because they have been so supportive my entire life. They have always been my biggest cheerleaders."
Online
* The show premiered last night at 8 p.m., but if you missed it, you can go to the site now and watch full episodes. I watched the show online before it debuted on television.
* Katherine definitely steals the spotlight with her comedic timing. And on a personal note, she was very kind and down-to-earth to talk to during our recent interview.
* Check out her official website , to see a showcase of Katherine's acting, singing and dancing. She also released this video and song that she co-wrote called "Missin' Mississippi."