Ole Miss grad's handbags
sought-after totes: Katie Kalsi's products now sold in more than 69 Belk stores
LaReeca Rucker
The Clarion-Ledger
You may remember Katherine Bailess, 33, from the first "American Idol" movie "From Justin to Kelly" in 2003 when she played the singing, dancing vixen Alexa. Or maybe you've seen her in that recent viral video "$@!# Southern Women Say" that's circulated the Web.
University of Mississippi art graduate Katie Kalsi, 34, is making a name for herself as a handbag designer. The Memphis native launched a line of 23 hobo-style handbags in 2003 with hand-painted, interchangeable straps. Since then, Kalsi said the bags have gotten attention from Taylor Swift and Priscilla Presley, and Belk began carrying them. We caught up with Kalsi to ask her about her life and design work.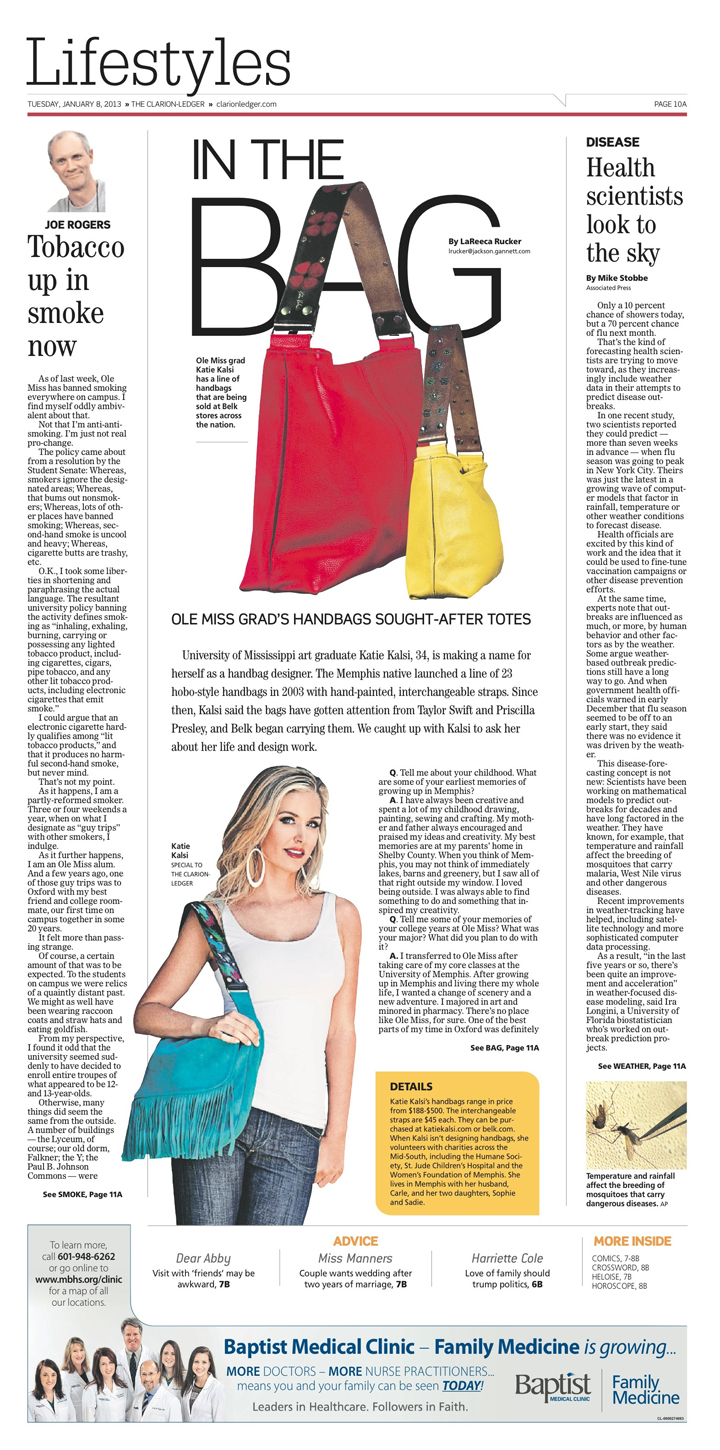 Q. Tell me about your childhood. What are some of your earliest memories of growing up in Memphis?
A . I have always been creative and spent a lot of my childhood drawing, painting, sewing and crafting. My mother and father always encouraged and praised my ideas and creativity. My best memories are at my parents' home in Shelby County. When you think of Memphis, you may not think of immediately lakes, barns and greenery, but I saw all of that right outside my window. I loved being outside. I was always able to find something to do and something that inspired my creativity.
Q. Tell me some of your memories of your college years at Ole Miss? What was your major? What did you plan to do with it?
A. I transferred to Ole Miss after taking care of my core classes at the University of Memphis. After growing up in Memphis and living there my whole life, I wanted a change of scenery and a new adventure. I majored in art and minored in pharmacy. There's no place like Ole Miss, for sure. One of the best parts of my time in Oxford was definitely The Grove and football season. I mean, all Mississippians know how awesome fall is at Ole Miss, right? My family and I spent a lot of time there this fall. I always jump at the chance to go back, watch football, see friends and shop a little on The Square. Hotty Toddy!
Q. What did you do after college? What was the experience like?
My passion has always been art, but when I first finished school, I wasn't sure how to make a living as an artist. Most of the people in my immediate family work in medicine, so I figured I'd try my hand in the field. I could always paint and design when I wasn't at work. I decided to minor in pharmacy and secured a position in the pharmacy at Methodist Hospital — Germantown during college. I've always worked — whether it was at the pharmacy or a video store or designing something. I'm hyper and have to stay busy. After college, because I had saved, I began actively pursuing my art career. There were tons of art shows and trunk shows, and I kept pushing to be successful and share my love of art with others.
Q . When did you become interested in designing?
A. When I was in elementary school, I made jewelry for my friends and myself. I used to reconstruct my old T-shirts into new tops. I took an old pair of jeans and turned them into a handbag. I got a lot of compliments on that handbag. I still have it. Creating art and designing have always been a passion for me. I'm so lucky that I'm able to transfer my passion into a rewarding career.
Q . What was the first thing you designed?
A. When I was in elementary school, I really wanted my ears pierced. But my parents weren't ready for that, so I came up with a way to wear earrings without piercing my ears. I went with my mother to our local craft supply store and bought super heavy-duty magnets. I attached the magnets to earrings I'd made from wire and beads. I thought I was the coolest kid with my magnetized earrings.
Q . What led you to handbags?
I always wanted a way to share my art with everyone. Women are so particular about their handbags. Our handbags are an extension of their personality and moods. I started experimenting with painting on leather and realized that the designs would look terrific as handbag straps. I played around with how to make the straps interchangeable and kept developing new designs — both for the straps and the handbags.
Q . Describe the style of handbags you design.
A. I design for women like me — mothers, daughters, sisters and friends. The line features three hobo-style bags, as well as clutch-, satchel- and cross-body types. Each handbag is created with luxe leathers, classic textures and vibrant colors that epitomize the free-spirited brand. The interchangeable straps, give the bags great versatility. I have created various designs that match each handbag.
Q . What are you hoping will happen with the handbag line?
A. This past year has been a crazy, but wonderful year for Katie Kalsi LLC. We've expanded our market to 69 Belk stores and have launched www.katiekalsi.com, where fans can purchase our various styles and straps. We have some exciting opportunities in the works and are lucky to have such a great partnership with Belk.
Q . What are your visions for yourself in the fashion industry?
A. My ultimate goal is to present myself as a unique fashion designer — one who thinks about the owner of my handbags. I want to continue to bring my art and designs to everyone. I'm always busy designing and brainstorming what my next move will be. We have a lot of awesome things in the works with the handbag line and more. I'm excited to see what 2013 brings for my wonderful team and me.
Details
Katie Kalsi's handbags range in price from $188-$500. The interchangeable straps are $45 each. They can be purchased at katiekalsi.com or belk.com.
When Kalsi isn't designing handbags, she volunteers with charities across the Mid-South, including the Humane Society, St. Jude Children's Hospital and the Women's Foundation of Memphis. She lives in Memphis with her husband, Carle, and her two daughters, Sophie and Sadie.