MSU grad's chic jewelry line leads to book deal: Express your inner nerd with kilobyte couture
LaReeca Rucker
The Clarion-Ledger
I have always believed that science fiction writers are prophets and sometimes wonder if the same can be true of anyone who pens a fictional story.
Perhaps they are connecting to the universe in some strange and mystical way that we can't fully comprehend resulting in a vision of the future.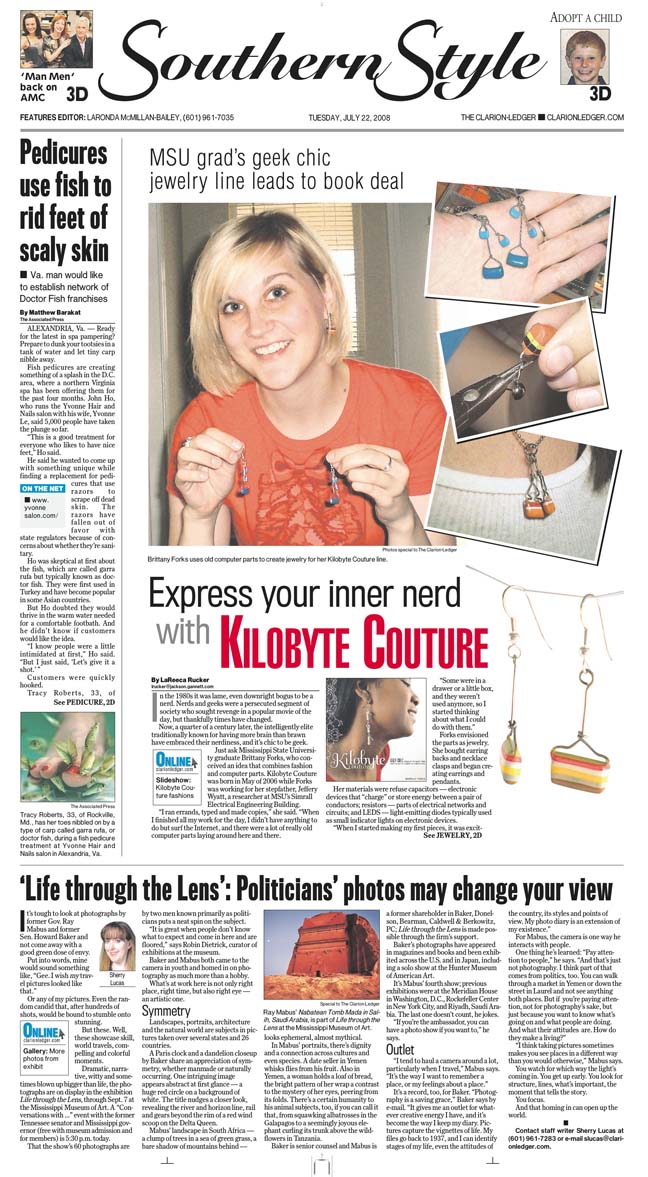 In the 1980s, it was lame, even downright bogus, to be a nerd. Nerds and geeks were a persecuted segment of society who sought revenge in a popular movie of the day, but thankfully times have changed.
Now, a quarter of a century later, the intelligently elite traditionally known for having more brain than brawn have embraced their nerdiness, and it's chic to be geek.
Just ask Mississippi State University graduate Brittany Forks, who conceived an idea that combines fashion and computer parts. Kilobyte Couture was born in May of 2006 while Forks was working for her stepfather, Jeffery Wyatt, a researcher at MSU's Simrall Electrical Engineering Building.
"I ran errands, typed and made copies," she said. "When I finished all my work for the day, I didn't have anything to do but surf the Internet, and there were a lot of really old computer parts laying around here and there. Some were in a drawer or a little box, and they weren't used anymore, so I started thinking about what I could do with them."
Forks envisioned the parts as jewelry. She bought earring backs and necklace clasps and began creating earrings and pendants. Her materials were refuse capacitors - electronic devices that "charge" or store energy between a pair of conductors; resistors - parts of electrical networks and circuits; and LEDS - light-emitting diodes typically used as small indicator lights on electronic devices.
"When I started making my first pieces, it was exciting," she said. "I'd take a big, chunky capacitor and create a chain of little resistors to make the necklace."
Her friends were very encouraging, and Forks refined the product before advertising them for sale on Etsy.com, a Web site that offers handmade items.
"They started selling really well," she said. "Part of the reason is because I was selling them dirt cheap. I sold earrings for $3 because I could get all this stuff from the university that they were throwing away. So all I had to pay for were earring backs."
She sold the jewelry through the summer of 2006, and in January of 2007, Forks took an independent study class that focused on brand development. "I was getting such good reception on Etsy, and I didn't even have a logo or a real name," she said. "I came up with the name Kilobyte Couture because of that class."
In February of 2007, she launched the Kilobyte Couture Web site with a link to Etsy and her blog.
"A week after I had my Web site up, a lady named Julie Mazur contacted me," Forks said.
The acquisitions editor at the New York-based Watson-Guptill Publications asked Forks if she would be interested in writing a book that explained how to make the jewelry. "I was freaking out," Forks said. "I wondered if it was real or if somebody was pulling my chain."
When she found out the request was legitimate, she met with Mazur to negotiate. "I sent her sample pieces of jewelry and sample (how-to articles)," Forks said. "She had to make a pitch on my behalf to her bosses. Apparently the pitch went well, and I provided her with enough information to make it successful."
In April of 2007, Forks signed an official book deal. "It's almost done now," she said. "I just got a sample of the book cover. It will have 25 how-to geek chic jewelry projects. Most are necklaces, bracelets and earrings."
The book Kilobyte Couture, scheduled for release in April of 2009, will have a humorous "geek" theme with geek trivia and articles about geek style. Forks said you can pre-order it from Amazon.com around October. Forks' Web site will also go through a redesign this fall so that it looks like the book. "When it comes out, it will be everywhere," she said. "They just sent me an e-mail asking if I'm ready to do radio, television and guest appearances."
Forks moved to Starkville with her family when she was 7, and art was her favorite subject in school. Influenced by an artistic grandmother, who encouraged her to draw and create, she knew by age 5 that she wanted to become a graphic artist, so she majored in graphic design at MSU. Seeking a new adventure in a creative environment, Forks moved to Austin, Texas, last month after graduating from MSU.
"I wanted to try something different," she said. "So I did some research, and Austin was the second most creative town in the United States. I thought it would be really great for my business."
Because the graphic design job market in Austin is tough to penetrate, Forks is currently working at Nordstrom to pay the bills. She hopes that will change when her book is released, and she'd like to return to Mississippi to sign copies. She also wants to sell her jewelry in boutiques throughout the state and during Austin's Bazaar Bizarre, an event billed as "not your granny's craft fair" that will be held in October.
Forks said her parents have been extremely supportive of her business venture. "We were all very surprised, completely blown away and a little skeptical," said her mother, Donna Wyatt. "Once we found out it was the real deal, we were absolutely thrilled."
Wyatt said the nerd angle probably caught the publisher's attention. "I think it was the geekiness of it," she said. "It's very popular to be geek chic these days, especially with the college-age students."
Jeffery Wyatt was also impressed with Forks' creativity. "It's a very thoughtful idea," he said. "It's whimsical, and it fits her character and her personality. The book deal was a reward for her hard work and effort."
And her former MSU professor, Kate Bingaman-Burt, said she was proud of her student's creativity. "The do-it-yourself (craft movement) is huge right now," she said. "During the (branding) class, we talked about how to network within the DIY community. Through this, her future publishing company saw her idea/product and thought it would make for a great book. I simply helped guide and refine her ideas. She is a super go-getter."
Forks' business, which uses recycled materials, is also environmentally friendly. She said she never uses soldered or lead-contaminated components, an she's been featured on the blog Great Green Goods. She describes herself as a girl who likes "all things nerdy, geeky and a little off-center," and tries focus the "super geek power" into her jewelry.
"I stay current with the trends to make my jewelry appealing to the fashion-conscious nerd," she said. "I definitely think it's cool to create something new out of something old. Otherwise, the stuff would be in a dumpster at MSU. It's always a good idea to use what resources you have in hand. It's a lot cheaper most of the time. I'm a big fan of vintage things anyway, so I almost always think something old is better than something new."