Jackson native Kit Williamson talks about his 'Mad Men' role
LaReeca Rucker
The Clarion-Ledger
I have always believed that science fiction writers are prophets and sometimes wonder if the same can be true of anyone who pens a fictional story.
If you're marriage is experiencing "Growing Pains," a former teen heartthrob turned Christian actor and evangelist has a message: Marriage is a "Love Worth Fighting For."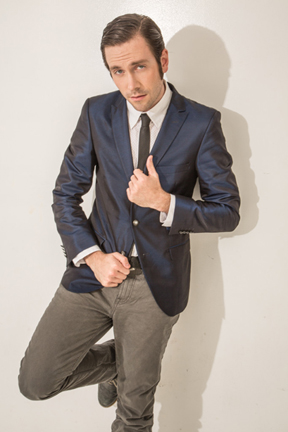 The season finale of "Mad Men" is tonight, so you can imagine how surprised I was to learn last week that one of the actors on the show is from Jackson. Yep, I did a little Googling and ran across Kit Williamson, a former St. Andrew's student who landed a role on "Mad Men" this season as one of the advertising agency employees. (That's him on the right.)
Kit was nice enough to grant a phone interview last week, and our story ran in Saturday's paper, but it was heavily cut for space. So here is the original story with many more juicy details about Williamson's role on "Mad Men," his Mississippi ties and his other projects.
The show's season finale is tonight, and because the show's creator is so secretive, there's no way of knowing whether or not Williamson will make an appearance on tonight's show, but you now know who he is, just in case you see him.
A "Mad Man" from Jackson
Followers of the AMC show "Mad Men," a 1960s period drama about competitive New York advertising executives on Madison Avenue in New York City, know that, this season, lead character Don Draper's agency Sterling Cooper Draper Pryce merged with another agency called Cutler Gleason and Chaough.
After the merger, the new employees moved into the Draper and company office building, and one of those new faces was Kit Williamson, a Jackson native, who spent his first season as a "Mad Men" cast member. Keep an eye out for Williamson as ad exec Ed Gifford when the season finale airs Sunday night.
Born Nov. 13, 1985, Williamson is the son of two local attorneys, Jonell and Robert Williamson. He was sold on acting after watching his sister perform in a Shakespeare play at a New Stage Theatre summer program.
"I was a little kid, but I thought I really want to be up there," he said. "The next summer, my parents let me do it. It was a great experience. You got to meet a lot of like-minded other kids. When I was there, it was very much focused on classical theater. I got to work on Moliere and Shakespeare, and I think that's really cool to get to do that at a young age."
Williamson was also influenced by local actor John Maxwell, who performed a show about the Apostle Paul at Jackson's Well's Memorial United Methodist Church and as William Faulkner in "Oh, Mr. Faulkner, Do you Write?"
"He really impacted me as a little kid," he said. "I thought I wanted to be involved in something like that. I always had a lot of admiration for him."
Maxwell, who was the artistic director for Jackson's New Stage Theatre six years, said one of the things he remembers about Williamson was his "tenacity."
"He is certainly talented, but it really isn't about talent alone," Maxwell said. "It's about being audacious enough and having the passion to be not denied. And more than anything, I think anybody who takes off and leaves and goes to make a career – it's a very bold thing to do. He did it, and he deserves all the success he's got. His family was behind him, and that's really necessary to be in this business."
Williamson attended St. Andrew's Episcopal School in elementary, middle and the first half of high school. At 16, he applied to a performing arts boarding school in Michigan called Interlochen Center for the Arts. Maxwell coached him for the school audition.
"It was really exciting for me when I got to receive his help on my audition monologue," Williamson said. "It was definitely a decision we had to make as a family to attend. I think it really was the right decision because it prepared me to hit the ground running when I got to college."
He attended Fordham University in New York City and began acting off Broadway his sophomore year. "I got to do a lot of really cool plays," he said, adding that he was signed by an agent who saw one of them. That year, the Fordham student also appeared in the Tony-nominated revival of Eric Bogosian's "Talk Radio," starring Liev Schreiber, directed by Tony-award winner Robert Falls.
He later moved to Los Angeles to continue his education and is now a graduate student at UCLA working on an MFA in playwriting.
"Education has always been really important to me in becoming a better person," he said. "I think it started at St. Andrews because that was a very rigorous school."
His manager secured Williamson a shot at "Mad Men."
"(Director) Matthew Weiner was there at my first audition, which was really amazing," he said. "I really admire everything he has done, and because of that, you always want to do a good job and live up to someone's expectations or standards that are as high as his. And I think having such high standards is why everyone works so hard."
Williamson said he auditioned without the real script, because Weiner keeps everything secretive. "I never knew if I'd be coming back or how big the part was," he said, adding that the thinks Weiner may have selected him for the role because he was nervous during the audition, and so is his character.
One of Williamson's more memorable lines on the show was telling the character Joan that he "knew where the bodies were buried," when explaining his importance as an employee.
"It was like being in a master class on television acting," Williamson said of the experience. "Elisabeth Moss (Peggy) is so brilliant as an actress. It was really amazing to get to see how she works."
Because the actors aren't told what happens next on the show, Williamson doesn't know if he'll make another appearance, but said, "It only adds to the excitement not knowing what happens next."
If his character "Ed" comes back to the agency next season, he hopes he'll have a little more confidence.
"I understand why he doesn't have much because he's working with all these creative geniuses, and his ideas aren't anywhere near as good," he said. "I can easily understand why he would be intimidated by Peggy and Don and Ted."
Williamson said he believes the show has resonated with audiences because, even though it is set in the 1960s, it deals with issues Americans face today.
"I think it's how relatable the issues in the 1960s are to the issues that we experience today," he said. "We've come such a long way, yet women still make less money on the dollar than men do for the same job. A lot of the issues the show explores are still issues. I think the show reveals that to people in an interesting way, and in a way that is not political or preachy. It's just the facts."
Created by Emmy and Golden Globe-winning executive producer Weiner, the AMC drama made history last fall as the first basic cable series ever to win the Emmy for Outstanding Drama Series four consecutive years.
Williamson, a former intern for the Jackson Free Press , is still writing articles – this time for The Huffington Post . He said he mainly writes about entertainment and LGBT issues.
He has also written a Web series called "Eastsiders" that was picked up by LOGO to air on their online site, and he stars in another Web series called "Hipsterhood."
Other roles have included a guest role on the television series "Numb3rs" and the film "Best Friends Forever" – a post-apocalyptic road trip comedy about four girls trying to make it through Texas after nuclear bombs have been detonated.
"I think a lot of people who skip the training process as actors are sometimes more interested in fame than being actors," he said. "For me, I don't really think of fame as a goal. I'm really not that kind of actor. Hopefully, I'll get to play a lot of character roles that don't require a famous name to be cast in them."
Williamson said pursuing his career is like being on journey.
"There are a lot of different types of careers, and the one commonality between everyone I know is that they all took a different path to get there," he said. "It's a little unusual and frustrating when you're trying to figure out your own path sometimes, but I think the lesson there is to figure out what's true to you."
While he pursues his career in Los Angeles, Williamson said he misses Mississippi food.
"The food in Mississippi is my favorite in the world, even though I'm a vegetarian, and there aren't as many options for me. But I think back to the High Noon Cafe and Rainbow (Grocery). And the Thai House! Oh my God! Every time I come home, the first place I go out to eat is the Thai House. . . I'm glad to be from Mississippi."
For more information about Williamson, visit kitwilliamson.com.
"Like" our Mississippians page by clicking here . Follow me on Twitter here.