Lifecasting: Canton attorney creates unique artform
LaReeca Rucker
The Clarion-Ledger
Bodies hang on the walls in the back room of attorney Bentley Conner's Center Street law office.
Twisting trunks, arching waists, snakelike spines and curling chests bend with the classical contour of the female physique revealing the outer shell of life.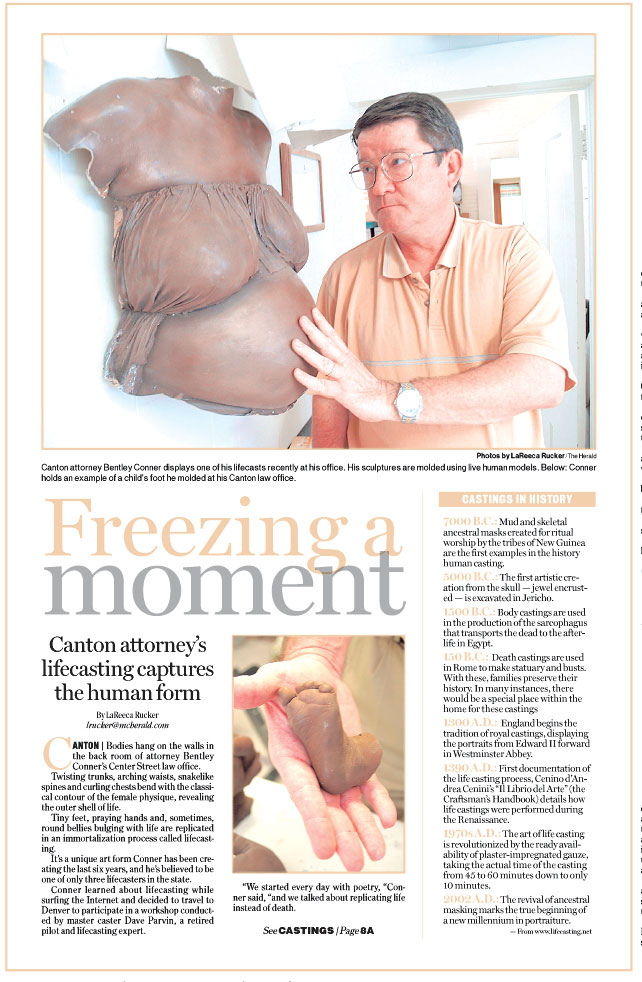 Tiny feet, praying hands and sometimes round bellies bulging with life are replicated in an immortalization process called life-casting.
It's a unique art form Conner has been creating the last six years, and he's believed to be one of only three life-casters in the state.
Conner learned about life-casting while surfing the Internet and decided to travel to Denver to participate in a workshop conducted by master caster Dave Parvin, a retired pilot and life-casting expert.
"We started every day with poetry," Conner said, "and we talked about replicating life instead of death. One of the reasons I wanted to do this is because I really believe it will make me a better lawyer, a better person. It's about turning on the other side of the brain. Anything we do to promote the artistic side of our brain makes us better people."
Conner said lifecasts have been around since Egyptian times, and the technique has been used to create the busts of presidents and kings. While plaster has been traditionally used to create casts, Conner said it's not the preferred substance for life-casting molds. Those who use it must make sure skin and plaster do not have direct contact with one another.
The plaster process sometimes eliminates detail, so Conner uses alginate instead.
"It's the stuff the dentist puts in your mouth when he makes a mold of your teeth," Conner said, adding that spas sometimes offer alginate body wraps. "The detail is just incredible."
Conner has created life-casts of baby feet and hands, pregnant women approaching their due date, actresses and models.
"Baby feet go out the door as fast as we can make them," he said.
Madison resident Stephanie Gray allowed Conner to make hand and feet casts of her daughter, Hailey. The 4-year-old girl was one of his first models.
"He had a bucket that he poured (alginate) in, and she would stick her hands in it," said Gray. "She left them in there a minute or so and created the mold."
Hailey's praying hands were given to her dad as a Father's Day gift.
"It's kind of like freezing a moment of your child's life," Gray said. "You can never go back and see how small their feet were. Hailey is 8 years old now, and I can see what her hands and feet looked like when she was 4."
John Owen also allowed Conner to cast a mold of his son, Storm's, hands.
"We brought him to Ben's office one day and put his little hands in the (alginate)," Owen said. "It was kind of difficult because he was 18 months old, and there is a period of time when you need to remain still."
Owen said the finished product was worth the extra effort.
"Every little detail you see is beautiful," he said. "It's my most prized possession. It's one of those things that if the house burns, you grab it first."
The three-dimensional aspects of the art piece make it unique, Owen said.
"Unlike a photograph, it's alive," he said. "It reminds me of Pompeii, where the volcano erupted and everything was caught. Years and years later it was excavated, and that's kind of what it's like, only this way it's beautiful instead of tragic."
Modesty and privacy are part of the art.
"The model is never touched, never exposed," Conner said, adding that his wife serves as his assistant and is present during all life-casting sessions.
He must also gain the trust of his subjects and ensure that artistic sessions are kept discreet.
Conner is passionate about his art.
"When I'm doing it, it's absolutely an out-of-body experience," he said. "I lose track of time."
When his legal work week is over, Conner retires to his studio and spends weekends life-casting.
"When I'm trying a lawsuit, one of the questions I certainly ask myself is what have the jurors just learned," he said, "not what did they see, but what did they learn. You have to begin with the end in mind."