Churches, preserved or lost to time, remain a testament to ingenuity
LaReeca Rucker
The Clarion-Ledger
St. Peter's Catholic Cathedral in downtown Jackson will celebrate its 110th anniversary on Sunday.
The modified Gothic building dedicated June 3, 1900, features stained glass windows copied from paintings by Raphael and Murillo; Carrara marble altars from the same quarry used by Michelangelo; and a Christ the Good Shepherd Venetian glass mosaic with the inscription: "There shall be one flock and one shepherd."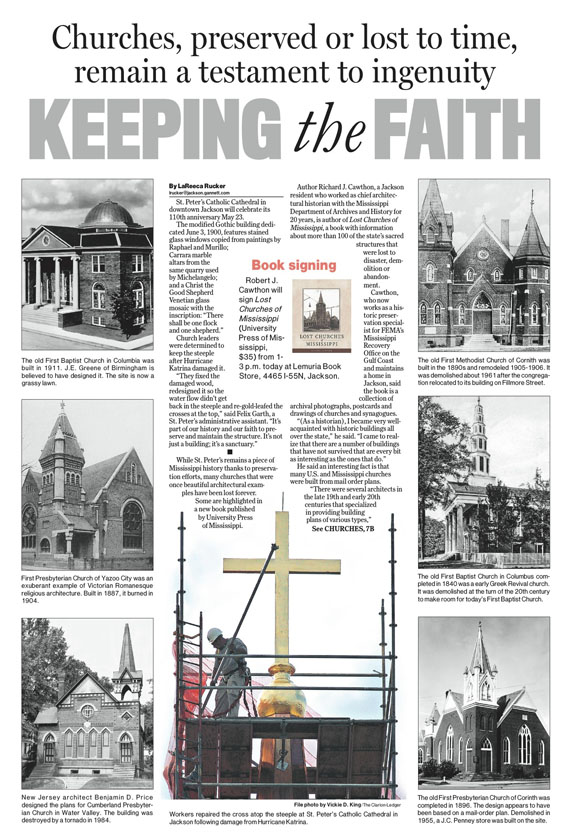 Church leaders were determined to keep the steeple after Hurricane Katrina damaged it.

"They fixed the damaged wood, redesigned it so the water flow didn't get back in the steeple and re-gold-leafed the crosses at the top," said Felix Garth, a St. Peter's administrative assistant. "It's part of our history and our faith to preserve and maintain the structure. It's not just a building; it's a sanctuary."

While St. Peter's remains a piece of Mississippi history thanks to preservation efforts, many churches that were once beautiful architectural examples have been lost forever. Some are highlighted in a new book published by University Press of Mississippi.

Author Richard J. Cawthon, a Jackson resident who worked as chief architectural historian with the Mississippi Department of Archives and History for 20 years, is author of "Lost Churches of Mississippi," a book with information about more than 100 of the state's sacred structures that were lost to disaster, demolition or abandonment.

Cawthon, who now works as a historic preservation specialist for FEMA's Mississippi Recovery Office on the Gulf Coast and maintains a home in Jackson, said the book is a collection of archival photographs, postcards and drawings of churches and synagogues.

"(As a historian), I became very well-acquainted with historic buildings all over the state," he said. "I came to realize that there are a number of buildings that have not survived that are every bit as interesting as the ones that do."

He said an interesting fact is that many U.S. and Mississippi churches were built from mail order plans.

"There were several architects in the late 19th and early 20th centuries that specialized in providing building plans of various types," he said. New Jersey resident Benjamin D. Price was one.

"He worked from the 1880s through 1890s making plans for churches and provided plans for more than 1,000 churches in the country," Cawthon said. "Thirty of those are in Mississippi."

Examples are the Presbyterian Church in Scooba and the old Episcopal Church in Water Valley.

"I discovered that there were a number of very fine buildings that I would like to know more about that disappeared many years ago," he said.

Among the most architecturally distinct were the old Presbyterian Church in Greenville, the old Baptist Church in Hattiesburg and the old First Methodist Church in Laurel.

"Compiling them was an effort to provide recognition for these buildings that may be gone or forgotten. It made me feel like I was commemorating them somehow or creating a memorial to them."

Many of the lost buildings were demolished because congregations diminished, moved to other locations or sold the lots, Cawthon said.

The old St. Paul's Catholic Church in Vicksburg was seriously damaged by a tornado. Several Gulf Coast churches were destroyed by hurricanes Camille and Katrina. The church pictured on the book cover, the old Crawford Street Methodist Church in Vicksburg, burned.

Other Mississippi churches are trying to preserve their heritage and buildings. Clinton's St. Mark Missionary Baptist Church celebrated its 60th anniversary April 25.

Pastor Willis Washington Jr. said the main building constructed in 1950 is still intact thanks to recent renovations.

"I believe if I live in a shack, a one-room house or a tent, I should take care of it," he said.

Rials Creek United Methodist Church near Mendenhall will celebrate its 150th anniversary May 30.

Church member Freda Sherman said the original church has been remodeled several times.

"The first building was destroyed by a tornado, then they constructed a frame building in the early 1900s," she said. "I hope it is preserved for my five grandchildren who are the seventh generation of continued membership at
that church.

Cawthon said one of the most important factors in facilitating the preservation is making people recognize why they are important.

"In many cases, buildings that have a great deal of historic or architectural importance are overlooked because people are not aware of why they are significant or meaningful ..." he said.

"They were impressive, dignified and architecturally fascinating buildings that no longer exist. They may have been on street corners that you drive past every day."